3 Packable Lunch Bowls to Prevent the 4 O'Clock Slump
Written by: Seamus Mullen
|
Published on: September 11, 2019
|
Updated on: March 6, 2023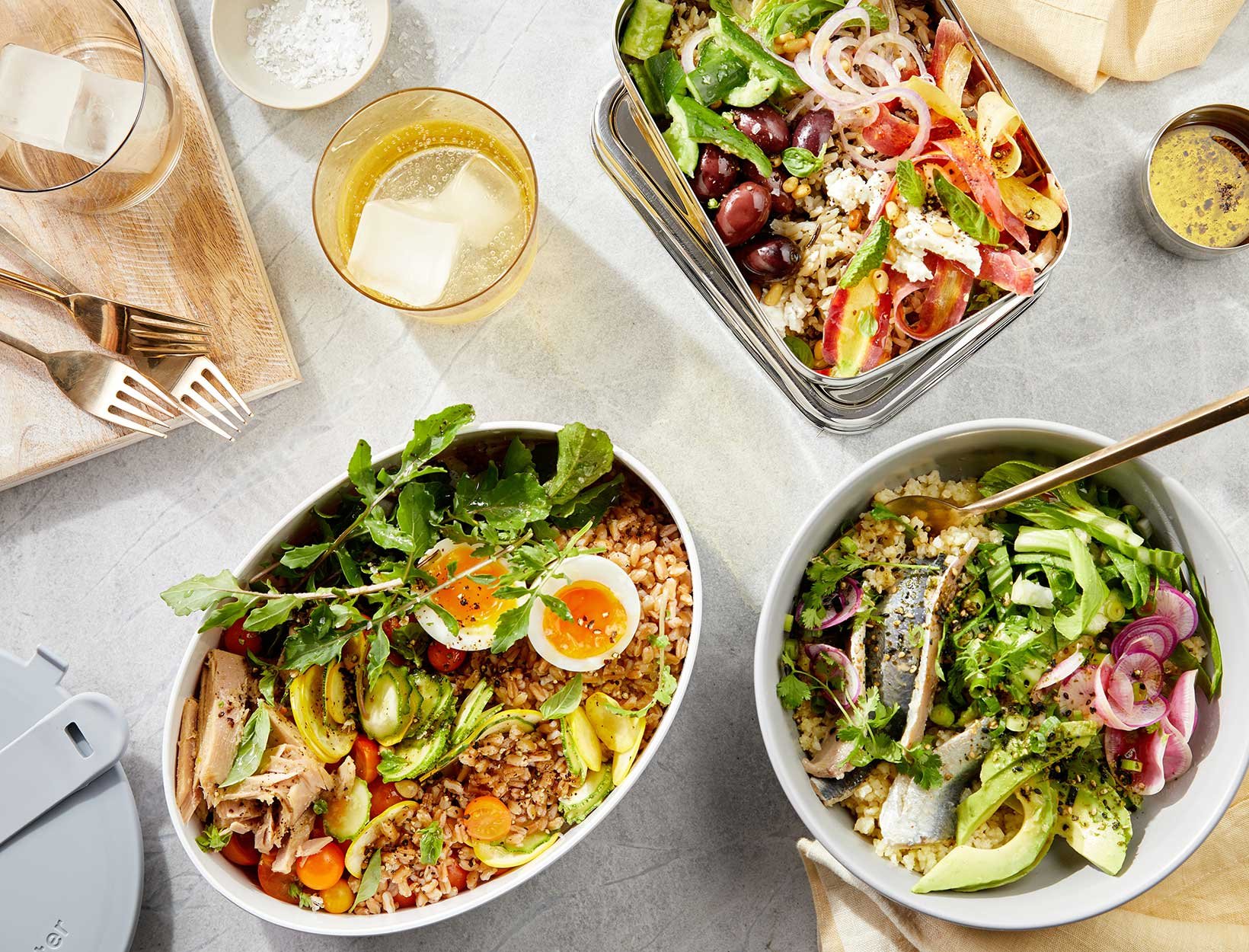 Lunch is definitely my favorite meal of the day. As someone who regularly practices intermittent fasting, I look at it as my powerhouse meal: It's when I break my fast and set myself up for the rest of the day.
I'm a fan of eating the bulk of my calories in the middle of the day. But in order to stay sated until dinner, I need to make sure I'm getting well-balanced macronutrients: protein from lean meats, fish, or legumes; a sensible amount of healthy fats, like olive oil and avocado; and grains and vegetables for fiber as well as the micronutrients (vitamins and minerals) I need.
And of course, as a chef, making sure the food is delicious is priority number one. Creating a lunch that ticks all of those nutritional boxes, tastes amazing, and travels well may seem difficult, but it's totally doable. I developed three grain bowls, loosely inspired by the healthy but fully loaded Japanese chirashi bowls I'm obsessed with. Instead of sushi rice, each of these bowls uses a different ancient grain as a base—millet, farro, and wild rice. They all incorporate an array of vegetables, just enough protein and healthy fat, and plenty of umami-rich flavors from two of my favorite healthy-food destinations: the Mediterranean and Japan. Take a break from your usual chopped salad. I think you'll be surprised by how easy and delicious a packed lunch can be.
"When I eat this, I feel as if I could walk through walls and climb on the ceiling. The millet is great for people with food sensitivities because it's gluten-free and hypoallergenic. It's a very filling base for a lunch bowl and adds textural contrast to the crunchy bok choy. Sardines and avocados pack this dish with micronutrients and sensible fats. And it's all topped with crunchy-salty furikake—don't sleep on this ingredient. It's worth the extra trip to the Asian market."
—Seamus Mullen

"This is the flavor of summer in Italy, and it takes only a few minutes to make. Look out for Sungolds during peak tomato season, but regular cherry tomatoes will work great here as well." —Seamus Mullen

"I fell in love with all of these flavors while in Greece, and as soon as I got home, I made a 'kitchen sink' salad. The wild rice base might not be traditionally Greek, but it adds a nutritional element; wild rice comes from a different species of aquatic grass than white or brown rice, and it's significantly lower in carbohydrates. I love the heft it gives the bowl, and the wild rice's nutty flavor combined with the brine-y olives and artichokes totally works." —Seamus Mullen