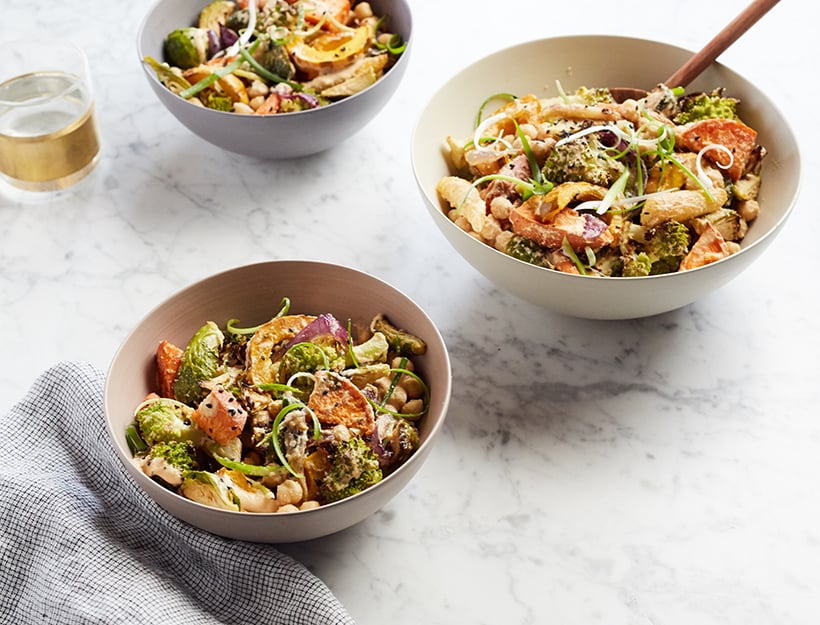 One Sauce, 5 No-Fuss Weeknight Dinner Ideas
The secret sauce for our friend Alison Cayne, owner of Haven's Kitchen cooking school and café in NYC, is, well, sauce. "Sauce gives life to your default dinners," says the mom of five, who just released her first cookbook.
Broken into nine approachable chapters (grains and beans, vegetables, soups, sauces, etc.), The Haven's Kitchen Cooking School is unique in that it reads more like a series of cooking lessons than a simple collection of recipes. There are, of course, pages and pages of gorgeous recipes, but we're hooked on the helpful tips, illustrations of necessary tools, and how-to techniques throughout. These extras, coupled with a friendly and encouraging tone, make this perfect for anyone who could use a little more confidence in the kitchen.
With five kids, a thriving business, and gigs as an adjunct food studies professor and board member of The Edible Schoolyard NYC, Alison certainly has a full plate. And sauce, she says, makes it possible for her to also find the time to feed herself and family healthy home-cooked meals: "Sauce makes your dinner standbys enticing, complex, texturally pleasurable, and, most importantly, tastier."
To prove her point, Alison chose one sauce (a delicious Southeast Asian-inspired peanut version) from her new cookbook, and gave us 5 super-simple, healthy recipes to make with it:
A Week's Worth of Dinners