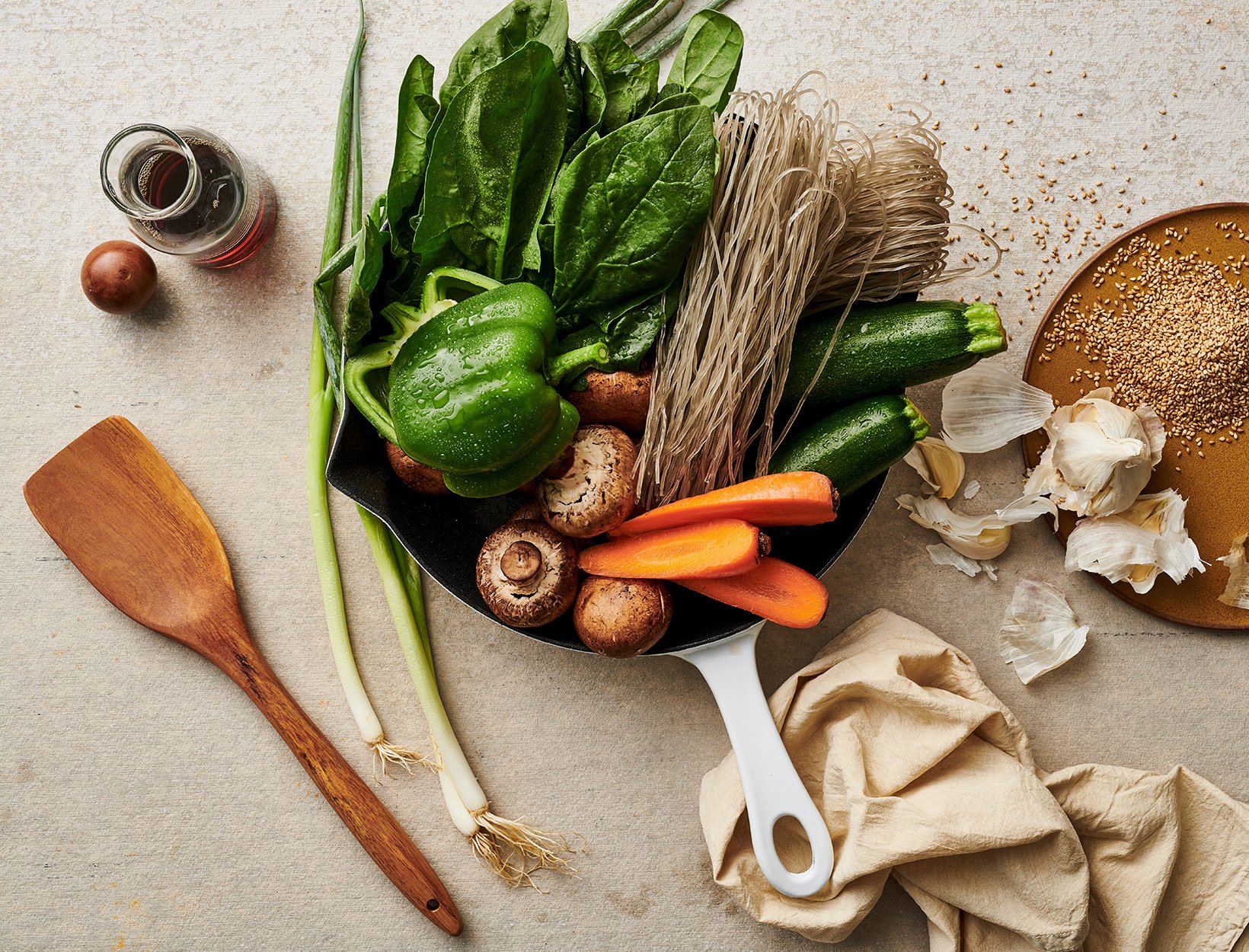 Vegetarian-Friendly One-Pot Meals
Vegetarian-Friendly

One-Pot Meals
One-pot meals always deliver on ease and efficiency, but they rarely deliver for vegetarians. Whereas meats tend to really benefit from the low-and-slow method most one-pot and slow cooker recipes require, with vegetables, that treatment often leads to overcooked mush.
We set out to reimagine the one-pot meal: How could we highlight vegetables instead? First, we cut down the cooking time, then we ditched the Crock-Pot altogether. (Our interpretation of "one pot" is "one cooking vessel," which in our case is most often a sheet pan, a cast-iron skillet, or a Dutch oven.)
The recipes we landed on are still hearty, homey, and easy. But they're also much lighter because they lean on nuts, legumes, and vegetables for heft and nourishment. The Sweet Potato, Kale, and Vegan Chorizo Sheet Pan Dinner involves making your own smoky walnut-mushroom chorizo, but it comes together quickly during the downtime while the other ingredients roast. The Eggplant and Chickpea Rice is super satisfying and has only ten ingredients (which means it officially passes the weeknight dinner test). And as the name suggests, the Kitchen-Sink Korean Vegetable Stir-Fry proves that any combination of veggies, noodles, tamari, and sesame oil is really delicious—so use up whatever is in your crisper.
We made the one-pot rules so we can stretch them, right? While we've called this a one-pot meal, you do need to use a food processor to make the vegan chorizo. You could use a store-bought plant-based chorizo, which would eliminate that step/dirty dish. But our walnut-mushroom chorizo tastes amazing, and it's more wholesome. Overall, this is a great addition to the weeknight dinner routine because it's so customizable—it would work with russet potatoes and bell peppers in a pinch.

This dish comes together quickly and easily, and it scratches the itch of weeknight takeout. It's got biryani vibes but is somehow both lighter and more satiating in this at-home version. And it takes care of those leftover greens you have in your fridge.

We based this stir-fry on a noodle dish called japchae, which is a staple in many Korean households. The flavors are super savory but still bright and fresh because it's packed with veggies. We kept some of the traditional vegetables here, but just about any combination from your crisper will work. For our version, we skipped the traditional meat and egg and streamlined the cooking process by adding everything to the same skillet; a wok is great, but a large cast-iron pan also works. You could use wheat-based or rice noodles, but the chew of the sweet potato vermicelli noodles is uniquely satisfying.