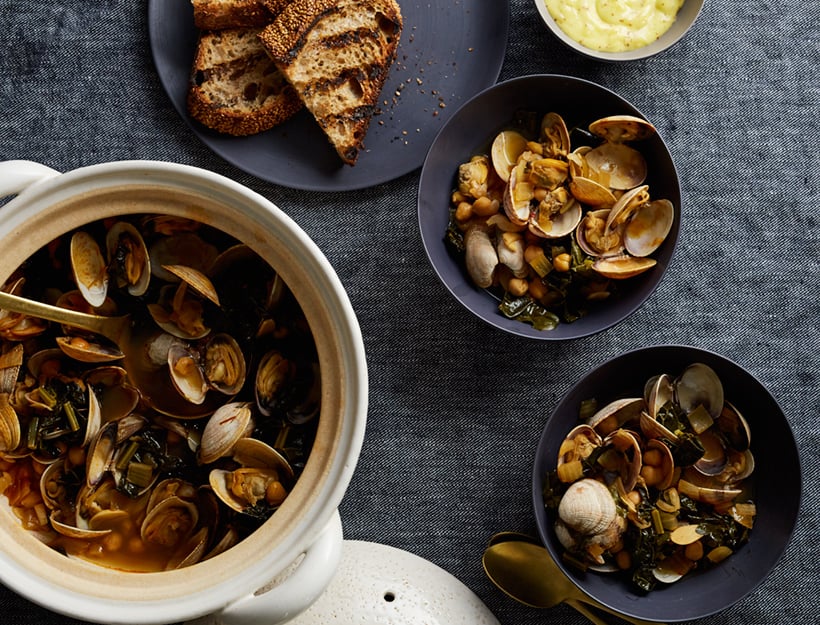 One-Pot Dinners
The more we use our donabe–the traditional Japanese clay pots we learned about only a few months ago–the more we're convinced: They are the ultimate tool for one-pot cooking. Throw all your ingredients in, pop on a lid, and as Naoko Takei Moore (a goop friend and author of the incredible cookbook Donabe) says, "Let the donabe do the work for you!"
Naoko grew up in Tokyo, where every household has at least one donabe, often passed down through generations, and has made it her mission to spread the joy of cooking with this amazingly versatile vessel.
Her cookbook, website (where she also sells a wide selection of donabe) and Instagram (@mrsdonabe), mix traditional recipes with fresh, creative vision. Here, she shares two of her favorites—and, inspired, we came up with a few, too. A note: you really need a kamado-san donabe (specifically designed to cook rice perfectly) for Naoko's ginger rice with chicken, but all of the other recipes will also work just as well in a dutch oven.
Naoko's Recipes

Getting the right texture here requires a kamodo-san donabe, specifically designed to make the dreamiest, fluffiest rice imaginable. Fifteen minutes may not seem like enough cooking time for short grain rice, but trust us, this comes out perfect every time.

We thought roasting chicken in a donabe sounded a little nuts, but this is possibly the most tender, delicious chicken we've ever had. We cooked ours in this steamer donabe, but any medium-size (at least 1 ½ quarts) lidded clay pot – or even a dutch oven – would work.

Our Recipes

Equally perfect for a dinner party or a weeknight at home, this simple clam dish comes together in about 20 minutes and covers all of your food groups. Serve with a simple salad and grilled bread to dip in the fragrant broth.

This quick and easy version of a classic Italian wedding soup is the perfect antidote to a cold winter night. Warming and filling without weighing you down, this family-friendly one pot dinner has a little something for everyone.