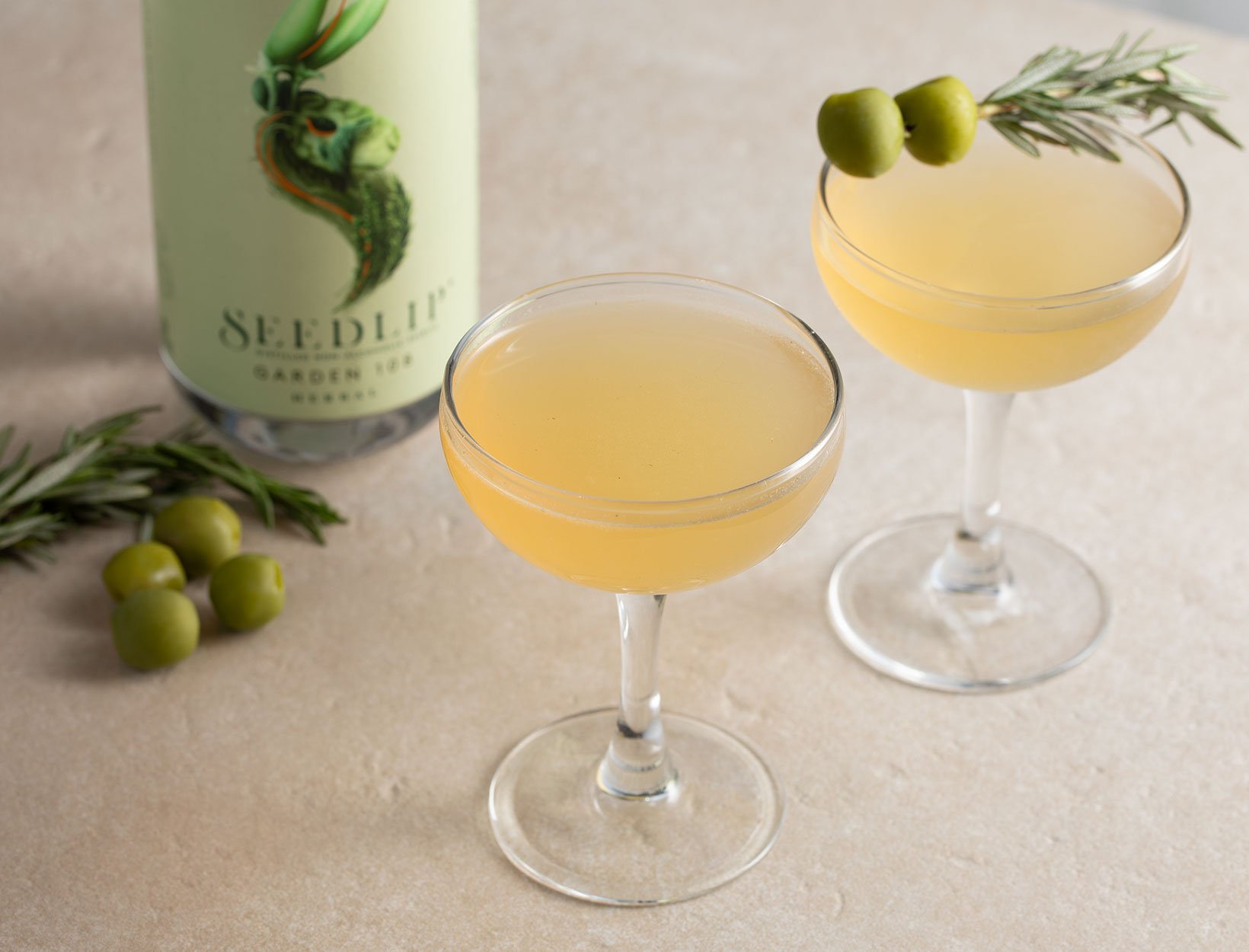 3 Nonalcoholic Drinks That Impress
3 Nonalcoholic Drinks That Impress
In partnership with our friends at Seedlip
There is an art to creating a good cocktail—balancing bitterness, acidity, sweetness, and even saltiness. But this same approach isn't de rigueur when crafting a cocktail without alcohol. That's what makes a brand like Seedlip an exciting addition to the bar cart. The British company got its start using traditional distillation processes to create nonalcoholic spirits. The recipes were inspired by distilled nonalcoholic remedies from a book written by seventeenth-century apothecaries called The Art of Distillation, and the flavors were influenced by founder Ben Branson's childhood and family history of farming in Northern England. Seedlip calls its three nuanced spirits "expressions"—there's the herbaceous and vegetal Seedlip Garden 108, the citrusy Seedlip Grove 42, and the warm Seedip Spice 94. We created three satisfying nonalcoholic cocktails using each expression: a Ginger Turmeric Sour (complete with plant-based aquafaba foam top), a Spiced Coffee and Tonic, and a Dirty MartiNO with Rosemary. There are many more possibilities for seasonal flavor combinations, but we also happen to enjoy each spirit simply over ice with seltzer or tonic water.
The Nonalcoholic Cocktails
This citrus-and-tea-inspired version of the classic sour gets that creamy foam top from aquafaba (the liquid from canned chickpeas) instead of the traditional egg white. The turmeric echoes the slight bitterness of the lemon, blood orange, and bitter orange in Seedlip Grove 42, and the warmth of the ginger and maple balances everything out.

The combination of chicory coffee and the allspice, cardamom, and citrus peel in Seedlip Spice 94 feels festive for the holidays but is subtle enough to be enjoyed year-round.

Most nonalcoholic drinks neglect the savory set. Seedlip Garden 108 is decidedly vegetal and herbaceous, with notes of peas, hay, hops, rosemary, thyme, and mint—lending itself quite nicely to a savory mocktail. We used it as a stand-in for gin in a dirty-martini-style mocktail (the herbal notes of Garden are a good swap for the juniper flavor in gin). Tart lemon juice balances the salty olive brine, and a little extra rosemary rounds it out.