Well, it's here at long last. After three years of hard work, my cookbook is finished, and in stores!
To celebrate the release, I made dinner for 60 friends and foodies on Monday. Sunday was spent doing most of the cooking and prep. We snapped some shots with our blackberries to document the day. They are below, along with some of the recipes for the dishes we served.
Love, gp
P.S. A huge thank you to One Kings Lane (my fave online store for beautiful things for the home) for kindly making it all happen! And also to my boys at Creative Edge. And to JT. Always.
The Team
With the help of the catering team at Creative Edge Parties—event coordinator Keith, and chefs Mark, Lee, and Randy—and the one and only Julia "the Turshinator" Turshen, we prepared the meal for 60 guests.
Chefs Mark, Lee, Randy and Julia
Here's the menu that we worked from:
We prepared Duck Ragu from my cookbook, and a vegetarian option for those who preferred it.
Stirring the Duck Ragu in a huge vat thinking "What the hell did I get myself into?"
It took 13 Ducks, over 2 dozen cans of tomatoes (we lost count), and 65 garlic cloves in the ragu alone!
After so much duck shredding, Keith had his head in his hands. We all needed a break.
Lee made us an amazing "family meal" which we ate standing up in between rounds of shredding duck meat. There were fresh flour tortillas, fresh guac with lots of cilantro and cotija cheese, and fish cooked down with Lee's amazing sauce that consisted of minced garlic and onions, diced tomatoes, cumin and finely chopped cilantro, among other things.
---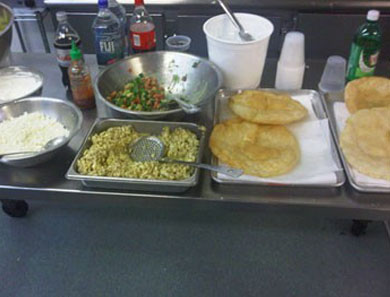 Fish cooked down with an amazing special sauce, along with fresh tortillas and guac, make these tacos rock. Great for a crowd.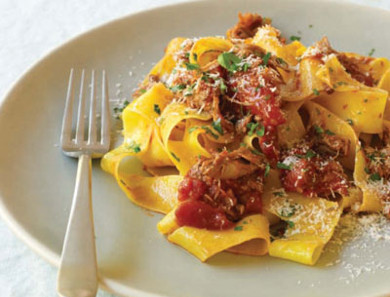 Perhaps our favorite recipe from My Father's Daughter, this duck ragu is a dish you'll crave and make time and time again.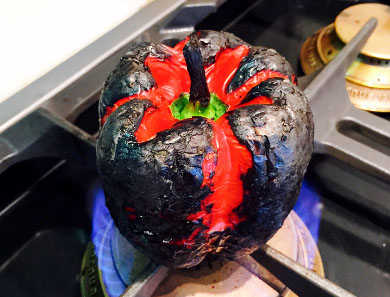 Easy to make, roasted peppers add a ton of flavor to dishes—or enjoy them alone, with a drizzle of good olive oil and sea salt.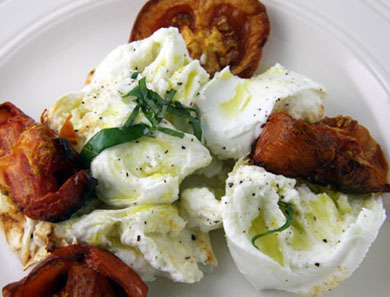 Use these tomatoes on sandwiches, in frittatas, salads or, our favorite, served simply with fresh mozzarella, evoo, salt & pepper.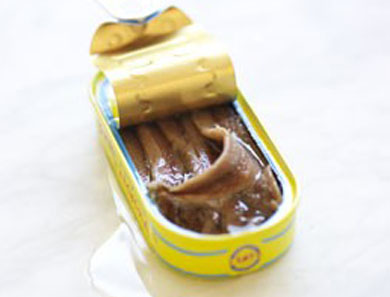 A two-minute dressing that adds tremendous flavor to bitter leaves or any salad.
---
Here, Lee and Mark are making my grandmother Mutti's Pecan Butterballs.
It was a pleasure to see SO many made, only to be devoured.
Just a few hours before the meal, a beautiful view of the kitchen at the Palazzo Chupi in NYC, where we hosted our dinner.
---
Otherwise, to purchase copies of My Father's Daughter on Amazon, click here
.
For all you readers in the UK, the British version, Notes from My Kitchen Table
, will be released May 6th. Remodelista has posted on an Easter themed table setting I collaborated on.