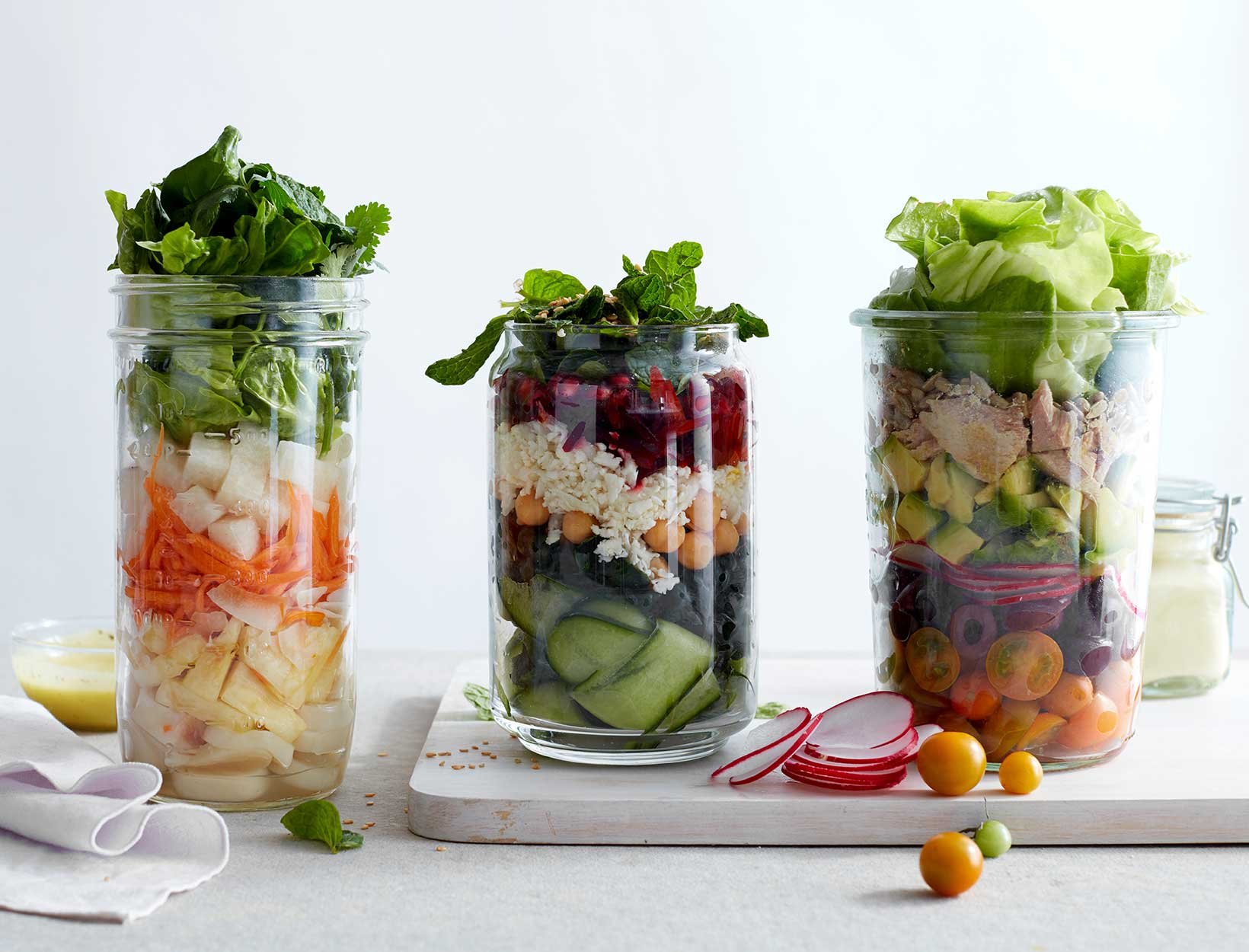 3 Make-Ahead Salads That Will Last in the Fridge
3 Make-Ahead Salads That Will Last
in the Fridge
We love everyone who is new to WFH and preparing full-on homemade lunches in the middle of their workdays right now—keep Instagramming. But to our die-hard meal preppers, to our essential workers who are still bringing meals to their jobs, and to anyone who is cooking lunches for these heroes: This one is for you.
Chef Seamus Mullen created three salad recipes that we're into because they allow us to get ahead. Making our dressings and cutting up our veggies the night before (or morning of) is a small thing, but a bit of prep can make it easier to get out the door or transition from an 11 a.m. video conference into lunchtime. And it helps our WFH schedule feel a bit more normal.
Almost any reusable container will do. We've historically gravitated toward Mason jars for their packability, and we're finding they serve a great purpose if you're housebound, too. Layer your ingredients in a large Mason jar, with the sturdiest at the bottom (like chickpeas, jicama, and tomatoes) and most delicate at the top (tender greens, herbs, and avocado). This helps everything stay fresh and nicely intact. When you start feeling peckish around noon, grab your jar, add the dressing, screw the top back on, and give it a vigorous shake. Lunch is served.
There is so much going on in this salad, especially in the texture department: juicy pineapple, crunchy carrots, and crisp jicama, tossed together in a creamy, tangy macadamia nut dressing—topped off with toasted coconut and a mess of fresh herbs.

Normally, delicate lettuces like Bibb won't hold up when you make them ahead, but layering them at the top of the jar, keeps them safe and unbruised by all the other ingredients. It's just the right texture to go along with the super creamy avocado and rich tuna.

The tahini dressing alone makes this salad worth a try. The subtle bittersweetness from the pomegranate molasses makes it unique and plays well with the super savory and earthy kale, cauliflower, and chickpeas.