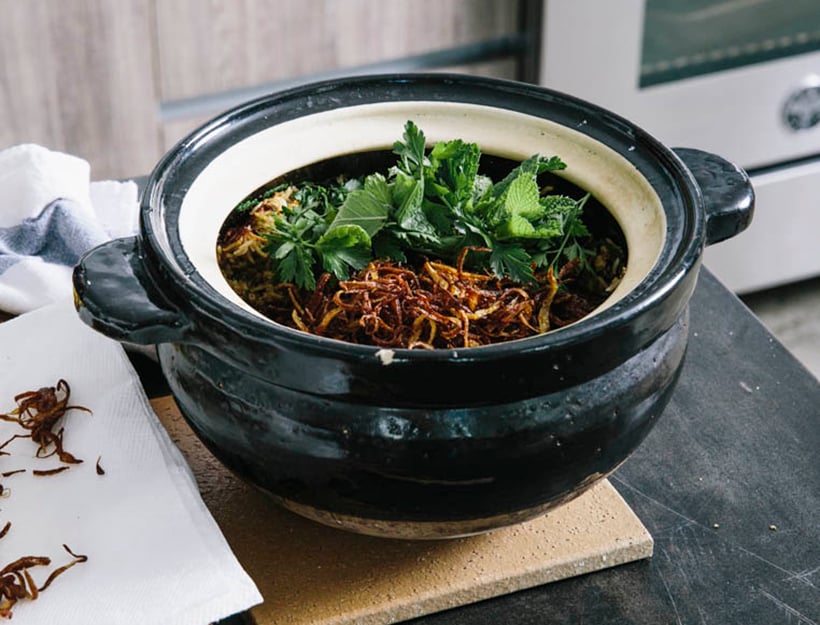 Japanese One-Pot Cooking
The walls of open shelving at Otium, the beautifully designed restaurant next to LA's Broad museum, hold stunning rows of lidded clay pots called donabe. Donabe actually means "clay pot" in Japan, and it's a centuries-old, endlessly versatile essential for one-pot meals that you'll find in practically every Japanese household. You can steam, stew, braise, and cook the most incredible rice you've ever had—plus, a donabe goes easily from stove to oven to table, which means a stunning presentation with minimal cleanup.
Chef Timothy Hollingsworth (who worked as chef-de-cuisine at The French Laundry before moving to Los Angeles to open Otium and his other restaurant, Barrel and Ashes) fills the donable with intricate dishes like smoked BBQ eel with avocado and shishito peppers, smoked French toast, or deconstructed s'mores for dessert. At home, he keeps things a little simpler. We asked Hollingsworth for his favorite "off-duty" donabe dishes that are quick enough for a weeknight, but totally dinner-party-worthy, too. Though we were initially drawn to the donabe for aesthetic reasons (they're so pretty!), after watching Tim cook with them—and then playing around with them ourselves in the goop test kitchen—the handmade, durable pots are now our new favorite cookware.
It turns out donabe are the ultimate one-pot cooking tool, and one doesn't require the incredible culinary skill of Chef Hollingsworth. Indeed, we had no problem (and a lot of fun) whipping up these easy, insanely delicious dishes in our own donabe.
Getting a helping hand from
his little sous chef, Hunter.
Mise en place—this guy's
knife skills are no joke.
#definitelyapro
Taking a well-deserved break on the
balcony with his dog, Roscoe.
Photographs by Julia Stotz
Chef Hollingsworth's Donabe RecipesShop the Story