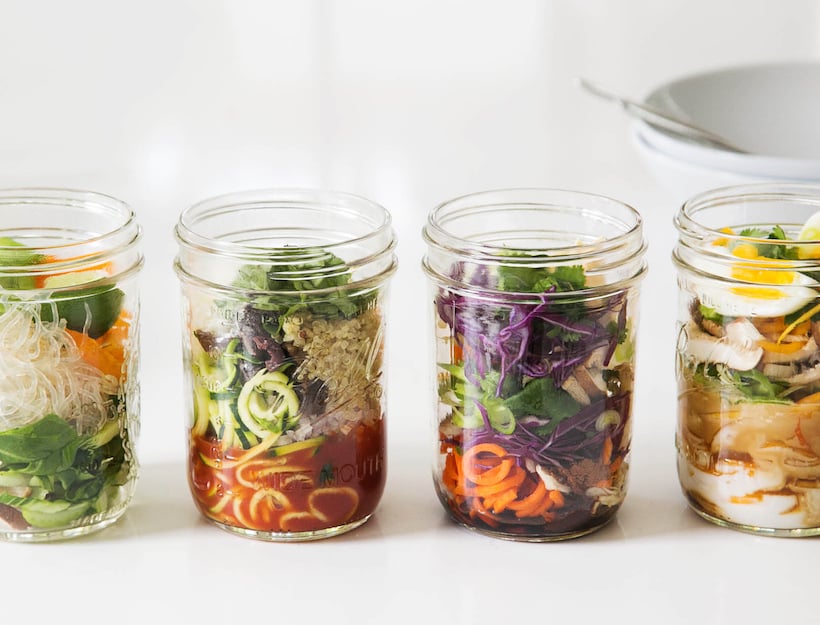 Ingenious Noodle Pot Lunch Recipes
Jasmine and Melissa Hemsley are Hemsley+Hemsley, the adorable and talented sisters storming London with their creative and seriously delicious approach to healthy eating—in fact, they make a gluten-free, sugar-free, grain-free lifestyle seem not only manageable, but also kind of fun and glamorous. Their new cookbook The Art of Eating Well is packed with colorful photos and awesome recipes, including one of our favorites, the Kelp Noodle Pot.
The idea is brilliant: Chuck a bunch of stuff in a heatproof mason jar, fill with boiling water, and eat. It's like a modern, healthy version of Cup-a-Soup, which Melissa and Jasmine have even packed for long-haul flights. ("Just ask a flight attendant to fill it up!") We were so into the idea that we asked them to come up with three variations exclusively for goop—and are offering the Hemsley Spiralizer in the goop shop. Below, their recipes, along with some of their tips on building your own version from scratch.
The Base
Cooked quinoa, cooked lentils, cooked beans, cooked buckwheat noodles or spirals, kelp noodles, cooked shredded roast chicken, hard boiled egg (peeled!).
The Flavors
Sea salt, tamari, pepper, chili flakes, cayenne, fresh red chili, jalapenos, chipotle, ginger juice (grate and squeeze fresh ginger), garlic (powder or finely minced fresh), onion (chives, scallion, red onion, shallot), spices (curry powder, garam masala, Chinese five spice, harissa spice mix), herbs (dried or fresh), coconut milk, coconut oil, toasted sesame oil, grated parmesan, tomato sauce, kimchi, or sauerkraut.
The Veggies
Raw: Grated or spiralized carrot, squash, beet, zucchini, chopped bok choy, spinach, kale, shredded cabbage, bell pepper, radish, snap peas, sprouts.
Cooked: Small florets of broccoli, cauliflower, kale, beet, celery root, roasted tomatoes, green beans.