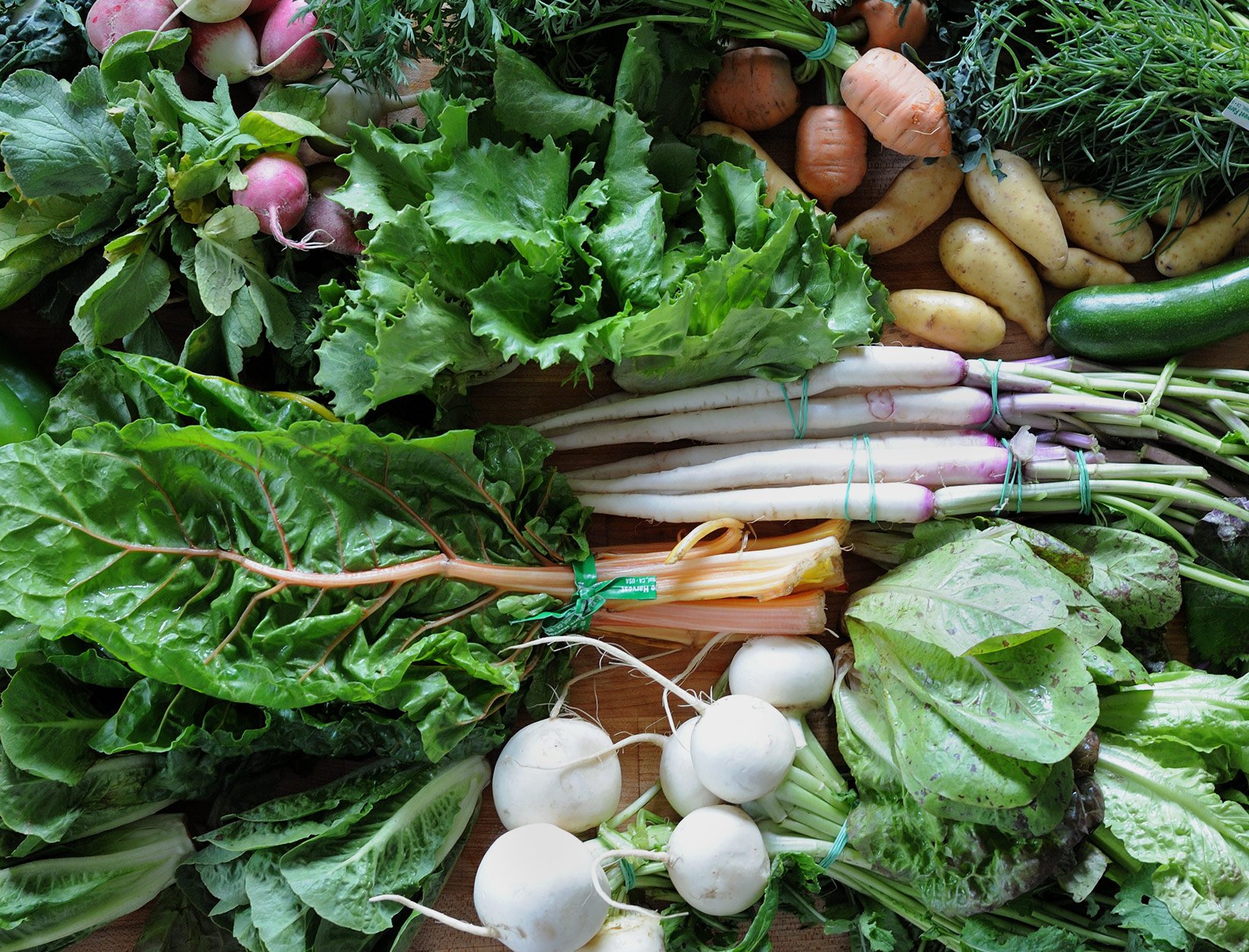 Recipes and Strategies to Make the Most of a CSA Box or Any Vegetable Haul
For some, the CSA box has always been a no-brainer. It's right there in the name: CSA stands for community-supported agriculture, and it allows local farmers to get food directly to you. No middlemen, no big distribution supply chain, no big-box store. It's also a great way to seek out farms that practice sustainable or organic farming. Not to mention the evolving selection of peak-season specialties, including farmer favorites and heirloom varietals you can't find at the regular grocery store.
In the last two months, CSA boxes have become increasingly popular. We aren't going to grocery stores as frequently as we used to, and while stocking up on beans and pasta in your bimonthly trek is just fine, produce is quite perishable. CSAs offer a way to frequently re-up on produce.
What tends to throw people off is the fact that they don't get to choose exactly what they get in the box. Being stuck with a week's worth of produce that you either don't like or don't know how to cook sounds less than ideal. Fear not: There are some easy workarounds. First, follow your farm on social media—that's how lots of farms keep customers updated on the ever-changing selection. Also, Google is your friend. You'd be surprised by how search terms like "weird longish carrot turnip thing?" can actually yield some useful results. And when in doubt, crowdsource it. Post it, send it out into the world, and with any luck someone will come out of the woodwork with the right answer (our food director, Caitlin O'Malley, is volunteering herself for this one, so feel free to slide into her DMs).
Once you've identified the mystery components, you just need to wash and store everything properly (more on that here) and start getting your game plan together. We broke down what we got in a recent CSA box from County Line Harvest, along with some strategies and recipes for making the most of what you've got.
meet the vegetables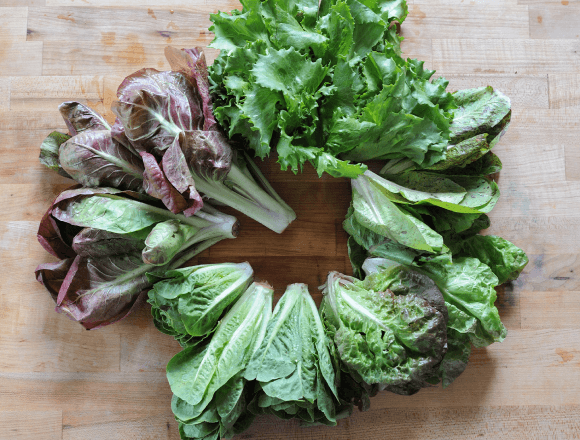 The Lettuces
Lettuces are the perfect thing to get in a CSA box because you won't have to completely reinvent the wheel—they are easy additions to mainstays like salads, lettuce cups, and sandwiches. This box came with an array of textures and flavors—sturdy romaine, bitter radicchio, and more-delicate speckled butter lettuces. As long as you wash and dry them properly, they'll keep for well over a week. You can even break them down and store them in your salad spinner, if fridge space permits.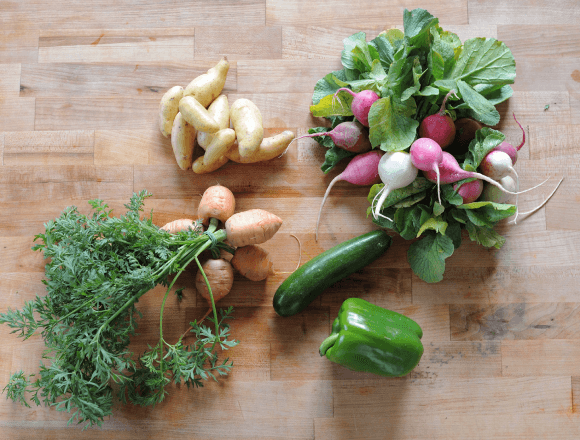 The Usual Suspects
Contrary to popular belief, you will probably get some highly recognizable items in your box. They might be wonkily shaped, but they'll probably taste fantastic. There is so much you can do with these guys. We love radishes for snacking on as is or shaved thinly on top of buttered bread. Those adorably stubby mini carrots are equally delish raw, pickled, or roasted. Zucchini can be fried or grilled or zoodled into just about anything. The potatoes and green bell pepper (fun fact: just an underripe red bell pepper!) got the taco treatment à la papas con rajas.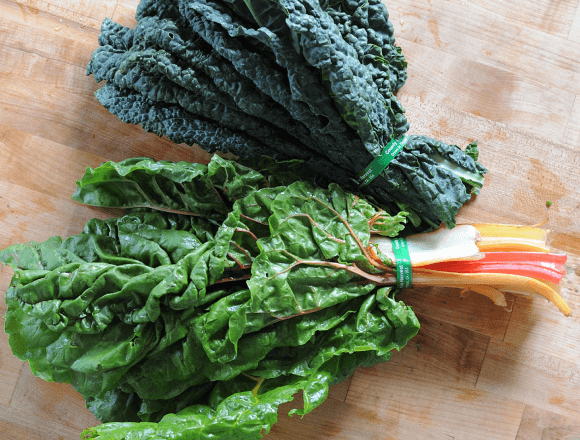 The Sturdy Greens
A staple of CSA boxes. Kale, chard, spinach, dandelion, and mustard greens are arguably the easiest to work into your meal plan. Great with eggs, in pasta, in soups, in salad, or in smoothies. These should also keep for quite a while if stored properly, or you can steam them and they will freeze beautifully for later use.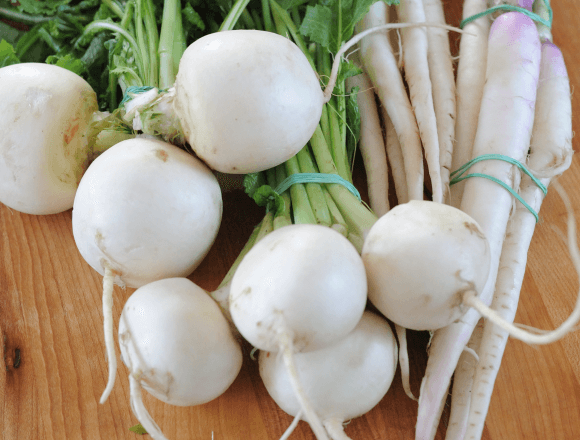 The Seasonal Specialties
Sometimes, when certain items are in season, you'll see a lot of them in your box. This box included two bunches each of different Japanese turnip varieties. The white round ones are Hakurei or Tokyo turnips, which are excellent roasted. The long, slender ones are Hinona Kabu, which are lovely grated into salads. Because we had so many and LA temps are rising, we went for pickling instead of roasting. These pickled turnips will keep for a couple of weeks and add a tangy bite to sandwiches, grain bowls, or a snack-board lunch.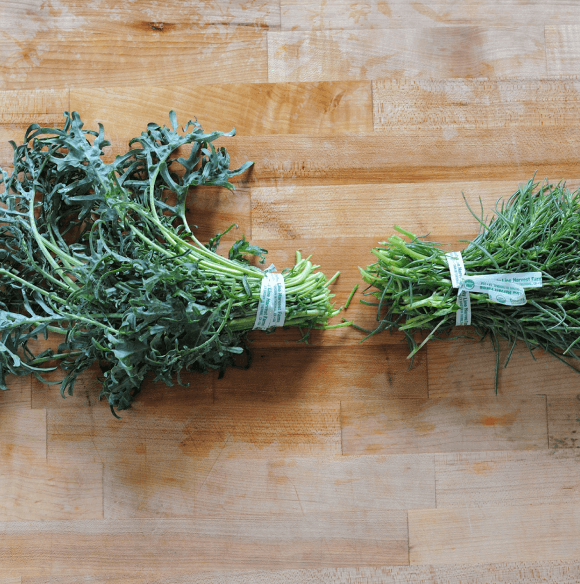 The Wild Cards
There are always a couple things that might stump you. That's when you need to start researching. These two may look unfamiliar, but they'll be welcome newcomers to your kitchen. The curly bunch is called spigarello, and it's an Italian broccoli varietal. The texture is almost like more-tender Tuscan kale, but less bitter, with a slightly sweet nuttiness. Use it anywhere you'd use kale—i.e., just roughly chop and add it to pasta or a scramble. The other bunch is another Italian crop called agretti. It's a drought-tolerant succulent that's uniquely snappy and juicy in texture, with a distinctively salty and lemony flavor. Use it raw in salads or sautéed—if sautéing, just be sure to move quickly so it doesn't overcook and lose that crisp texture.