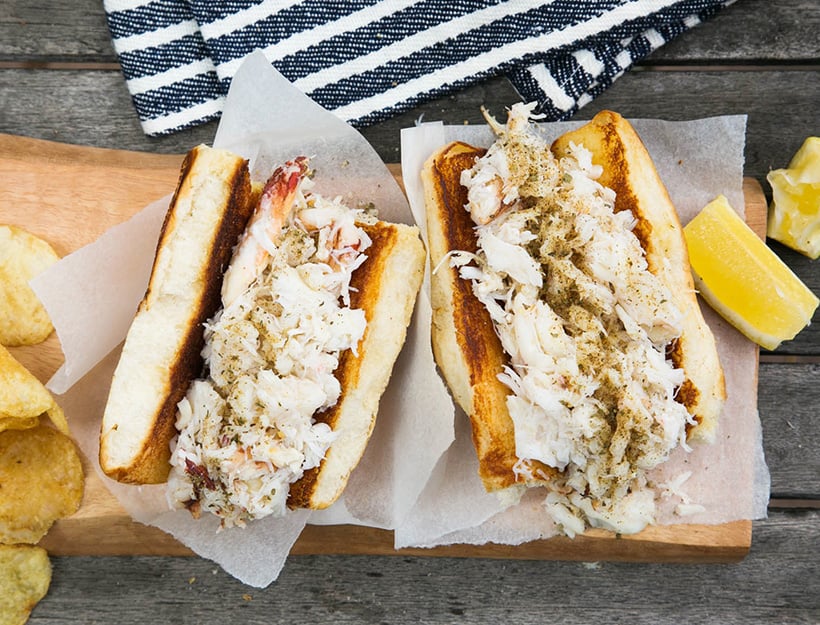 Dungeness Crab Rolls and Lobster Potpies
There aren't enough great lobster roll joints on the West Coast. And Knuckle & Claw owners Chloe Dahl (as in Roald Dahl's granddaughter) and Nikki Booth didn't think it had to be that way. Besides nailing the ideal mayo, butter, seasoning-to-roll ratio (just enough to please but they still let the quarter pound of fresh meat shine), they rely solely on top-quality meat (only knuckle and claw served here, no tail), which is why just-caught lobster is flown in daily to their Silver Lake seafood shack from Maine. The only downside? Shipments are contingent on notoriously nutty East Coast weather.
We share in the sentiment that for a good seafood dish, freshness trumps all. And since stopping by K&C in person isn't always on the docket, we asked Dahl and Booth for recipes that can be easily recreated at home: a purist's dream Dungeness crab roll, and lobster potpie you can make ahead, freeze, and break out when needed.
This recipe is exactly what a crab roll should be: Mostly crab, a touch of butter, mayo, and lemon, and a little seasoning salt for good measure. Don't bother making these if you can't get your hands on super fresh crab.

Everybody needs a little indulgence once in a while, and this one is totally worth it. You can freeze these (unbaked) and have them ready and waiting for a cozy night.