A 3-Step Guide to Making Paleo Salad Dressing from Scratch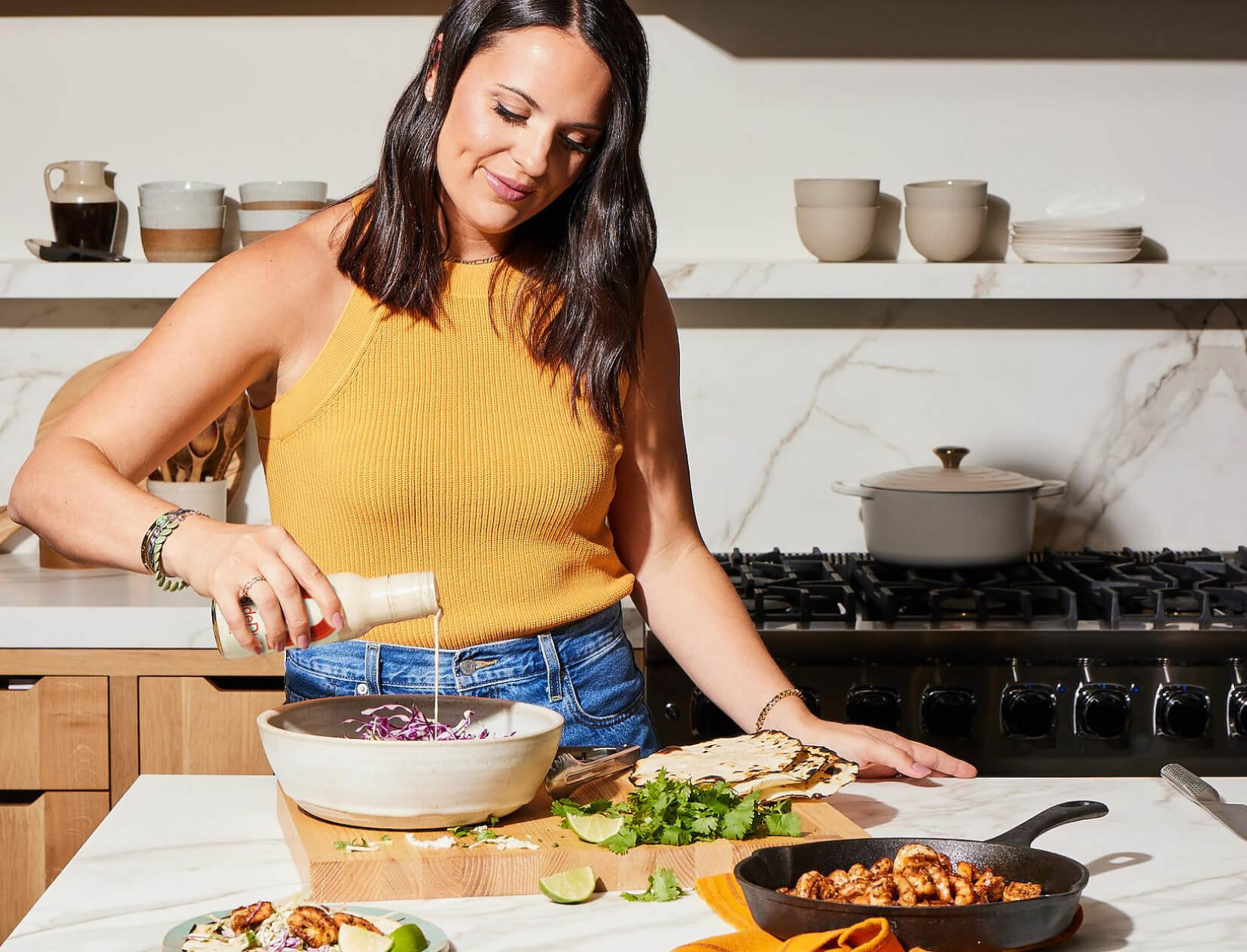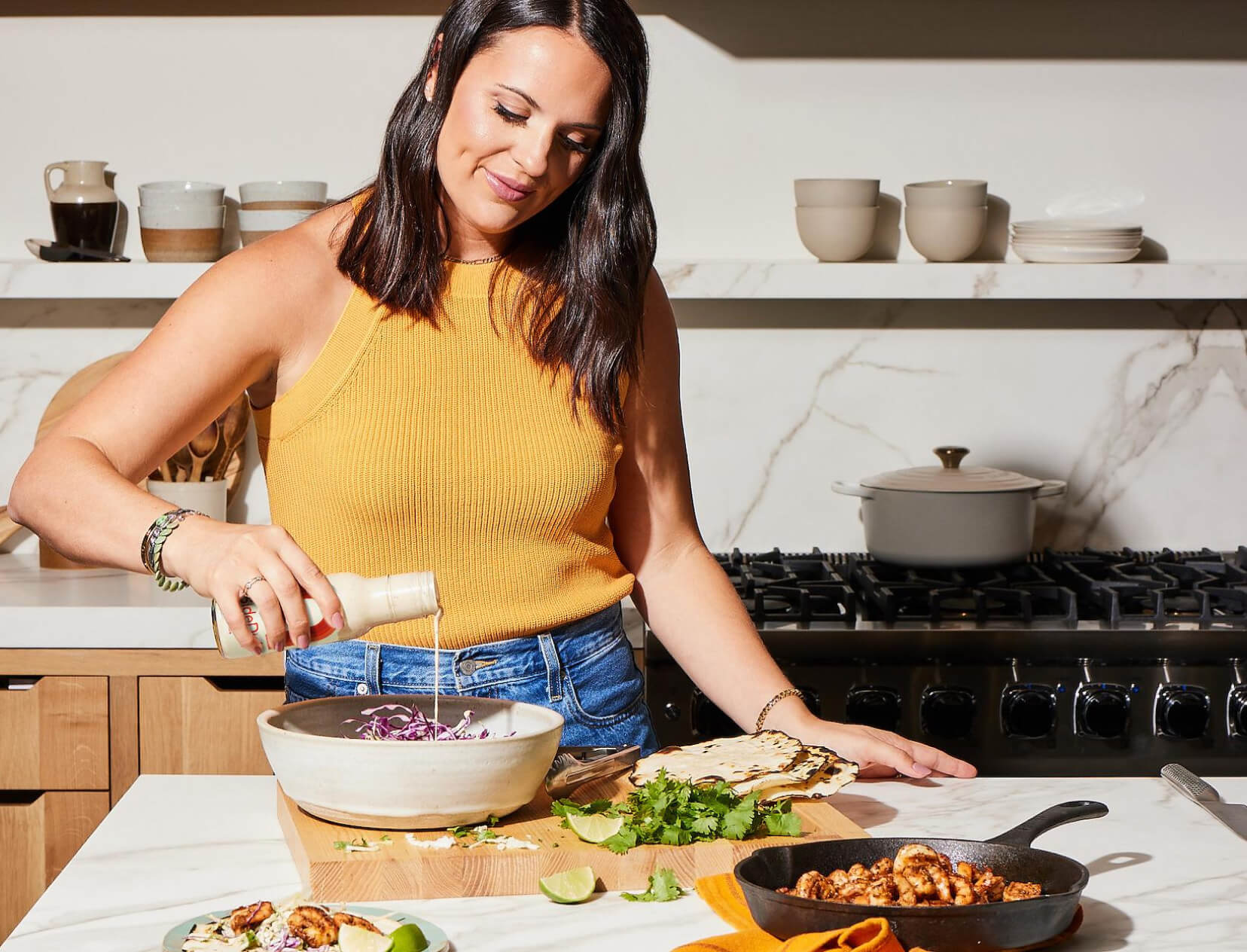 Photo courtesy of Matt Armendariz; styled by Adam Pearson
The secret to a great salad is a great dressing. Alex Snodgrass would know: As a New York Times–bestselling cookbook author and the force behind The Defined Dish, a trove of paleo-friendly recipes, she's an expert in making salads both nourishing and satisfying. And last year, she launched SideDish, a line of paleo dressings that are simple, vibrant, and highly versatile.
They're a great shortcut if you're strapped for time and want something free of added sugars and seed oils. But if you do have a spare five minutes, making your own paleo dressing from scratch is deceivingly simple, Snodgrass says: "Flavorwise you can't beat it, but also you have the control over what's going in it, and that's a beautiful thing, too." Below, a highly riffable framework for two types of paleo dressing—one vinegary and one creamy—ideal for every occasion, from a basic desk lunch to your next dinner party.
How to Make Your Own Paleo Salad Dressing
1
Choose your base
First, determine whether your goal is a zesty vinaigrette or a creamy, dreamy concoction. The base you select here will act as the canvas for the flavors you add in step two.
Acidic: Vinaigrettes are a combo of oil (Snodgrass recommends avocado oil or a high-quality extra virgin olive oil) and acid (red or white wine, apple cider, and balsamic vinegars all work well, as does lemon or lime juice). The old-school formula is three parts oil to one part acid, though some like a ratio of two to one for a zingier result. If you're unsure of your preference, start with two to one and adjust until you find the right balance for your taste buds.

Creamy: Snodgrass likes to start every creamy dressing with a simple emulsion of avocado oil and egg for a mayo-like base (see the recipe below). Be sure to make this before adding the other dressing ingredients to ensure the proper consistency.
2
Select your emulsifier and seasonings
The emulsifier is essential for a smooth, even texture. Enhance the base by adding your favorite seasonings; you likely already have them in your pantry or fridge.
Emulsifiers: Most salad dressings are emulsions, where you force two or more nonmixing liquids to combine. To keep the liquids from separating, use an emulsifier, which is attracted to both oil and water molecules. (In a creamy dressing, the egg proteins serve this purpose; in a vinaigrette, you'll need a teaspoon or two of an additional binding agent, or you'll find yourself with oily greens languishing in a pool of vinegar.) One classic emulsifier is mustard: "I love to add a little bit of Dijon to just help give it a little bit more body, where it's not just that oil and vinegar," Snodgrass says. (To keep the dressing paleo, try the Dijon from Primal Kitchen.) Other emulsifiers include honey, tahini, and tomato paste.

Fresh herbs and spices: Mix and match the herbs and spices that best complement your dish. "Sometimes I'll add fresh jalapeños and cilantro and garlic and lime and make something to go on a taco salad," Snodgrass says. On another day she might throw in Cajun spices to make a dressing for a shrimp Cobb salad. Other go-tos include fresh parsley and thyme. And, of course, always season to taste with kosher salt and freshly ground pepper. (If your dressing lacks pizzazz, it could probably use another pinch of salt.)

Alliums: Snodgrass adds a clove or two of garlic to every dressing, which not only imparts flavor but also aids with emulsification. You can toss in a small shallot or a few green onions, too; just remember that the flavors will intensify the longer the dressing sits.

Acid: A splash of red or white wine vinegar or lemon or lime juice can help brighten a creamy dressing. And if you're making a vinaigrette, the addition of another acid, while optional, can make the flavors more complex.
3
Blend it all together and serve
From here the process is straightforward regardless of which dressing you've chosen to make. Rather than shaking or whisking the ingredients, follow Snodgrass's blending method below for the tightest emulsion (your arms will thank you).
Prepare: Combine all the ingredients in a wide-mouth jar and blend thoroughly with an immersion blender (a must for dressing, Snodgrass says). If you make it ahead of time, take it out of the fridge about 15 minutes early while you're prepping the salad so it's easy to pour but still somewhat chilled.

Serve: Gently toss it with your assembled salad and enjoy. And don't forget that salad dressing isn't just for, well, salad: Use it as a marinade or dip, in a stir-fry or skillet dinner, or over a sheet pan of protein and veggies. "It'll be one of those gifts that keep giving throughout the week," she says.

Store: Pop any leftover dressing in a lidded jar and refrigerate. Dressings with a creamy base will usually keep for about five days, while vinaigrettes may keep slightly longer depending on the ingredients.
Paleo-Friendly Dressing Recipes from The Defined Dish
Need a little extra guidance? Dip your toes in with one of Snodgrass's recipes.