Healthy Recipes for the Whole Family
We've gotten lots of requests from readers for healthy recipes for kids. Renée Elliott of Planet Organic offers delicious solutions to the kid food/adult food dichotomy with exciting and nutritious recipes for all in her new cookbook Me, You and the Kids, Too. Each recipe was created with the entire family in mind, with slight tweaks on how to prepare the ingredients for infants 6-9 months, 9-12 months and then 12-months and up. Here are a few of her recipes.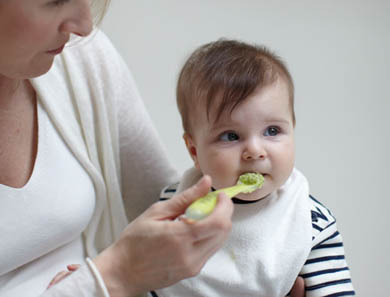 Sampling some of Renée's purée
Note: Whole Foods is a great supermarket for all those hard-to-find ingredients like spelt and brown rice syrup. And for those of you who are in the UK, of course there's Planet Organic.