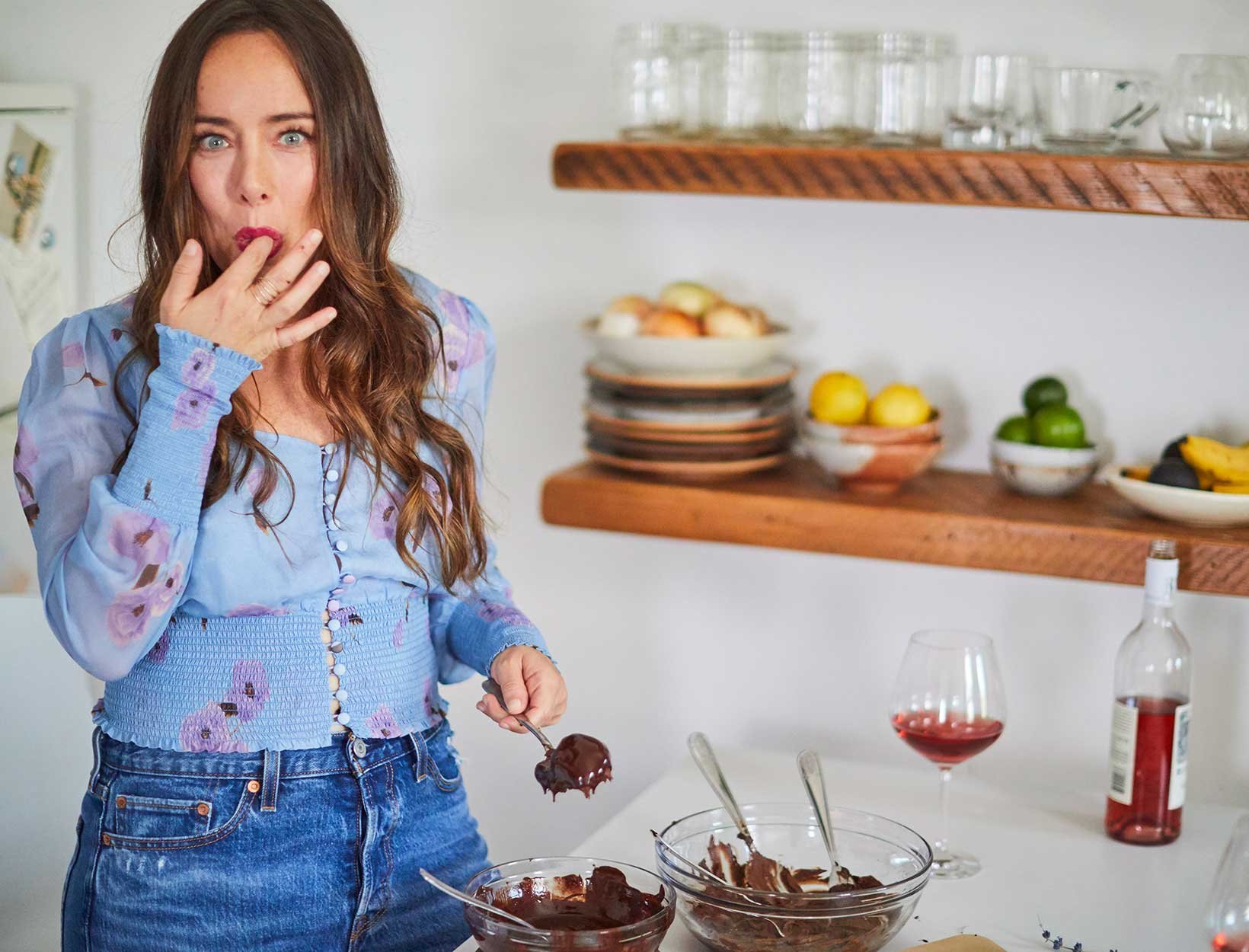 The 3 Healthiest Desserts to Satisfy Any Sweet Tooth
Cleaned-up chicken pot pie and mac 'n' cheese. Probiotic miso ginger carrot soup. These are a few of the reasons we loved Liz Moody before.
And now: There's Healthier Together, her latest cookbook of recipes that are so full of vibrant and dynamic flavors that you almost forget how clean they are. In the Sweet Treats section, Moody reimagines some of the classics, minus the refined sugar, plus fiber and protein, saving us from sugar crashes in the process.
After we ate them all, Moody shared a few of her personal favorite dessert recipes with us. Her grain-free riff on the classic chocolate chip cookie lives up to its name—The Best Healthy Chocolate Chip Cookie. The Honey-Rose Rice Pudding is decadent, vegan, and pretty enough for a dinner party, but also cozy enough to enjoy on the couch in your sweats. The Fun-Size Chocolate Nougat Candy Bars might be the most brilliant recipe of the three. They re-create that perfect candy-bar chew with dates, almond-flour nougat, chocolate, and flaky sea salt. "Treat yourself" just got a lot better (for you).
"These babies have everything you want: the crispy edge that cedes to a chewy center; a rich, buttery flavor; studs of walnuts, oats, and chocolate chips—yet they're completely grain-free and refined-sugar-free, packed with protein, and they won't spike and crash your blood sugar as a normal cookie would." —Liz Moody

"Rice pudding is one of the best, and more underrated desserts, in my opinion. But how do you make it better for you? The secret is combining it with chia pudding, a health-world staple that's good for your gut, filled with healthy fats and protein. Here it makes the rice pudding vegan but also gives it a stick-to-your-ribs satisfaction without being at all heavy. The mix of rose, pistachio, and cardamom is one of my favorite flavor combinations." —Liz Moody

"This recipe was inspired by my dad, who would always keep a bag of fun-size Snickers stashed in the freezer, should a candy emergency strike. I love candy, but I hate how time-consuming and finicky it is to make at home (not to mention the questionable ingredients), so I eliminated all of that. Instead, you'll whip up a healthy, almond-flour nougat, fold in some nuts, and shove that all inside a ripped-open date. Packed with fiber and minerals, these treats take on a gooey quality that'll 100 percent satisfy any candy crisis." —Liz Moody