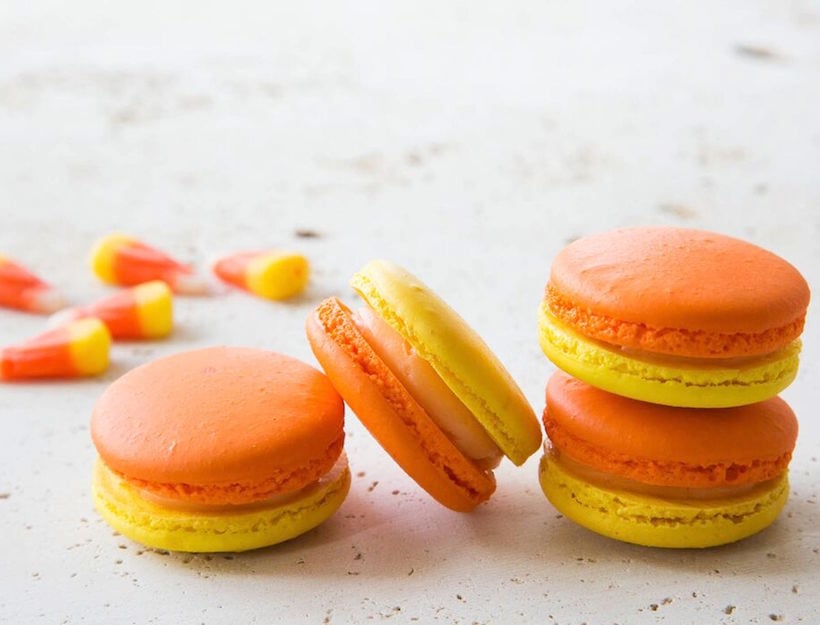 Halloween-Worthy Macarons
It's criminal not to indulge in a little candy on Halloween, so this year, we thought we'd do something a bit more sophisticated than snooping through the kiddos Trick or Treat loot. Instead we tapped Dana Loia, of Dana's Bakery who makes classic French macarons in fun seasonal flavors, like pumpkin pie, candy corn, and Three Musketeers. She shared a couple of recipes, and while we were slightly intimidated (this was our first foray into macaron making), we were pleasantly surprised with the results. If you've got some time this Halloween, give them a go. They're fun to make (kids can help assemble) and seriously impressive. If making macarons sounds more like torture than fun, you can buy one of Dana's macaron-making kits which cuts down a lot of prep time, or simply order the finished product to be delivered right to your door.
These are a real hit with kids, and pretty fun for adults, too. The filling is not exactly for novices (it takes several steps—one of which involves making Italian meringue), so if that's out of the question, just make or buy your favorite simple frosting.

These taste exactly like pumpkin pie. It's kind of crazy. If the multiple steps seem daunting, you can always cheat by filling them with a quick or store-bought frosting. For this one, just use a simple vanilla and add the pumpkin spice mixture and canned pumpkin. No one will know the difference.