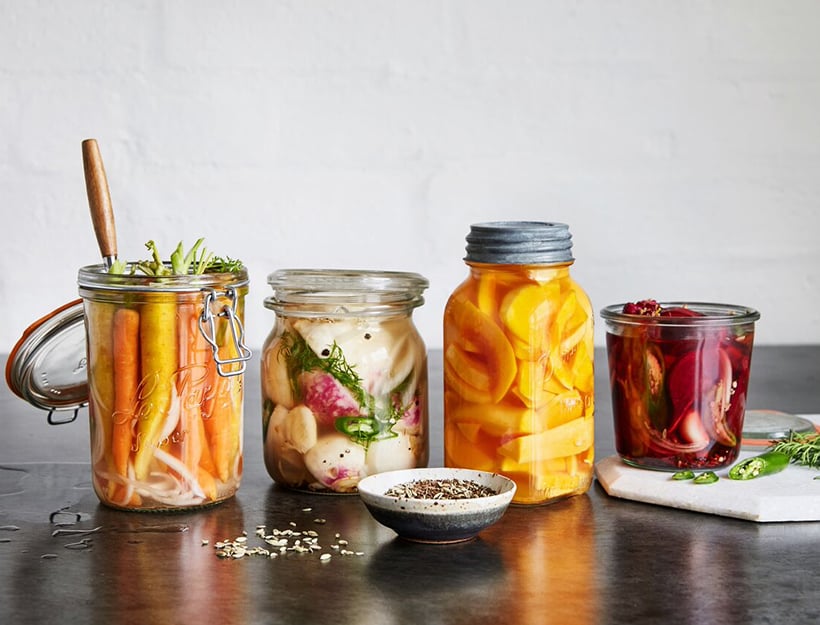 Getting Our Fermentation On
In the last few years, fermented foods have gotten seriously trendy, which is a great thing for all of us. Not only are they great for our bodies (read more about the health benefits here), but they also add welcome spicy, sour, and funky notes to all kinds of dishes. The one problem is that making them yourself can be more than a little intimidating; to the uninitiated, home fermentation seems like an involved, wacky science experiment with high chances of being a total fail or, even worse, a health hazard.
To help demystify the process, we turned to Cortney Burns and Nick Balla, co-chefs of Bar Tartine, one of our favorite restaurants in SF. The two have been fermenting in their home and restaurant kitchens for years and reassured us that not only is fermenting dead easy (even for people with less than stellar skills in the kitchen), it's also 100% safe. Below they share a simple technique for brine fermenting vegetables that anyone can master plus some really delicious recipes incorporating said pickled veggies.
From Cortney Burns and Nick Balla on Brining:
Brine fermenting vegetables is a simple and nutritious way to preserve your favorite seasonal items for later use. The technique relies on a brine of salt and water to naturally sour vegetables. It makes them perfect to eat on their own or to flavor a larger dish.
To make these pickles, all you need is vegetables, kosher salt, water, a glass or ceramic jar with a lid and a ceramic weight or small plate to weigh down the vegetables, keeping them below the surface of the brine. For brine pickling, room temperature is ideal—between 60°F and 68°F is best, but up to 75°F is fine. As the temperature gets higher, the process will be faster but the vegetables won't retain as much crunch.
To make the brine, we use 1 tablespoon of salt for every cup of cold water (Diamond Crystal kosher salt is good to use when starting out as all salts have a different salinity and we find this product to be fairly uniform). You'll need enough brine to cover the vegetables completely with an extra inch over the top so they don't stick out, and don't forget the small plates or ceramic weights to keep the vegetables submerged. If any vegetables do stick out, there's a chance they'll develop a little mold. If this happens, simply scrape it off—it's totally harmless, we promise. If the thought of mold freaks you out, fermentation kits—which often include an air lock that keeps extra oxygen off of the surface of the brine to prevent mold growth—are easy to find online.
Once the pickles are ready, let them sit at room temperature until the brine reaches your desired level of sourness (the longer they sit out, the more sour they will taste), which usually takes anywhere from 1 to 3 weeks. Know that you can stop the process at any time by putting the pickles in the refrigerator.
Once you've eaten your pickles, be sure to save the brine—it can be used for subsequent batches of by adding a bit more salt to replace the salt absorbed by the previous vegetables.
It's also good mixed with tomato juice for a Bloody Mary-ish drink. You can use this technique to pickle any vegetables your heart desires (or farmers market provides), but here are four of our favorites to get you started.
Photographs by DYLAN + JENI
Props & Styling by Caroline Hwang