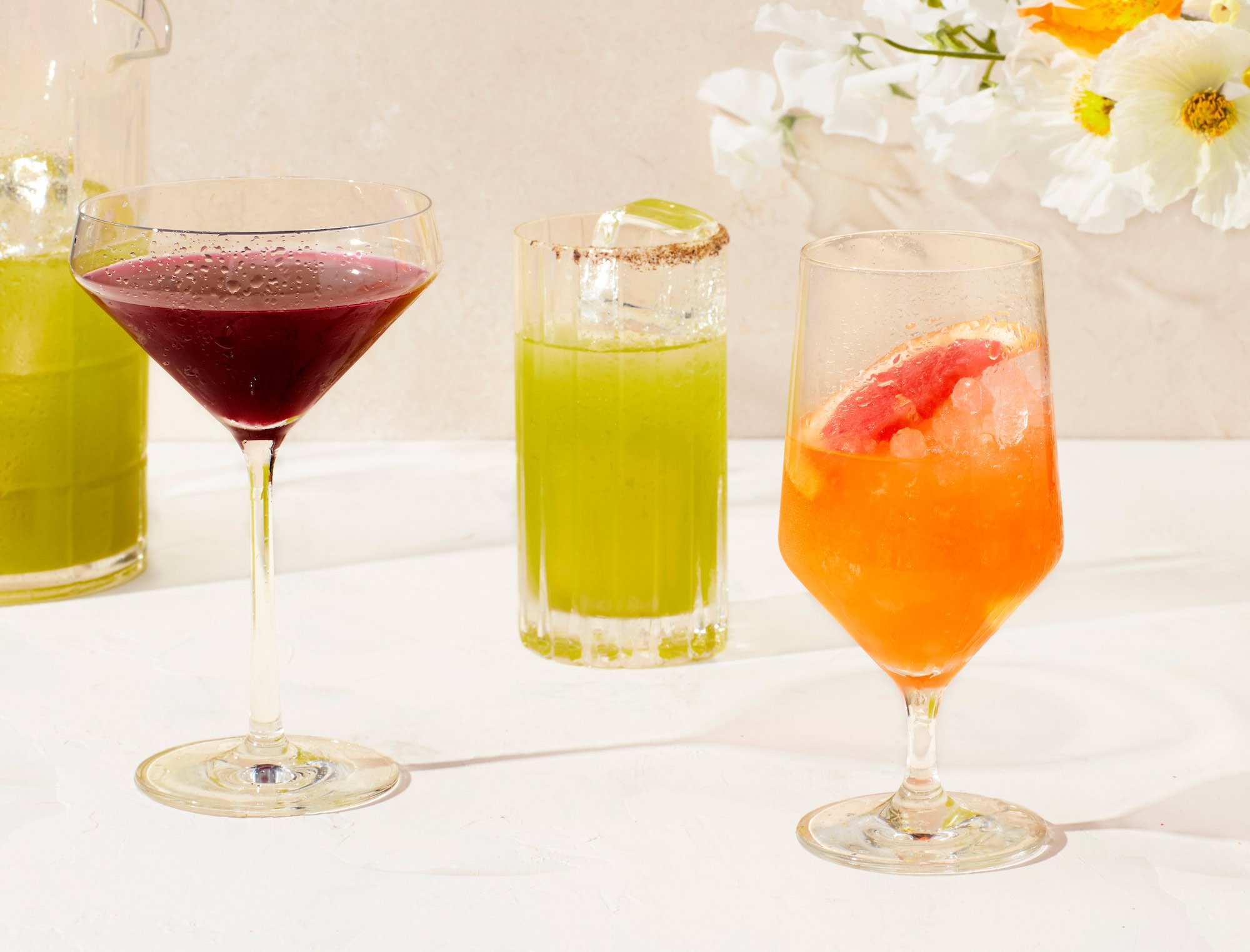 3 Produce-Driven Nonalcoholic Cocktails and Tricks for Using Up Scraps
3 Produce-Driven Nonalcoholic Cocktails and Tricks for Using Up Scraps
In partnership with our friends at Seedlip
It's a real thrill when the beginnings of spring produce start popping up at the farmers' market. If you're looking for new ways to work through your bounty, consider a cocktail.
These farmers' market-inspired cocktails—Carrot Citrus Spritz, Spiced Beet Sour, and Garden Punch with Chili Salt—mix beautifully with Seedlip, a nonalcoholic distilled spirit we've been loving recently. Seedlip's three "expressions" (Garden 108, Spice 94, and Grove 42) are super ingredient-driven. Garden 108 has notes of fresh peas. Spice 94 is warm, thanks to cardamom and allspice. And Grove 42 is citrusy. All three lend themselves to cocktails where fruits and vegetables are the stars.
Plus, using up every bit of your spring bounty with cocktails aligns with Seedlip's own sustainability goals. The company has a host of environmental goals and initiatives to reduce its impact—last year they even introduced innovative Mycelium- (mushroom-) based packaging that will biodegrade in about forty days. Here, a few low-waste ideas and the cocktail recipes to make your market haul stretch further.
The Hacks
USE EVERY PART
There are plenty of fruits and vegetables that you can use almost every part of. Carrot tops have a flavor similar to parsley, but since they're a bit stronger, it's nice to use them in tandem with other herbs like cilantro and basil. We love this carrot-top pesto drizzled over roasted carrots and shallots. Also try them out in any herby sauce, like a salsa verde, chimichurri, or gremolata.
The greens (or tops) of beets and turnips can also be saved from the bin. They're lovely cooked, with a texture that's sturdier than spinach but more tender than kale or collard greens. And it's as if you've got two vegetables for the price of one. Like most greens, they can be sautéed simply with olive oil, garlic, and chili flakes and finished with a bit of lemon juice or sherry vinegar for an incredibly flavorful low-waste side. You can add more spices to the mix, as in this Moroccan-inspired beet green dish, or toss them into soups. The tops would also be nice in this brothy Garlic and Greens soup or a purée, like our Everything Green Soup.
So much of citrus's flavor lives not in the juice but in the zest or peel. If you know you're going use a lot of citrus juice, you can save all that flavor by preemptively zesting your lemons, limes, grapefruits, or oranges and freezing their zest for future use. You could even cut the peel off, avoiding the bitter white pith, and candy it for garnishes—just slice thinly and follow the instructions for the candied kumquats in this panna cotta recipe.
BRING THEM BACK TO LIFE
Limp veggies can almost always be brought back to life, so don't worry if your carrots, celery, fennel, radishes, or bunched greens are looking a bit sad. In most cases, if you trim the stem end, place them in a large jar or vase with a few inches of water, and leave them in the fridge overnight, they will come back better than ever. Celery and fennel will regain their hydrating crunch. Carrots and radishes will have their audible snap again. And kale, chard, and collard greens will be restored to their sturdy selves. You can further extend the life of carrots, radishes, turnips, and beets by separating the greens from the vegetable itself—they tend to draw moisture and both parts will keep longer if not attached.
FIND USE FOR THE IMPERFECT
For moments when you can't restore produce to its former glory, try to find a use for it anyway. Those bruised apples or pears and slightly wrinkled cucumbers you didn't get to in time can become a refreshing juice or smoothie if tossed into a juicer or a powerful blender with some ginger.
The freezer is one of our favorite tools for eliminating food waste. Toss that bag of spinach or salad mix that's about to go bad directly into the freezer and you've got smoothie greens for days. Another freezer hack is having a stock bag or bin. This is where you can stash vegetable scraps for making stock or bone broth at a moment's notice. There's tons of potential here: You can save onion peels and ends, garlic peels, carrot peels, celery ends and leaves, parsley stems, fennel fronds, and mushroom stems. The scraps that would have otherwise landed in the trash will make any broth deeply aromatic.
The Drinks

Our nonalcoholic answer to the Aperol spritz—complete with an even more gorgeous fluorescent-orange color than the original. Carrot-orange is a classic juice combination, but we like using grapefruit instead because it's less sweet and more floral. Those citrus flavors are echoed with Seedlip Grove 42, and that touch of ginger gives a slight heat on the finish.

Your morning green juice meets a nonalcoholic margarita. The chili salt echoes the natural saltiness of the celery so nicely, and the ancho chili powder adds a deep earthy flavor to contrast with the fresh cucumber.

Sours are a classic category of cocktails that includes so many favorites (whisky sour, cosmopolitan, mojito). It's crucial to nail the balance between sweet and tart. Here we've upped the ante by adding spice to the mix: The orange and lime play off of each other with the sweet and tart. But it's the juxtaposition of earthy beet and the warm cardamom and allspice in Seedlip Spice 94 that makes the drink memorable.