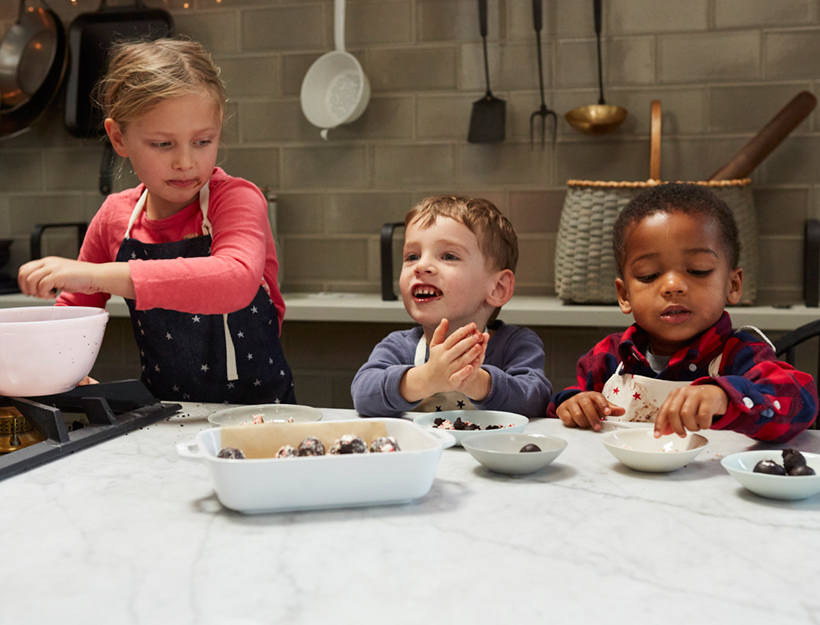 Photographs: Ryan Robert Miller, Food Stylist: Caroline Hwang
Edible Gifts You Can Make with Kids
School's officially out for the holidays, which means kiddos everywhere are suddenly home all day and in desperate need of something fun to do. To keep them out of trouble (and provide a much-needed alternative to binge-watching YouTube), why not enlist their help in the kitchen? Each of these three delicious holiday recipes has easy steps appropriate for kids of all ages and skill levels—and all three make excellent gifts. Quality family time plus homemade gifts for the neighborhood—we can't think of a more pleasant and productive way to spend an afternoon off.
PS: Shop the kids' apron set here.
The cutest and possibly easiest holiday gift imaginable, this recipe also requires no heat, so it's a perfect one to make with little kids. Gift these on their own or go the extra mile and include a bottle of red wine or some apple cider for mulling.

Chocolate bark is one of those things that looks fancy but is actually dead easy. Melt chocolate, pour it onto parchment paper, and top with whatever your heart desires. We kept it simple with pretzels, white chocolate, and sea salt, but the possibilities here are literally endless—put out a bunch of options and let your kids choose!

We love the chia seed truffles from It's All Easy so much that we decided to do a peppermint version for the holidays. While the flavor might be a tad sophisticated for little ones, crushing candy canes with a rolling pin will be right up their alley!