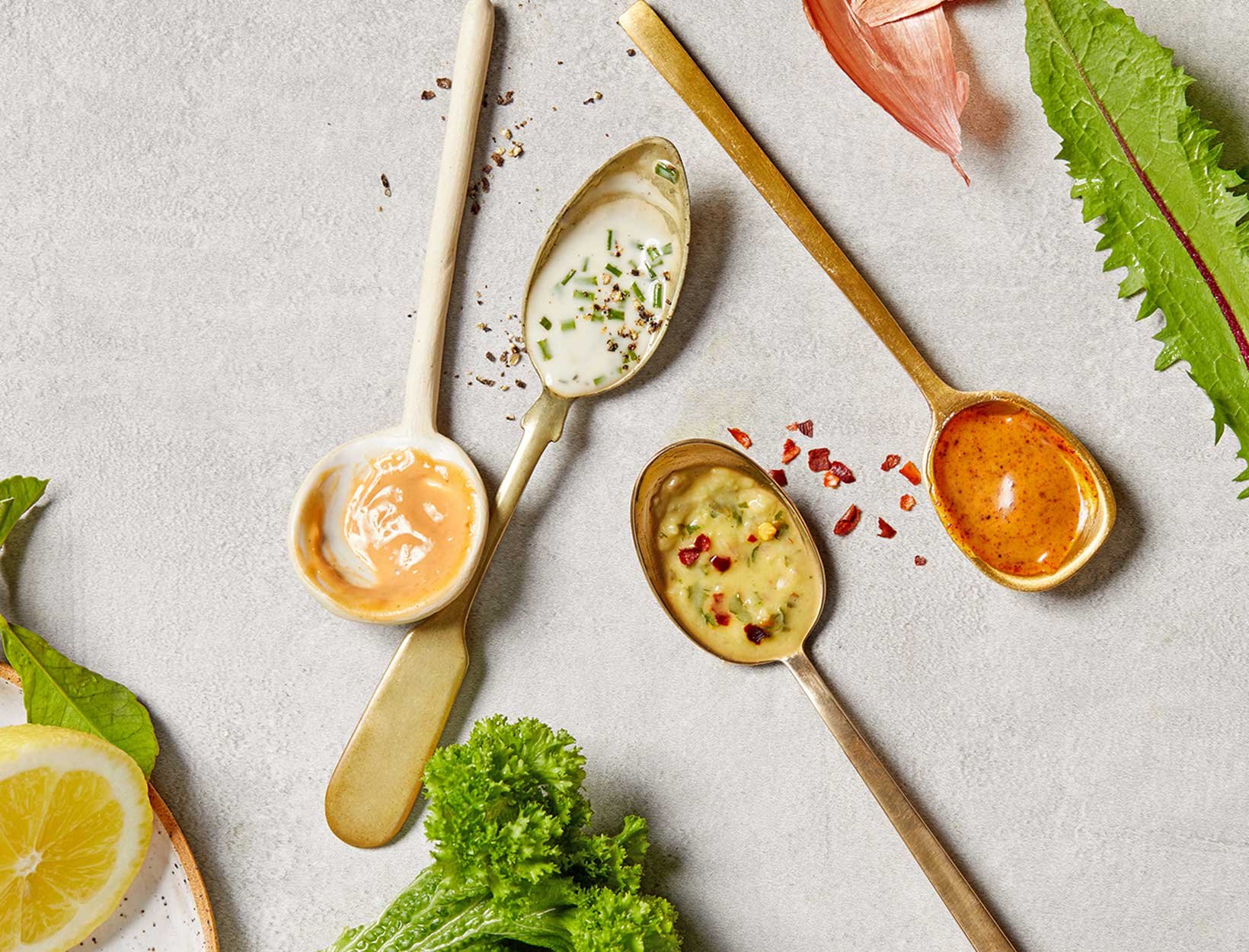 4 Creamy—and Shockingly Vegan—Salad Dressings
There are plenty of reasons to eat more plants: health benefits, deliciousness, and carbon footprint (this great quiz from Foodprint really highlights the latter). That said, making the shift isn't always easy. Many people miss creaminess when they first go vegan, so having a few simple but delicious, creamy-textured dressings, sauces, and dips in your back pocket can make a huge difference.
We've built four entirely vegan dinner menus around our favorite dressings: an amazing ranch, a creamy Italian, a chipotle crema, and a cashew satay. They're easy enough for a weeknight but sophisticated enough for company, too. Going full-on vegan might not be the end goal, but these simple recipes make it easier (and way more delicious) to incorporate more plant-based eating into your routine.
For a Totally Vegan Backyard BBQ:
Try cashew pimento cheese with crudités and crackers to start, then fire up the grill for our favorite veggie burgers and let some spiralized sweet potato curly fries crisp up in the oven. Round out the menu with a salad of Little Gem lettuce, big slices of heirloom tomatoes, thinly sliced Persian cucumbers, and our creamy vegan ranch (see the recipe below). Finish with lots of fresh cracked black pepper and an extra squeeze of lemon. 
For a Totally Plant-Based Italian Dinner:
Spiralized zucchini noodles with mint-parsley-pepita pesto are delicious with a lentil and chickpea salad (it adds a nice bit of protein; skip the pita unless you're craving carbs). Add a spectacular roasted cauliflower made with the crazy-delicious classic Italian combination of garlic, chili, lemon, and capers, plus a simple salad of escarole, shaved fennel, some roughly chopped Castelvetrano olives, and our creamy Italian dressing and you've got a pretty amazing feast on your hands.
The Better-than-Takeout Vegan Thai Night In:
Make this curried coconut squash simmer sauce; add it to a tofu, bok choy, and mushroom sauté; and serve with jasmine rice. A crunchy, bright green papaya–style salad balances the creamy curry, and we like to add a bowl of cold rice noodles tossed with our cashew satay sauce plus generous handfuls of cilantro, mint, Thai basil, and sliced scallions; a good squeeze of lime; and a finishing drizzle of sriracha. 
Plant-Based Taco Tuesday:
Cauliflower "chorizo" tacos bring a real meaty flavor to this dinner. Serve them alongside rice, the easiest-ever black beans, homemade salsa with chips, and a tangy-spicy slaw of shredded red and green cabbage, carrots, scallions, and cilantro dressed liberally with our creamy chipotle dressing. 
The Dressings That Make the Dinners (and Everything Else) Easy