1 Rotisserie Chicken, 3 Easy Weeknight Dinners from goop Kitchen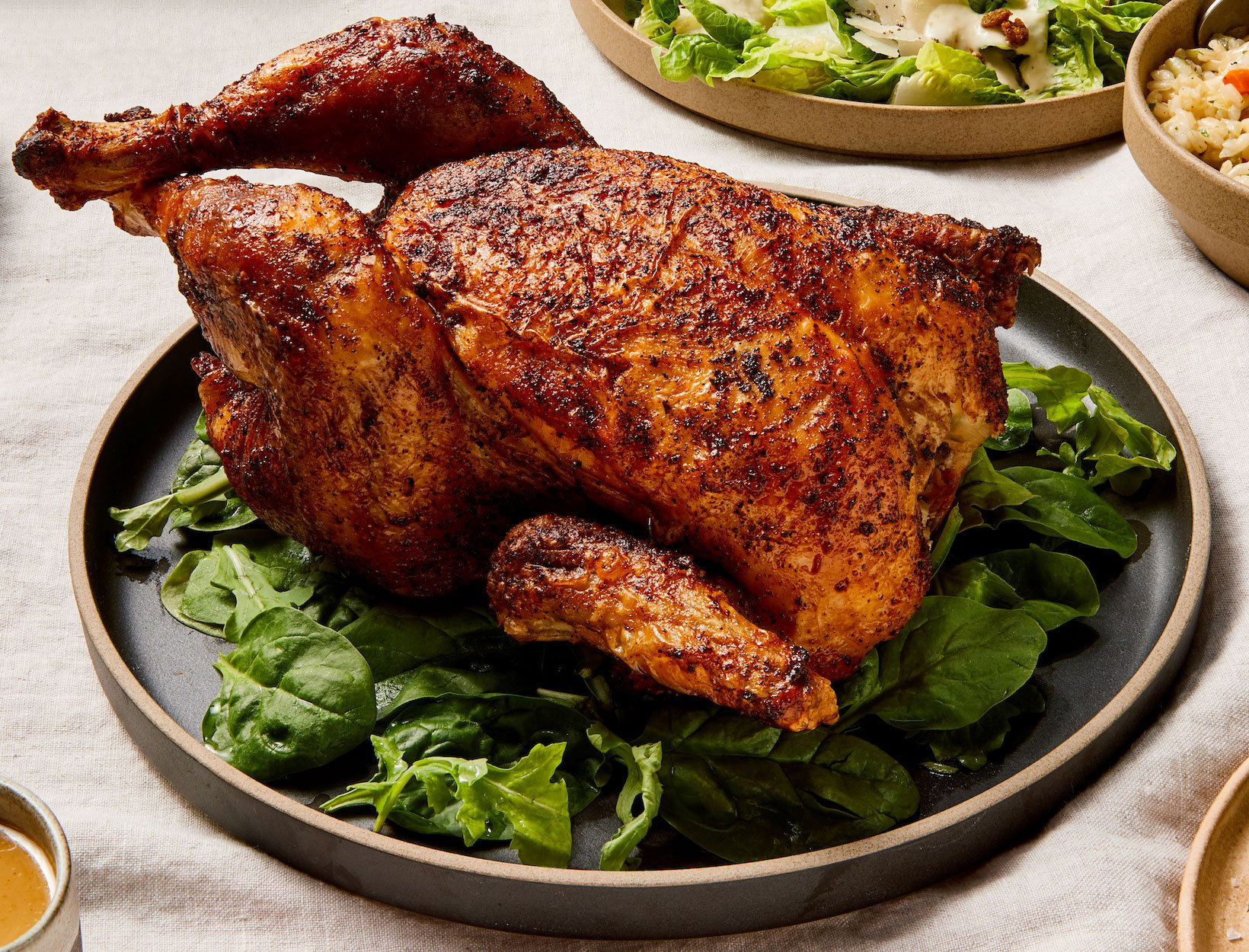 The magic of a ready-made rotisserie chicken comes in two parts: First, its ability to uncomplicate dinner, saving you however many hours it takes to research a recipe and rub and roast a bird. Second, its ability to transform into whatever you're hungry for. Tonight, you might keep it simple with chicken breast and veggie sides. Tomorrow: Prep chicken Caesar wraps for work lunches, whip up chicken fried rice for dinner, or put your leftovers to work, bones and all, for homemade chicken tortilla soup.
To celebrate the new goop Rotisserie menu—the chicken has an all-new rub, there's a slew of new sides, and you can get salmon fillets and whole roasted cauliflower, too—goop Kitchen chefs Kim Floresca and Brent Parrino created these three recipes to turn one rotisserie chicken into so much more.
If you happen to be in LA or the OC and are within ordering distance of goop Kitchen, the birds from goop Rotisserie can't be beat: They're Mary's Organic, from Pitman Family Farms (which raises hormone- and antibiotic-free, certified-organic, animal-welfare-certified chickens), and they're dry-aged, seasoned, and slow-roasted to juicy, crispy-skinned perfection. Order yours for pickup or delivery on the goop Kitchen site or on the new goop Kitchen app.
If you're out of our range, the best grocery store rotisserie starts with humanely raised, well-prepared chicken. For us, that means they're organic, free-range, raised without antibiotics or hormones, and air-chilled after slaughter. The juiciest, most flavorful birds also tend to be between three and four pounds. If you can find them, Mary's Organic chickens check all our boxes.
1 ROTISSERIE CHICKEN, 3 DELICIOUS DINNERS
These recipes start with rotisserie chicken as a standard shortcut. If you're ordering yours from goop Kitchen, might as well take advantage of a few more shortcuts, too: Add a few goop Kitchen extras, like our rice pilaf for the fried rice and lime crema for the tortilla soup, to cut down prep time even further. Each of these recipes serves two.
BEST-EVER CHICKEN CAESAR WRAPS
By Kim Floresca
These are easy, quick, and adaptable; feel free to riff with avocado, hard-boiled egg, whatever.
Ingredients:
1 recipe homemade kale Caesar or 1 order Little Gem Caesar Salad from goop Kitchen
4 gluten-free tortillas
1 cup pulled rotisserie chicken from goop Kitchen
1 heirloom tomato, diced
2 strips nitrate-free bacon, cooked and roughly chopped
freshly cracked black pepper to taste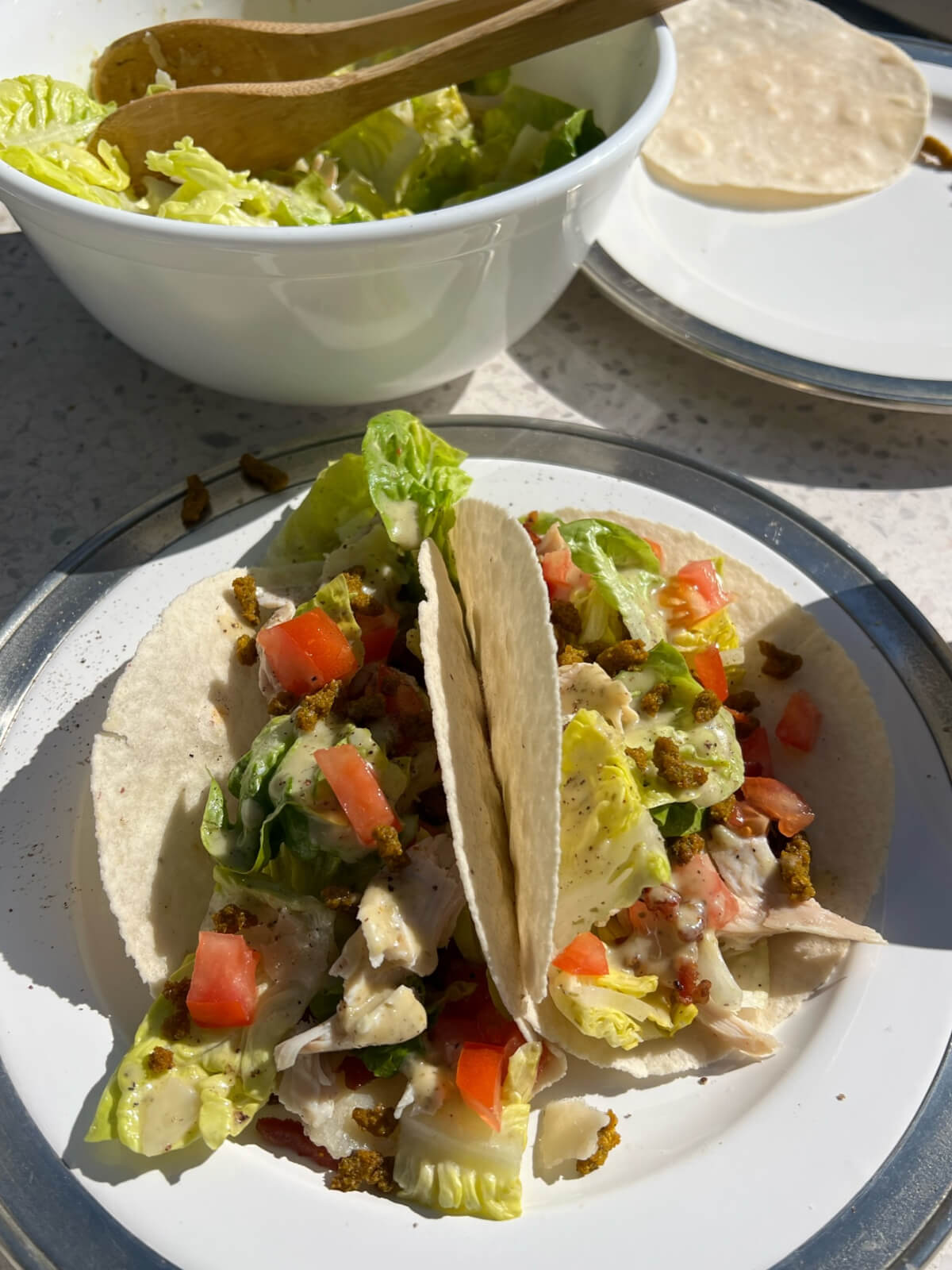 Prepare your Caesar salad: If you ordered the goop Kitchen Little Gem Caesar, toss the salad with the dressing and top with the garlicky crunchies.
Heat a sauté pan on medium heat and lightly toast the gluten-free tortillas until they're a little browned on each side, about 1 to 2 minutes each.
On a plate, fill one of the warm tortillas with Caesar salad, pulled chicken, tomato, and bacon. Season with a hefty crack of black pepper and, depending on the size of your tortilla, roll the whole thing like a burrito or fold like a taco.
---
NEXT-DAY FRIED RICE
By Brent Parrino
Especially good as a hearty, eggy breakfast.
Ingredients:
1 teaspoon oil from chili crisp, sesame oil, or avocado oil, or 1 order GCC Shallot Garlic Chili Crunch Oil from goop Kitchen
2 cups medium-grain brown or white rice, or 1 order Garlic and Herb Rice Pilaf from goop Kitchen
1 egg, whisked
1 cup pulled rotisserie chicken
4 tablespoons thinly sliced scallions, divided
tamari to taste
chili crisp to taste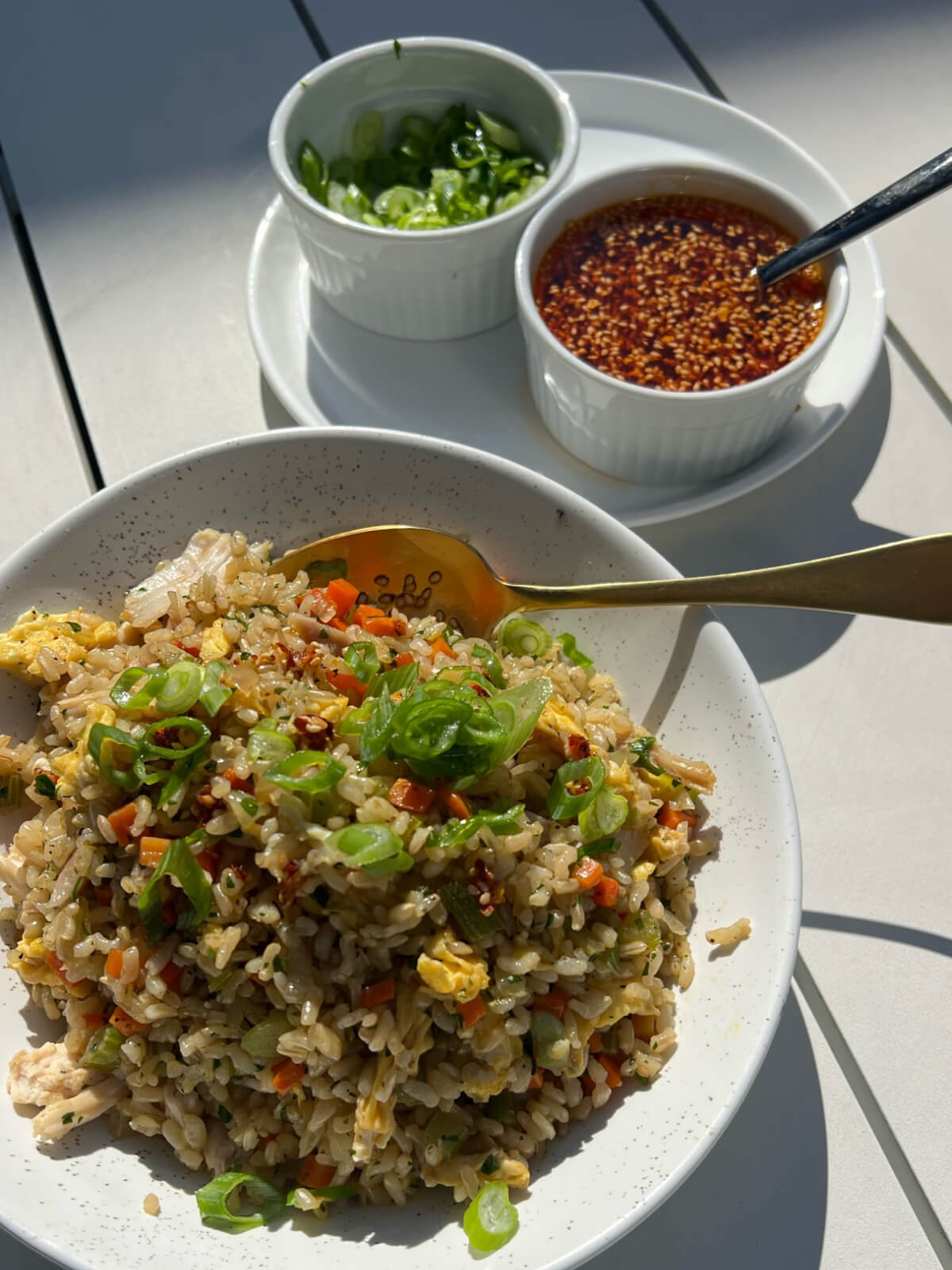 In a skillet over medium heat, drizzle the oil from the chili crisp and add the rice. Toss to heat through, about 1 minute.
Make a well in the center of the rice and add the egg. Using a spatula, scramble the egg in the well, stirring often.
Add the pulled rotisserie chicken and half the scallions. Toss and season with tamari.
Garnish with the remaining scallions and top with chili crisp.
---
NEXT-DAY TORTILLA SOUP
By Brent Parrino
Feel free to add leftover veggies from your crisper. Parrino likes this soup with mushrooms and zucchini.
Ingredients
1 rotisserie chicken
2 tablespoons avocado oil
1 carrot, peeled and diced
3 stalks celery, diced
1 yellow onion, diced
1 jalapeño, seeded and diced
1 (14.5-ounce) can diced tomatoes
1 (15-ounce) jar Siete red enchilada sauce
2 Siete cassava-flour taco shells, crushed
5 cups chicken stock
sea salt to taste
hot sauce (optional)
1 avocado, diced
2 sprigs cilantro, leaves only
2 tablespoons sour cream dressed with lime juice to taste, or 1 order goop Kitchen lime crema
Pull all the skin and meat off the rotisserie chicken. Keep the bones; these will help flavor the soup. Shred the chicken into bite-size pieces and set aside.
In a large pot, heat the avocado oil over medium heat. Add the carrot, celery, onion, and jalapeño to the pot and cook for 5 to 7 minutes, until the vegetables start to caramelize and soften.
Add in the reserved chicken bones and the canned tomatoes. Be sure to scrape the bottom of the pot to break up any bits that might be stuck to the bottom. Add the enchilada sauce, the crushed taco shells, and chicken stock to the pot. Bring the soup to a boil before lowering the heat to a simmer. Let cook for 30 to 40 minutes.
Once the soup has cooked, remove the chicken bones from the pot and add the shredded chicken. Add the salt and hot sauce to taste. Divide the soup into bowls and garnish with avocado, cilantro, and lime crema.