Food Hero, Seamus Mullen
Hero Food by Seamus Mullen is one of those cookbooks that comes along once in a while that makes you feel really inspired. Seamus is a wonderful chef, heavily inspired by his time living in Spain, beautiful ingredients and his health (he has managed to get off his rheumatoid arthritis medication by changing his diet). We caught up with him at his super delish restaurant Tertulia in NYC's Greenwich Village and asked him about his process for the book and his approach to healthy eating, and got him to give up some recipes! See below.
---
Q
Your new book is genius. We love that the chapters are categorized by ingredient. What inspired you to organize it this way?
A
The idea of breaking down the book by ingredient happened somewhat by accident. When I was first diagnosed with Rheumatoid Arthritis I knew absolutely ZERO about the disease and even less about how food might impact it. My mom was the first person to suggest I start looking at my diet and she bought me a whole gaggle of books on food and wellness. They all sucked. Seriously, sucked. I mean there wasn't a single thing I would have been the least bit interested in cooking. I started looking more and more, but every book I found was pretty uninspired. That's when I started to think that somebody should write a book about the impact diet has on disease, but with good recipes and solid research. I never thought I would be the one to do it, but a few months later, as I started to experiment with my own diet, I realized I had something to share.
The first thing I did when I started thinking about the relationship between food and well-being was to make lists of all the things I like to cook with. Olive oil was at the very top of the list. Anchovies were up there too. Once I had compiled a pretty comprehensive list of my favorite things to cook with, I started reading more about the nutritional properties of these ingredients. Guess what? Most of them happened to be the best things for me. (Hooray for Mother Nature!) These ingredients really became my heroes, as they changed the way I feel. That's when I decided to write a book broken down by ingredient that could focus on each and present them in ways the home cook might not think of. I'm a chef; my job is to make food taste good. For a very long time I've found that the words "healthy" and "delicious" have been really challenging to say in the same breath. My hope is that this book helps bring these two words together.
---
Q
The book reads very thoughtfully. It feels like a real labor of love. How long did it take you to complete?
A
From soup to nuts, the book took nearly three years. I was insistent on making a book that wasn't just "recipe/photo, recipe/photo" with really over-produced, studio photos. I wanted it to feel personal and to have narrative and grit and realness. I am a bit of a control freak. When I have an idea for something I tend to get very involved in every aspect (I designed Tertulia which drove my contractor crazy) but I think this is part of what makes the restaurant successful. The book was no exception. I told the publisher that I would only do the book if my best friend from high school, Colin, photographed it.
Colin and I have been working together for years, we were roommates, we're really close and I knew that the only way this book could capture my life, family, and food was if he shot it. I couldn't be happier with how it turned out. He's so talented and has been struggling for years as a photographer and this book has really been his big break. It meant that he and I traveled to Spain a few times to shoot, went to my mom's farm in Vermont and had dinners on the roof of my apartment. It wasn't the most efficient way to make a book, but I'm far more interested in doing it the right way, rather than the quickest way. It also took me far longer to write than it would have taken a more experienced writer, but in the end, we managed to get it done. Somehow.
---
Q
We who read about food know that you have rheumatoid arthritis and that you say you have been able to heal yourself through diet. What have you cut out and or limited? Also, what do you eat on a regular day?
A
You'll notice that the book isn't so much about cutting out as it is adding in. Most of the diets I read about were elimination diets, which I find very exclusive. I wanted this book to be much more inclusive. Simply from a philosophical position, there is something inherently more positive about embracing rather than rejecting. This is not to say you include just any old thing. This book is about what works for me. It is not a prescription for dealing with inflammation (though I have managed to get off of some very hardcore drugs and be nearly pain-free through food and exercise!) If you find that gluten or corn or nightshades don't work for you, by all means, avoid them. I happen to LOVE tomatoes. And corn. And eggplant. Initially I thought I was completely screwed. Then I changed the way I thought about these ingredients and I realized what I really loved about a tomato in August, the height of its season, was completely missing from a tomato I had any other time of year. I derive a lot of pleasure and joy from eating a tomato in peak season and I get nearly no joy or pleasure from eating an unripe, out of season tomato. The solution seemed pretty obvious to me: eat them in moderation, when they are best and make something of a ceremony out of it. Really celebrating that ingredient and the pleasure and joy I it gives me far outweighs the inflammatory impact it may or may not have on me. Frankly, I think a lot of the diet-related issues people suffer from have more to do with extended over-exposure to the wrong ingredients rather than the ingredients themselves. Of course I have no scientific proof to back this up, but that's what my gut (pardon the pun) tells me.
So to answer your question, what have I cut out? Well, basically anything with an overly scientific name I can't pronounce! I've cut out nearly all refined sugar, refined flour (I will have wheatberries and farro, both of which have gluten in small amounts, but tend to be much more digestible). I've cut out most alcohol, though I have a glass of wine or Scotch from time to time. The most important thing for me is to know the provenance of the food I eat, or at least to have a sense that it's coming from a source that I trust. It can be hard to do this if you're not meticulously sourcing your ingredients but it makes for a good argument to return to a traditional way of shopping and cooking. I'm lucky that I have the luxury of knowing EXACTLY where most of my food comes from. In the summer, I actually grow a lot of my own vegetables on my roof, which is perhaps the most gratifying way to eat. Oh, and I went hunting on Saturday so I know where my birds come from ;).
On a regular day I eat mostly vegetables. I tend not to eat too much meat. If I do eat it, it's in small quantities. I eat a fair amount of fish and shellfish and I try to eat a lot of greens. I eat granola in the morning with rice milk.
---
Q
At your NYC restaurant, Tertulia, you kind of reinvent very classic Spanish cooking. Can you tell us a little about your time in Spain and why you chose Spanish food as a focus?
A
I nearly flunked out of high school but I have a good ear and I can imitate accents quite well. I did very well in Spanish class and a supportive teacher encouraged me to do a year abroad in Spain. The rest is history. I ended up going back time after time, living first for two years in college, then two more years cooking in San Sebastian and Barcelona and then returning nearly every year ever since. In Spain, people eat seasonally because they still shop traditionally: they don't buy their produce in grocery stores, but rather go to the market. In the market the fisherman's wife sells the sardines and the farmer's wife sells the chicken and you don't expect the cornucopia of out-of-season options that we have come to expect in the states. This is definitely changing, but doing so relatively slowly in Spain. A traditional diet, whether it is Spanish, Italian, Korean, etc., tends to be a sensible diet. Most food-related health problems stem from overly-industrialized food "products." I fell in love with the food, the language and the culture, so it just sort of made sense that as I grew as a cook, the food I cooked would reflect that.
GP stopped in for an amazing lunch at Tertulia during a recent trip to NYC. Here's a quick peek at what she had.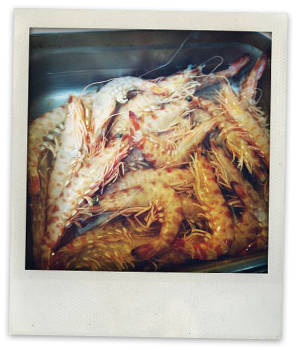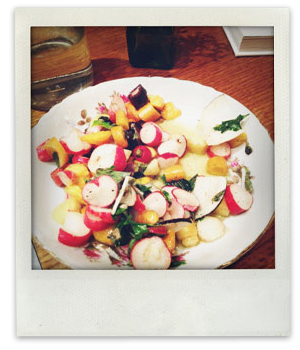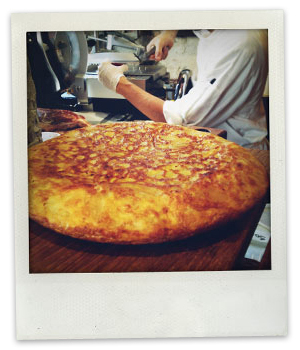 ---
Q
What is the easiest recipe from the book to prepare? Say, for a quick weeknight dinner??
A
Hmmm….the easiest recipe would probably be the Sunday roast chicken (see recipe below). It's an easy dish to prepare and is incredibly satisfying. I actually made it last night and today I brought leftovers to the restaurant and tossed the breast in with beets, carrots, and kale for my lunch salad.
---
Q
What is your favorite recipe from the book to make for friends?
A
For friends, I love making the soft cooked eggs with romesco. It's a great dish for entertaining, the eggs are unctuous and creamy, the nutty romesco sauce is awesome.
---
Q
Name five ingredients you always have in your pantry.
A
Good Spanish anchovies

Good Spanish tuna in olive oil

Marcona almonds

Arbequina olive oil

Dried Verdina beans
---
Q
What is your best advice for eating well and do you think attitude has anything to do with it?
A
I think the most important thing when it comes to eating well is to have a plan for your week and shop accordingly. Look ahead; don't go to the grocery store without a meal plan. Find a farmer's market and work it into your weekly routine. Get to know the people that are growing and raising your food, as this helps you develop an intimate relationship with your food. Attitude has a lot to do with eating well. To eat well, food needs to become an important part of your life. You can't eat on the go or eat in the car and expect food to be a part of your life. If you think of food simply as fuel, you'll never feel passionately about it and you'll never really come to celebrate it. Oh, and eat with friends and family! Food should be the grease for good conversation!
---
Q
Oh, are you married? You are very handsome and you can cook. Just sayin'.
A
Last but not least, I'm not married. Not yet, but I am engaged.
---
Here are a few great recipes from Seamus' new cookbook, Hero Food: Sunday Roast Chicken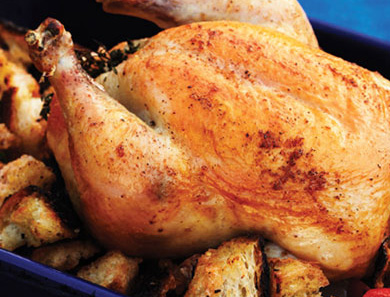 Here's a terrifically simple way to roast a juicy bird, at two different temperature, that's perfectly cooked on all four corners.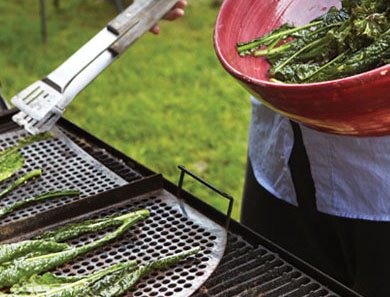 Grilled kale, in Seamus Mullen's words, is "pretty damn tasty, quite easy to make, and a great beginning to a barbecue."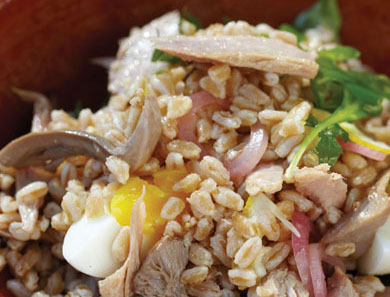 Farro, also known as emmer wheat, is one of the oldest cultivated grains, dating all the way back to biblical times. I love its nutty flavor with our Preserved Tuna. Look for unprocessed whole grain farro with bran and germ intact. It is loaded with fiber which can help lower cholesterol levels in the blood as well as keep things moving to promote healthy digestion. Farro has a higher level of protein than most other grains. If it was good enough for Moses, it's good enough for me!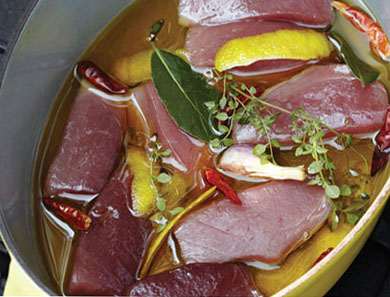 Growing up, I was indifferent to tuna in a can, but the first time I had canned tuna in Spain, I completely changed my tuna tune. The Spanish are fanatical about their canned seafood, and tuna is no exception. In recent years, high-quality Spanish tuna has become available in the United States; however, it is surprisingly easy to make your own when high-quality yellowfin is available. And as I've said earlier, we must be careful to choose the right tuna (i.e., not bluefin).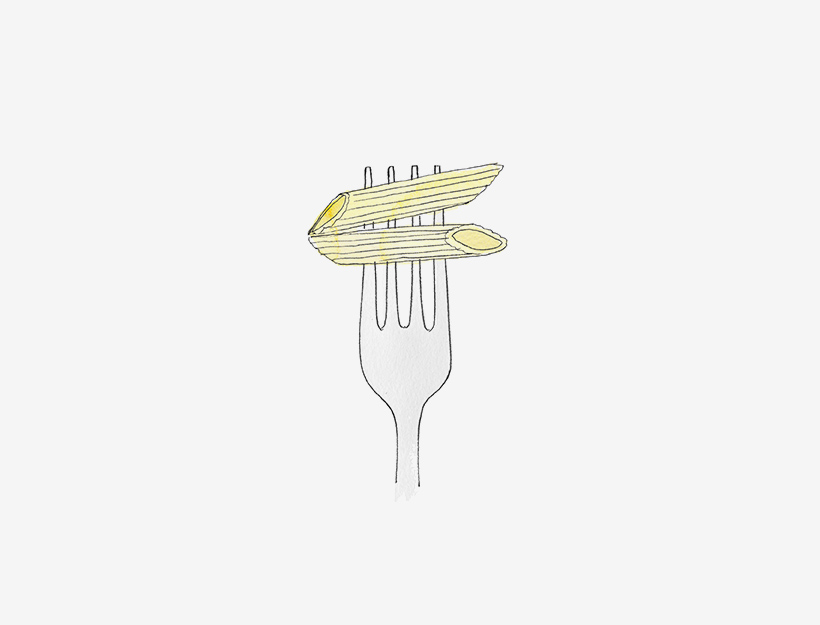 These are great in salads and on sandwiches.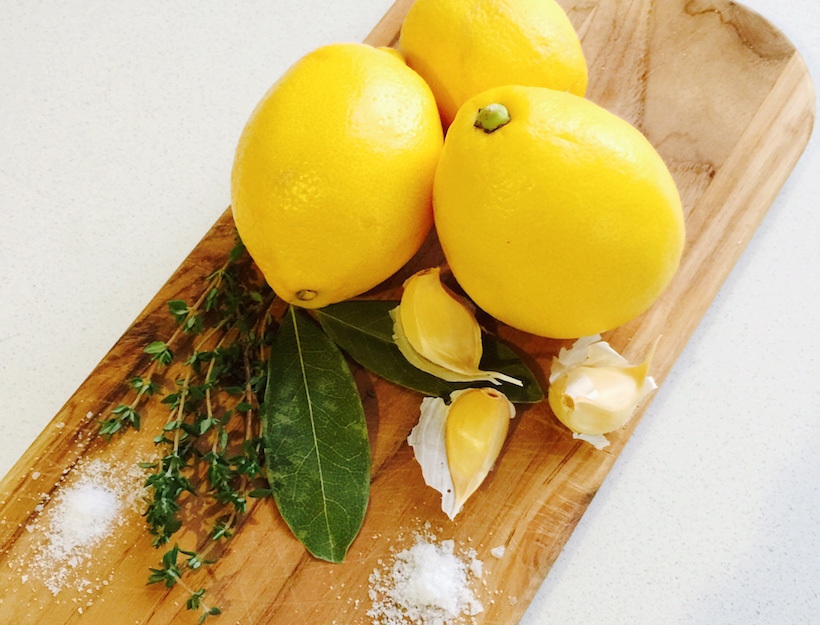 This recipe comes to us by way of Seamus Mullen's anti-inflammatory cookbook, Hero Food.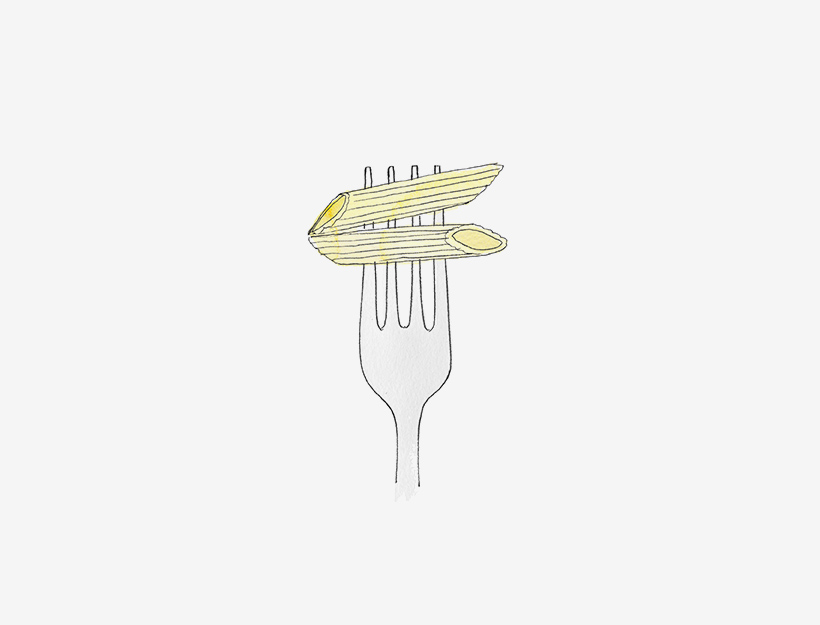 This recipe comes to us care of Seamus Mullen's anti-inflammatory cookbook, Hero Food.