Do it Delicious
My wonderful and hilarious friend Jessica Seinfeld just published her second hit book, Double Delicious, which focuses on ways we can be smarter in the kitchen and down the supermarket aisles. But, my new favorite thing is her kind of as of yet undiscovered website, doitdelicious.com. The catalyst for starting this site was an effort to help her old friend Ally learn to cook, as, by all accounts, she could barely make toast. Ally had the will but also the fear; with a family to feed, she was feeling the lack of culinary know-how as a self-esteem buster. Jessica set out to create super simple instructional videos for her to follow, and because they are all for Ally, we get to see the real JS in action. I recommend these videos to anyone who really doesn't have confidence in the kitchen. They will get you cooking (and that means you Mrs. JVN!). This bright, happy site is a great place to read and share tips, gather cuisine-related information, and watch the videos (some of which feature the brilliant Alexandra Wentworth). A good find.
Love, gp
From Do It Delicious, a super simple Halibut over Spinach
An Interview with Jessica Seinfeld
Q
How old were you when you started cooking and why did you start?
A
I started cooking when I was young—around 10 years old. My mother, who worked long and often late hours, would leave me notes with directions on how to get dinner on the table for my sisters and father. I learned early how to read instructions and recipes—and then how good it feels to be able to take care of yourself (and others). I have so much admiration for my mother who never sacrificed nutrition and a well-balanced meal for her family's sake.
---
Q
What do you love about it?
A
Cooking—or being "a cooker" as my son Shepherd calls me—is creative, calming, and satisfying. The comforting ritual of preparing a meal and eating at home with my family is always my preference to going out. When I was young, going out to a restaurant was such a treat. I like that my kids also see going out as occasional and therefore special. Plus, as I'm sure you've found, the meal options for kids tend to be less healthy versions of what I can cook at home.
---
Q
What is your signature dish?
A
My signature dish constantly changes. These days I love making fresh, homemade pasta, which my friend Stefania taught me how to do (she learned from her Sicilian grandmother). I thought it would be difficult, but it's actually really easy to learn. It's also like everything in life—you get better the more your practice. And it's so worth the effort. You can make a quick, high quality meal, made with only a few simple ingredients (flour, eggs, olive oil, salt) and master a skill all at the same time. What's better than that? Lately, I've been serving freshly made pasta with a very simple butter sage sauce, topped with some freshly grated parmesan. My husband and children literally go insane for this meal. Another snack I have been (obsessively) making is the caramel corn from my
book. It is easy to make and a fun treat to keep around the house. I just concocted a peanut butter-cinnamon-sweet potato version that I am really excited about.
---
Q
What is Jerry's fave that you make?
A
I believe Jerry fell in love with me when I served up a plate of chicken parmesan. One, because he couldn't believe he'd met a girl who actually cooks. Two, he loves, loves, loves all Italian food. So, Sunday nights are Italian night at our house. That might mean I prepare Chicken al Mattone (chicken sautéed with olive oil, fresh rosemary, and red pepper flakes, which is pressed flat with a heavy frying pan), Linguini alla Vongole, Lasagne, Pasta Primavera, or a simple Caccio e Pepe (warm pasta tossed with Parmesan and Romano cheese with freshly ground pepper). If I am really pressed for time, I'll make pasta with a simple garlic and olive oil sauce with broccoli and cherry tomatoes mixed in. Another go-to meal at our house lately is a very fast cherry tomato pasta sauce (it's on my website). Of course, I normally use plain ol' store-bought ricotta cheese for this recipe, but I recently found a little place that sells freshly made ricotta cheese—and when I use it, and add a dash or two of some great olive oil, things get crazy at our house. Luckily though, Jerry is easy—he loves and appreciates pretty much everything I serve. He and our kids tend to love simple, rustic food, which makes mealtimes very manageable at our house.
---
Q
We know about your brilliant idea to mix veggie purees into everything from pasta to brownies—how do you take it up a level in your new book?
A
In Double Delicous, I still add veggies into my recipes to make mealtime more nutritious, but I also created a shopping guide for busy people, included a section on how to read a label, and I definitely use more whole grains throughout the book.
---
Q
In Double Delicious you focus on the importance of knowing how to read labels, what are three tips you can give us on what we should be looking for or avoid?
A
Labels are so incredibly important, three is not enough! I'm going to give you four.
1. Do not believe what you read on the front of the box! Just because something says its "High in Fiber" doesn't mean it's low in sugar, fat, and sodium. Often the false claim on the front is intended to distract you from what is really going on inside the box. The ingredient list on the side of the box tells you everything you need to know. If sugar (in its many forms) is in the top three ingredients, maybe you can find a healthier version of that product. Sugars on the label of processed and packaged foods include naturally occurring ones like those found in fruit (fructose) and milk (lactose), and added sugars such as corn syrup, high-fructose corn syrup, malt syrup, maple syrup, fruit juice concentrate, maltose, dextrose, sucrose, glucose, molasses, brown sugar, cane sugar, invert sugar, raw sugar, turbinado, and honey.
2. Understand what the Recommended Daily Allowance means. Then know how much is too much sodium, saturated fat, sugar for your own body and diet (the recommendations for a 2,000-2,500 calorie diet are on the side of the box).
3. Always look at the serving size of a product. My family makes fun of me, but I now keep a measuring cup near my breakfast cereal. I used to unknowingly eat two servings every morning. I feel just as full on the one recommended serving. At home, smaller dishes can help you gain more control. Your eyes (and brain) do actually play tricks on you … and you can be satisfied on a lot less food than you think.
3. When attempting to buy any grain product—bread, rolls, crackers, cereal, etc.—the word WHOLE must be the first word on the ingredient list. For example, it must say WHOLE wheat flour, versus just wheat flour.
---
Q
You have a fantastic new website where you have shared videos you made to help your old friend learn to cook who really couldn't cook at all and they are brilliant! First of all they are so fun and funny, and they really make it look fantastically easy. What was the impetus to start the website?
A
My dear friend Ally has wanted to learn how to cook for years, but she was terrified and in a panic about figuring it out after all this time. When she became pregnant with her second child (she also has two teenage step kids) she knew it was finally time to get serious. I know Ally so well, so I knew how she would learn best. In these videos, I attempt to relax her about cooking and make it fun for her. Miraculously, it worked and she is now cooking for her family. We thought these videos could help other people so we decided to share them.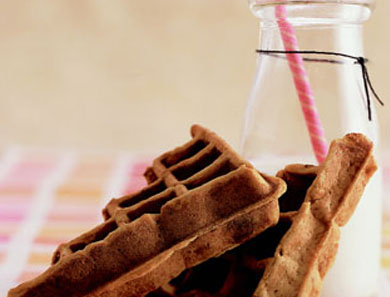 Less naughty than they sound, with whole-wheat pastry flour, carrot purée and egg whites, your kids will love you for making them.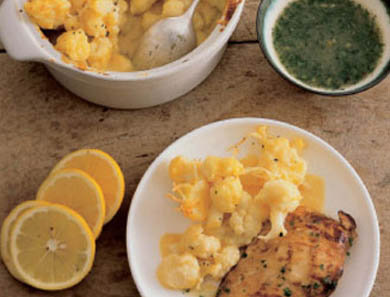 This makes for a simple, nutritious and very tasty weekday meal for the family. We love the tang of the lemon and the soft cauliflower.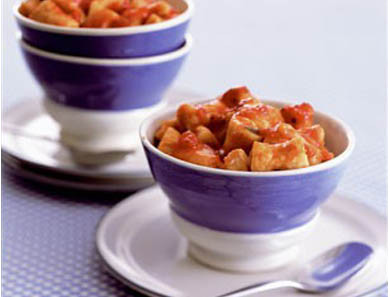 Soft, homemade little balls of potato, ricotta and whole-wheat flour simply warm us from the inside. A nice change up from dry pasta.