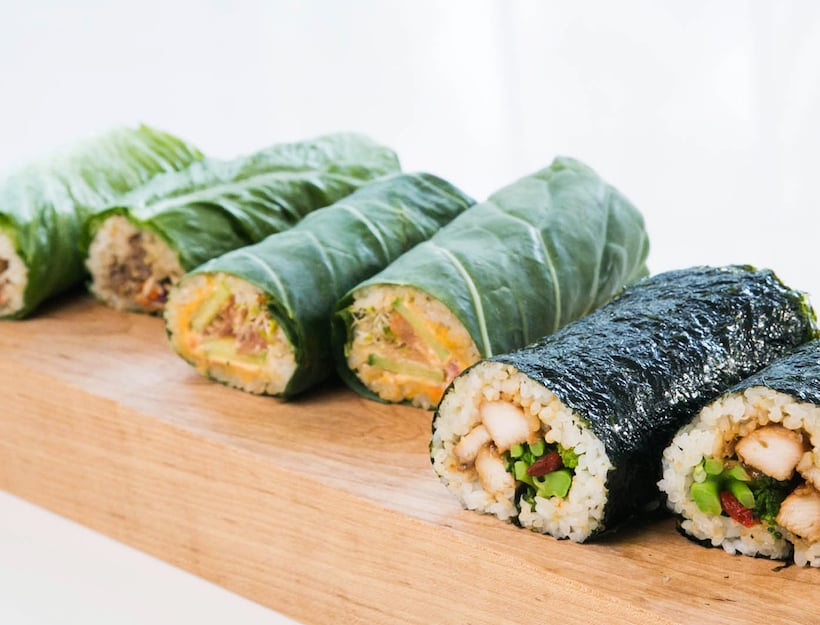 DIY Portable Lunch: Kye's Rolls
Packing a sandwich that doesn't get soggy is hard, particularly because any sandwich worth its salt requires a nice shot of sauce or spread. But that's the genius behind Kye's, a new spot in Santa Monica that serves KyeRito's: In lieu of beans and tortillas, you'll find things like wild seared salmon and macro-pressed veggies wrapped in nori, collard greens, or romaine leaves. And to keep the mini burrito from getting soggy, the interior ingredients are packaged in a slip-wrap that you pull out before eating. (Confused? Watch the video here.)
If rolling by for lunch to go isn't an option, fret not: We asked Jeanne Cheng, the genius behind Kye's for a few recipes to make at home, including GP's current fave, the Sweet Chicken Kyerito.

Photo Credit: Carla Choy Photography
This is an office favorite and a popular to-go lunch for GP. Since the nori gets soggy quickly (unless you're picking up from Kye's), eat it right away or use romaine if you're packing it for lunch. Sucanat stands for "SUcre de CAnne NATurel" and is a minimally processed pure cane sugar with a high percentage of molasses. Look for it at any health food store or Whole Foods. If sucanat is not available, use three tablespoons of brown sugar instead.

Bulgogi is a popular Korean BBQ marinade and adds great depth of flavor to this umami-dense KyeRito. The components do take a bit of prep, so plan ahead and make a lot—there's a reason people request this one even though it's not on the menu. Make it vegan by substituting Portobello mushrooms for the beef (these will only need to marinate for 4 hours).

This is Jeanne's KyeRito version of a classic deli sandwich. It's also delicious with sliced turkey instead of, or in addition to, cucumber.