Dinnertime Hacks for People Too Tired to Cook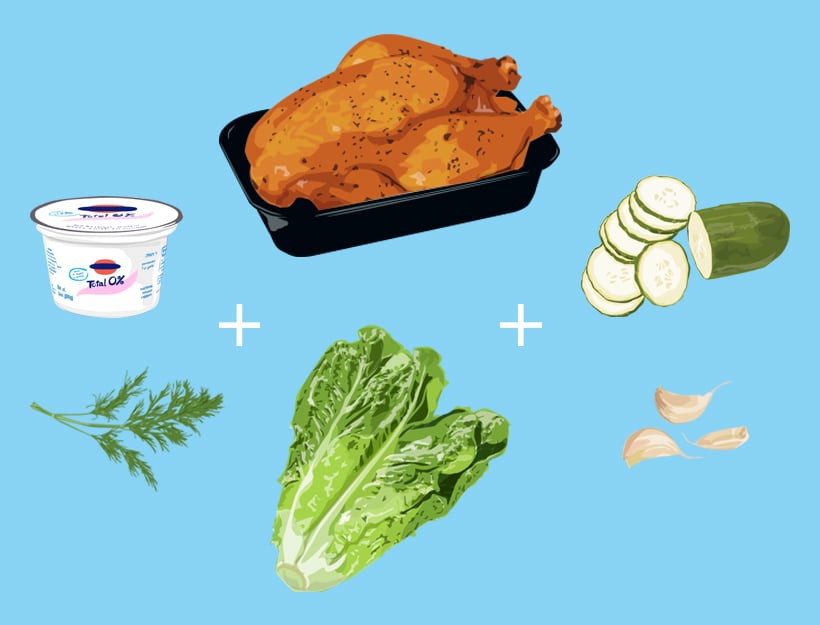 Illustrations by Louisa Cannell
While some of us at goop, ahem, are more naturally inclined to cook—and maybe a little bit more talented with a dutch oven, we all love food, and we all struggle to eat well. But at the end of a long work day, after the kids are maybe asleep, it can feel overwhelmingly taxing to turn on the stove—not to mention clean up the incipient mess. Sure, cooking up soup and sauce in bulk on Sundays is one antidote, but the rest of the time, it's take-out, leftovers, or worse—standing over the kitchen sink eating a hunk of old cheese and some toast. Yaknow?
Enter Shira Lenchewski, a nutritionist in Los Angeles who has built a practice out of coaching over-worked, Type A women in how to treat themselves a little bit better at the end of the day—or to at least plate the salad and sit down at the table with a fork. While GP and Thea keep us in business with quick and easy dinner recipes for those nights when we remember to Instacart some veggies, those of us on team goop who aren't as culinarily-blessed begged Shira for some stupidly simple shortcuts that require no stove-time at all, yet don't feel like total loser cop-outs. Below, some excellent ideas that aren't actually recipes at all—they are, however, nutritionally sound solutions which can be picked up at any salad bar for those nights we all have sometimes.
Getting Healthy Routines Into Daily Lives
Over the years, I've noticed that while many of my clients more or less know what to do in terms of nutrition, and have every intention of incorporating healthier routines into their daily lives, they're just not doing it. This means that the bulk of our work together plays out like a food therapy session—getting to the bottom of why they aren't eating better. It always boils down to one simple reason: life gets in the way. We have so many responsibilities and obligations—work, school, raising young humans, the list goes on and on, that what ends up happening is that the day gets away from us and we wind up over-eating or making poor choices because of exhaustion, stress, or simply because we go into meals starving.
To combat this, it's important to take a proactive, realistic approach. It's also important to have some self-compassion. This means planning ahead and being honest with yourself about what's reasonable and what's not, and most importantly, not feeling guilty about the choices you end up making. The latter is arguably the most challenging. Leaving guilt at the door is what helps the process work—and for the record, I've seen even the highest-achieving type A'ers get there.
The recipes below are all about doctoring grocery store items (mostly pre-prepared), with the goal of making them feel special and a little fussed-over, yet easy and convenient for when time is scarce.
Shira Lenchewski is a Los Angeles-based registered dietitian and clean eating coach with a focus on whole-body wellness and positive goal setting. She received her Masters Degree in Clinical Nutrition from New York University in 2014.