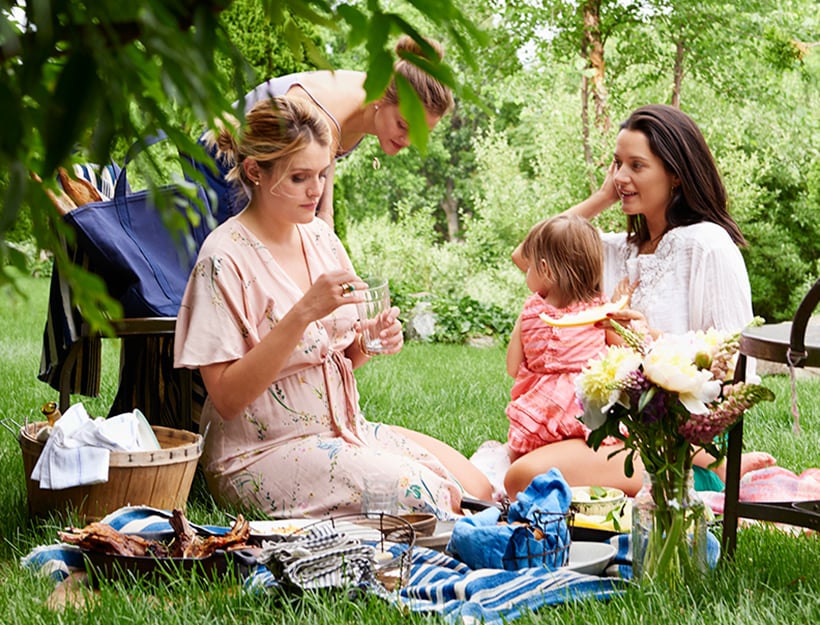 Daphne Oz: The Happy Cook
It's hard not to love Daphne Oz, the Emmy Award-winning co-host of ABC's The Chew, New York Times bestselling author, and mother of two. Lucky for fangirls like us, her second book, The Happy Cook, just hit shelves on September 20th. Full of relatively easy, relatively healthy, and seriously delicious recipes, this book is a must for anyone who cooks (or is learning to!). Below she shared with us her inspiration for writing the book, plus two of her favorite recipes from its pages. Both are perfect for fall and will no doubt become new family favorites in your house.
About The Happy Cook
"I wrote The Happy Cook to gather the recipes I rely on day in and day out that make every meal feel like a celebration. I didn't want to wait for the weekend to eat meals that got me excited to cook. I also don't have a ton of time to mess around in the kitchen between work and my two wild children (and one slightly less wild husband). So these are the meals I came up with that I found tasted better, were better for me, or easier to make—ideally all three—which makes it worth taking the time to cook at home at least a few nights a week.
I keep it simple, but thoughtful and celebratory. My goal is to elevate everyday recipes with easy flavor boosters I make and keep on hand—gremolatas full of fresh herbs and citrus, pestos, garlic, and chile oils, compound butters that give a boost to sweet and savory dishes alike. I make smart swaps where I can, so I can love my crispy-chewy coconut chocolate chip cookies and LOVE knowing they contain half the butter and sugar of the usual recipe but haven't lost any flavor. I use real, whole ingredients I know will be in people's pantries. The select "specialty" items I rely on regularly are easy to find online or in most grocery stores—and I offer a ton of alternatives in case you don't have something and still want to try the recipe. At the end of the day, I want to have fun in my kitchen, I want it to be my kingdom, and I want that for my readers."
Daphne's Favorites

"My favorite bit about this recipe is that you have the entire meal covered: succulent, salty, crispy-skinned roast chicken—(I know plenty of culinary types will scoff at my love of truffle salt, but it delivers $500 of truffle flavor for the price of a few lattes, and I think it's well worth it. And don't skip my special tip on how to get juicy breast meat and perfectly cooked thighs, too!)—plus, you get a healthy dose of lentils, squash, and scallions that soak up tons of flavor cooking at the bottom of the chicken-roasting dish. It's the kind of meal that brings everyone to the table."

"Yes, this is classic comfort food you've probably eaten a million versions of before, but there's no reason it can't feel exotic too. My trick here is to use just enough pork so your meatloaf stays rich and delicious, but swap half the quantity for ground turkey or chicken as a way to lighten it up and also because it's the perfect neutral meat to soak up all the delicious Asian flavors I load into this bend: garlic, ginger, soy sauce, and sesame oil, plus that lavishing of hoisin sauce on top for a sticky-sweet glaze. It's great fresh out of the oven, and equally satisfying the next day when you slice it onto toast with a layer of spicy mustard and a shower of fresh mint, basil, carrots, and a squeeze of lime. Make your meals work overtime and they'll always be worth the effort."