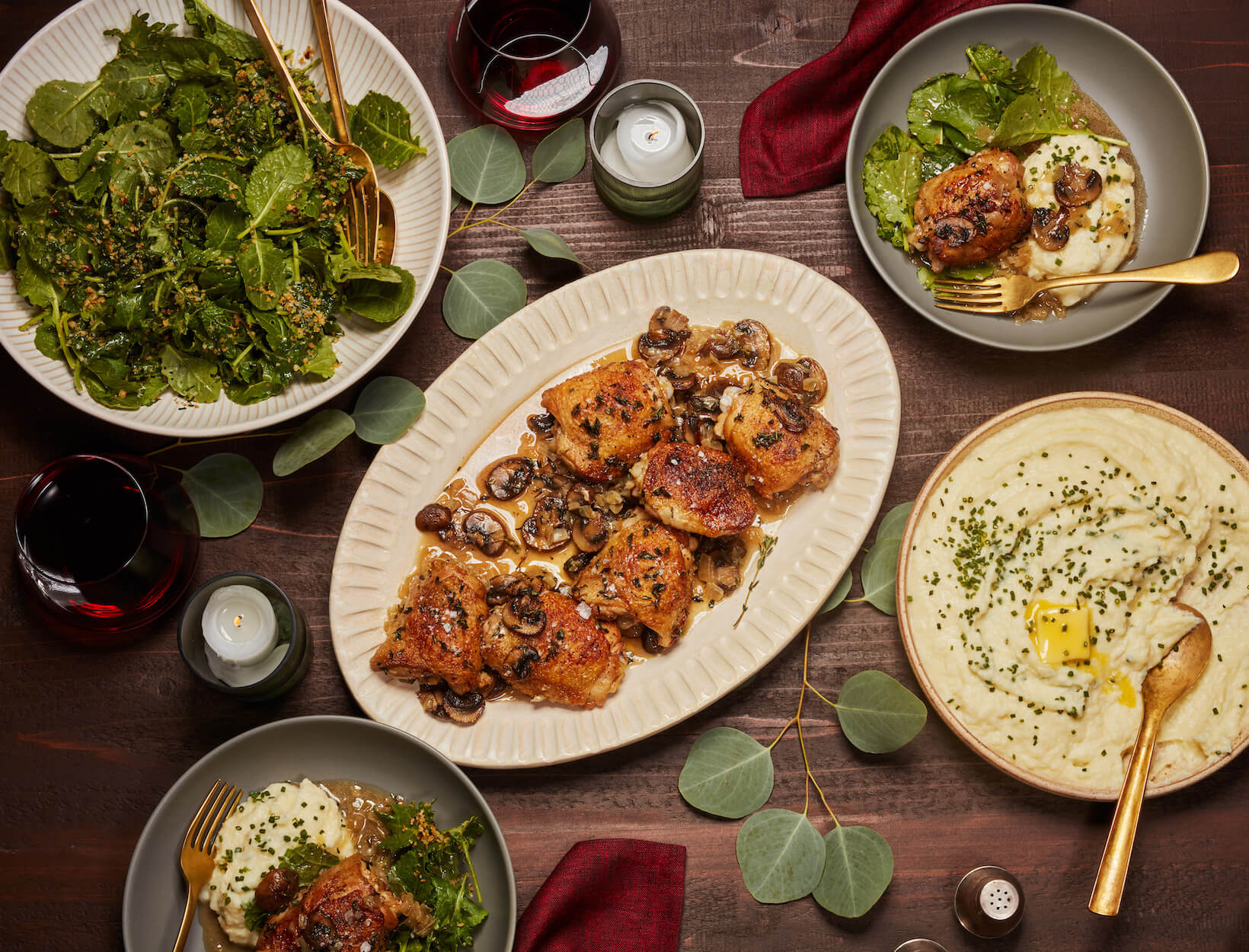 A Cozy Winter Dinner Menu
This is one of those menus you'll be glad to have in your back pocket on chilly evenings. Sure, on the surface it's chicken, a mash, and a salad—nothing groundbreaking. But it's the little details that make it special. That super crispy chicken skin. The creamy tang the Greek yogurt gives to the potato-cauli mash. The salad's textural contrasts: smooth dressing, tender greens, and crunchy bread crumbs.
It's both comforting and packed with veggies, deluxe yet easy to prepare. It could skew fancier for company or date nights, or be thoroughly enjoyed while wearing sweatpants. Though well-rounded on its own, you could easily riff and expand upon it for larger groups (sides like green beans with crispy shallots, miso-roasted carrots, squash with brown butter and gremolata, or lemony Brussels sprouts with walnuts would all bulk out this menu nicely).
It definitely scratches the itch for mashed potatoes, but the cauliflower and yogurt make it feel much lighter and like something we could easily incorporate into our regular rotation.

These bread crumbs are like the crouton's sophisticated older cousin. They're a bit more subtle, but they deliver the most satisfying crunch in every bite. Plus, they take only a few minutes to make.

If you want a comforting, falling-off-the-bone meat dish without babysitting a roast all day, might we suggest the humble chicken thigh? Braising or pan-roasting it results in that same decadence in a fraction of the time. The trick for this recipe is to let the skin get really crispy in the initial browning phase and then let it finish roasting skin side up, just barely nestled in the sautéed vegetables, stock, and wine—not submerged. This way the meat will stay tender while the skin will get crackly-crispety-crunchety (these are technical terms, you understand). It's the best of both worlds.