A Cozy Winter Dinner Party Menu
Created with Wander + Ivy
Written by: the Editors of goop
|
Published on: December 2, 2021
|
Updated on: November 21, 2022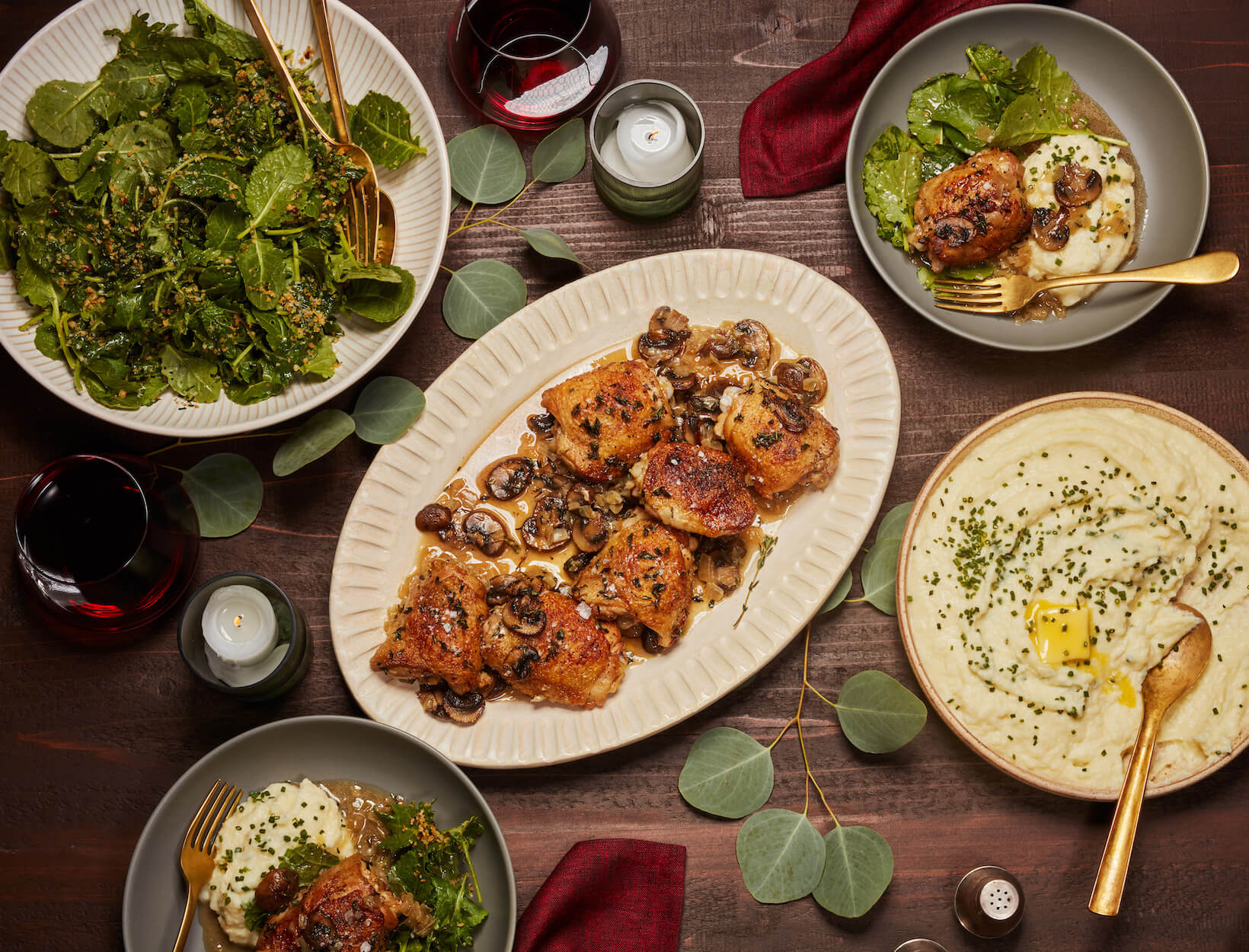 It's the little details that make this dinner party menu impressive. That super crispy chicken skin. The creamy tang the Greek yogurt gives to the potato-cauli mash. The salad's textural contrasts: smooth dressing, tender greens, and crunchy bread crumbs.
It's both comforting and packed with veggies, deluxe yet easy to prepare. It skews fancier for company or date nights. (And the leftovers: thoroughly enjoyed while wearing sweatpants.) Though well-rounded on its own, you could easily riff and expand upon it for larger groups. Sides like green beans with crispy shallots, miso-roasted carrots, squash with brown butter and gremolata, or lemony Brussels sprouts with walnuts would all bulk out this menu nicely.
While we're leaning into what's easy, take the beverage menu off your to-do list: Wander + Ivy delivers cases of single-serving French rosé, Spanish red blend, and California cab—all from family-owned organic vineyards—to your door. Which means you don't end up agonizing over this or that in the wine aisle, and your guests can grab exactly what they like while you're getting the chicken out of the oven.
It definitely scratches the itch for mashed potatoes, but the cauliflower and yogurt make it feel much lighter and like something we could easily incorporate into our regular rotation.

These bread crumbs are like the crouton's sophisticated older cousin. They're a bit more subtle, but they deliver the most satisfying crunch in every bite. Plus, they take only a few minutes to make.

If you want a comforting, falling-off-the-bone meat dish without babysitting a roast all day, might we suggest the humble chicken thigh? Braising or pan-roasting it results in that same decadence in a fraction of the time. The trick for this recipe is to let the skin get really crispy in the initial browning phase and then let it finish roasting skin side up, just barely nestled in the sautéed vegetables, stock, and wine—not submerged. This way the meat will stay tender while the skin will get crackly-crispety-crunchety (these are technical terms, you understand). It's the best of both worlds.