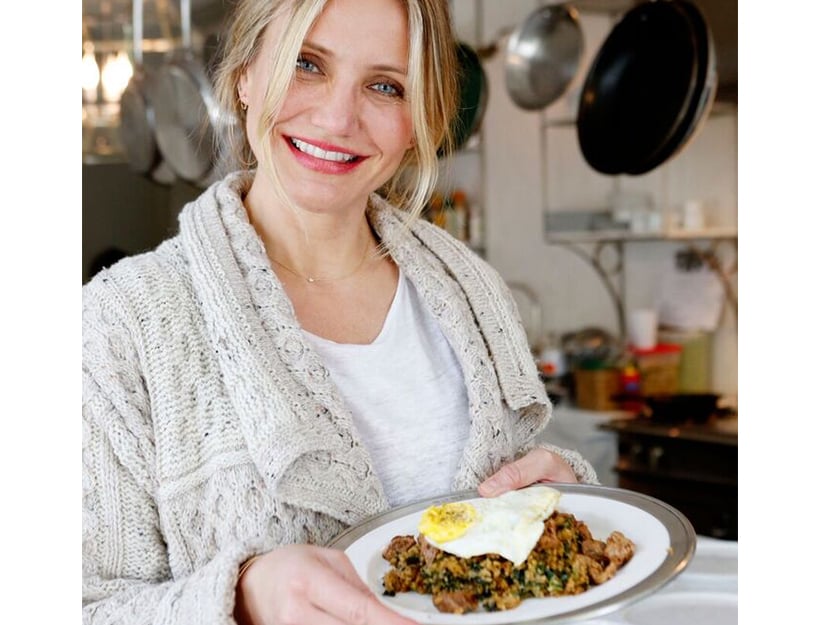 Cameron Diaz Puts an Egg On It
Cameron Diaz is the definition of an unstudied good cook. Relying primarily on instinct, she can turn pretty much anything into some sort of, generally egg-topped, delectable bowl—usually using leftovers from the night before as a base, whether it's pizza or stir-fry. So when she offered to hack GP and Thea's Cauliflower & Kimchi Fried Rice from It's All Easy—out next week!—we had to see what she would do.
Speaking of exciting book arrivals, Cameron's follow-up to her first book, The Body Book which was a New York Times bestseller, just came out. The Longevity Book: The Science of Aging, the Biology of Strength, and the Privilege of Time explores what it means to get older in society today—and the things we can all do to feel strong and youthful, longer. Below, we asked Cameron some questions.
A Q&A with Cameron Diaz
You are a great cook and you entertain with a lot of ease and even more food. When you have a big group coming, what do you make?

​I love to grill, so I love to have a protein for everyone, usually steaks, or lamb chops, or a fish. And then I throw a few seasonal veggies on, too. Then, ​a couple of salads—either hearty with cabbages or fresh and bright with a citrus—and a big bowl of simple pasta. I love having a quinoa pasta with olive oil and garlic or veggies.

You are a real breakfast person and are an absolute genius at creating breakfast out of whatever is in the fridge. How do you put together your breakfasts? What are your top three favorites?

I usually use whatever is left​over in the fridge from the night before. I first sauté whatever the freshest veggies are with garlic, add the leftover protein, carbs, a little chicken stock, and then add either a fried egg or a scramble and voila!
What five food items would you bring to a desert island, with the possibility you'll have to live on it forever?

An avocado tree, an olive tree, a lemon tree, a hen, and a rooster. I would make salt from the ocean I'm presumably surrounded by.


Who are your food inspirations?

Gwyneth Paltrow, Donna Hay, Rachael Ray, @oilandsalt, my mom.

What's the secret to longevity?

Knowledge and acceptance.
Any research that you did for the book that blew your mind in particular?​

​That cells have their own sex—females have female cells, which are distinctly different from the male cells that males have, and they react completely differently from one another. And that the majority of medical research has been done on males, so most prescription pharmaceuticals are based on testing done on men.

Why do you think people are so afraid of aging?​​

They don't understand what it is​; we only know it from what we see on the surface, not on a cellular level. All aging is a result of our trillions of cells aging, and once you understand the science, it gets way less scary.
Favorite thing about getting older?​

​What I ​have to offer the people around me, the wisdom I have gained through the experiences I have had, and looking forward to all of the years I have ahead of me.

In your mind, what are the factors that contribute to premature aging?​

Stress, inflammation, lack of movement, poor nutrition, lack of sleep, not ​being connected to the people you love.​
Go-to weeknight recipe?​​

​"Kitchen sink" soups—whatever protein and veggies are around thrown into chicken stock is perfect every time​.

First job?

TCBY Frozen Yogurt​.
Mentor?

​My mom.

Hometown?

The LBC.
What would you put on your neon sign?

​Aging is living.

Won't leave home without?

My glass water bottle.
Essential beauty product?

​Colorescience SPF 30 Brush​.

Won't fly without?

A scarf​.
Thing you buy in bulk

​Brown rice couscous.

Favorite book?
Favorite movie?

​Indiana Jones and the Temple of Doom.

First celebrity crush?

Harrison Ford.
Favorite city hotel?

​Park Hyatt Tokyo.

Favorite vacation hotel?

Hakone Spa, Kyoto.
Favorite fabric?

Cashmere.

Preferred form of exercise?

Strength training.
Drink of choice?

Water.

Perfect Sunday afternoon?

Being surrounded by family and friends.
Favorite red state?

Florida, where my family is from.

Favorite pasta dish?

Aglio Olio.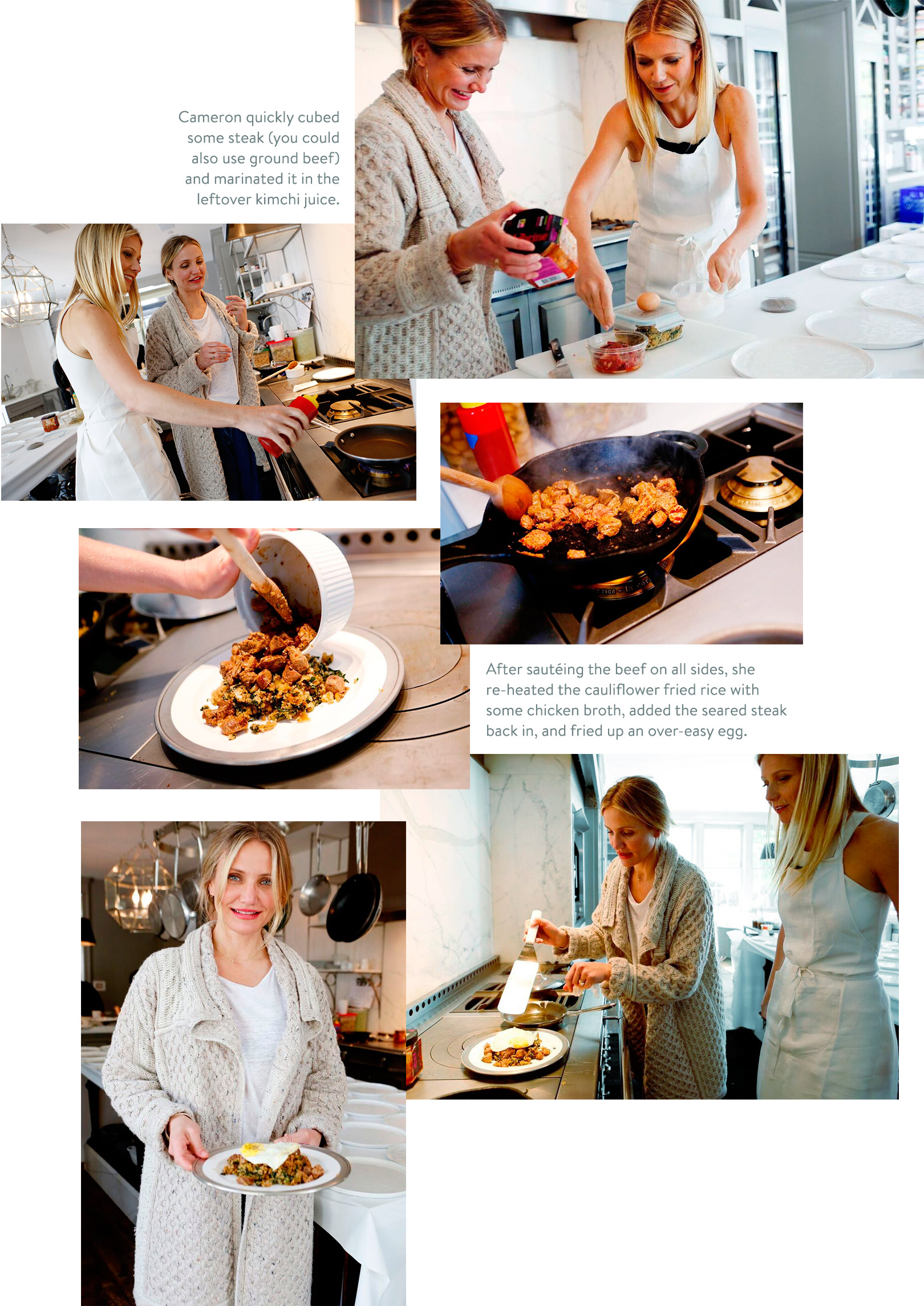 According to Cameron, almost any leftovers you find in the fridge can be easily transformed into a damn good breakfast—all you need is a quick stir-fry and an over-easy egg. After tasting this—her "put an egg on it" interpretation of GP's Kimchi Cauliflower Fried Rice—we're inclined to agree.

If you like kimchi, you'll flip for this spicy, veggie-packed cauliflower fried "rice." Photo Credit: Ditte Isager