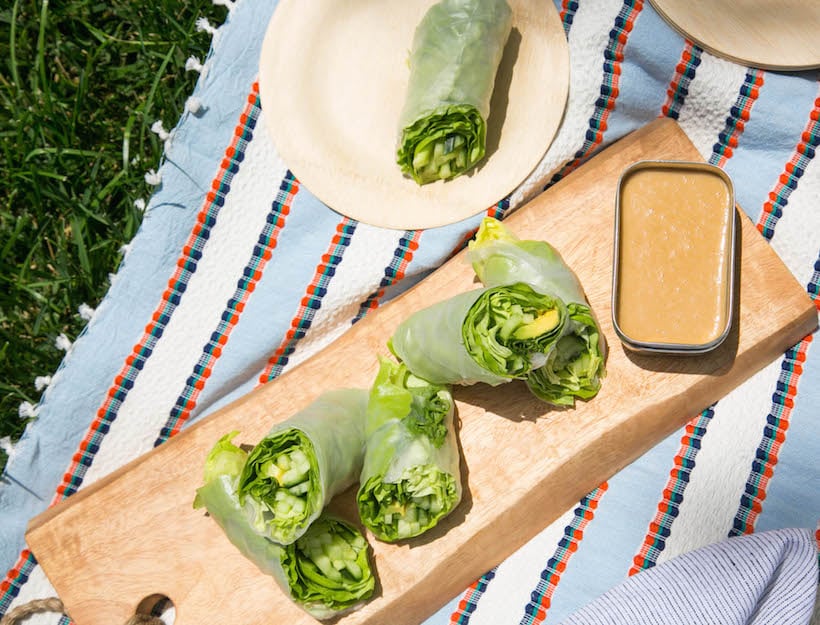 An End of Summer Picnic: Vietnamese-Style
Packing a quality picnic is surprisingly hard. Too much cheese, not enough napkins and, is it just us, or does everyone always leave hungry? In advance of the last al fresco dining opportunities of the summer, we put together a simple, foolproof Vietnamese-inspired picnic menu that can be made ahead and eaten with your hands. No mess, no plastic cutlery, and no need to grab a slice on your way home.
These aren't the most authentic (we skipped the pâté and didn't pickle our veggies, for starters) but they are seriously good. Buy the cheapest "French-style" baguette you can find—the fancy ones won't give you the right texture.

We love eating leafy greens with every meal, but figuring out how to pack them can be a major pain. Our solution? Roll butter lettuce, cucumber, avocado, and tons of fresh herbs in rice paper wrappers and serve with a tangy peanut sauce for dipping—all the nutrition of a green salad with none of the mess.

If we're not drinking beer with our Vietnamese food, we always order limeade, lemonade's cooler sibling. In our version, we make a ginger-infused simple syrup for a little extra kick.

Lychee & Longan

Since it's always nice to end on a sweet note, pick up some fresh lychee or longan from an Asian supermarket for dessert. You can also pre-slice mango—just bring wipes!