A 3-Day Summer Reset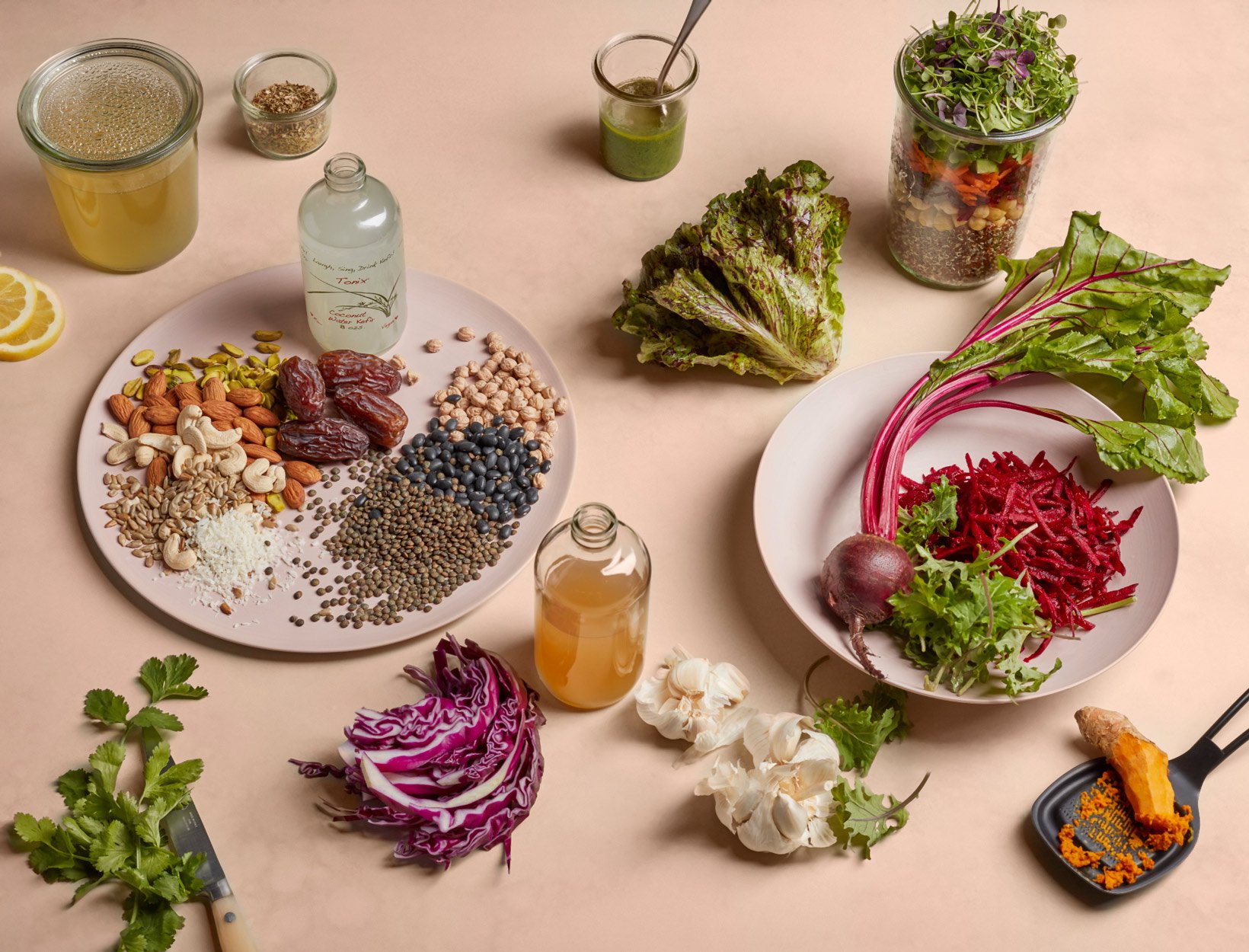 Every few months we like to do a nice diet reset, which typically means that we walk back extra sugar, dairy, and other potential food allergens for a few days to a week or so to clean it up. For this easy, three-day summer reset, we tapped LA-based holistic nutritionist Elissa Goodman, known for her twenty-one-day online cleanse program and her five-day S.O.U.P. cleanse (Superfoods. Organic. Uniquely Designed. Prepared with Love.), to create a brilliant mini detox. Every recipe in it is totally clean, deliciously nourishing, and easy to make ahead and pack for a work lunch.
This program is simple. We've eliminated all the usual suspects (gluten, dairy, corn, sugar, alcohol, and caffeine), and it's mostly vegetarian, save for some bone broth. Here's the basic routine: Every morning, start with a probiotic-rich tonic and bone broth. Lunch is a big chopped salad (perfect for taking to work in a large Mason jar), and midafternoon, snack on a grain-free granola bar. Dinner is an easy puréed soup. Just before bed, drink a warming cup of Goodman's Inner Peace Tonic.
To Sip & Snack

Start the day right with some probiotics.

Bone broth is a perfect breakfast alternative if you love something savory in the morning. Goodman suggests adding collagen powder, fresh cilantro or parsley, and turmeric or ginger for extra flavor. Make a big batch like this for a several-day supply, and use any extra in soups or for cooking grains.

These tart and nutty bars are easy to make and taste so much better than the store-bought version.

Salads in a Jar

All the different colors, flavors, and textures of this salad make eating clean a pleasure, and the combination of quinoa and chickpeas will keep you full and happy.

This is a perfect salad-jar lunch—it's packed with hearty veggies for a super satisfying crunch, and the creamy ginger cashew dressing pulls it all together.

We love this combination of raw and roasted vegetables. It has such great texture, and the balsamic Dijon lentils are perfectly tangy against the sweet blistered tomatoes.

Nourishing Soups

This soup is perfectly savory and sweet with red bell peppers, carrots, and sweet potatoes. The flavors and textures are so comforting.

Not only is it a beautiful green color, but this soup tastes even better than it looks.

This soup is rich and aromatic: The savory onion and cumin balance perfectly with slightly sweet coconut milk, black beans, fresh cilantro, and jalapeño.

Before Bed

Gynostemma is a long-revered longevity tea from Japan, similar to ginseng. Combined with adaptogenic herbs, almond milk, and a date for some sweetness, it tastes fantastic and is especially soothing right before bed.