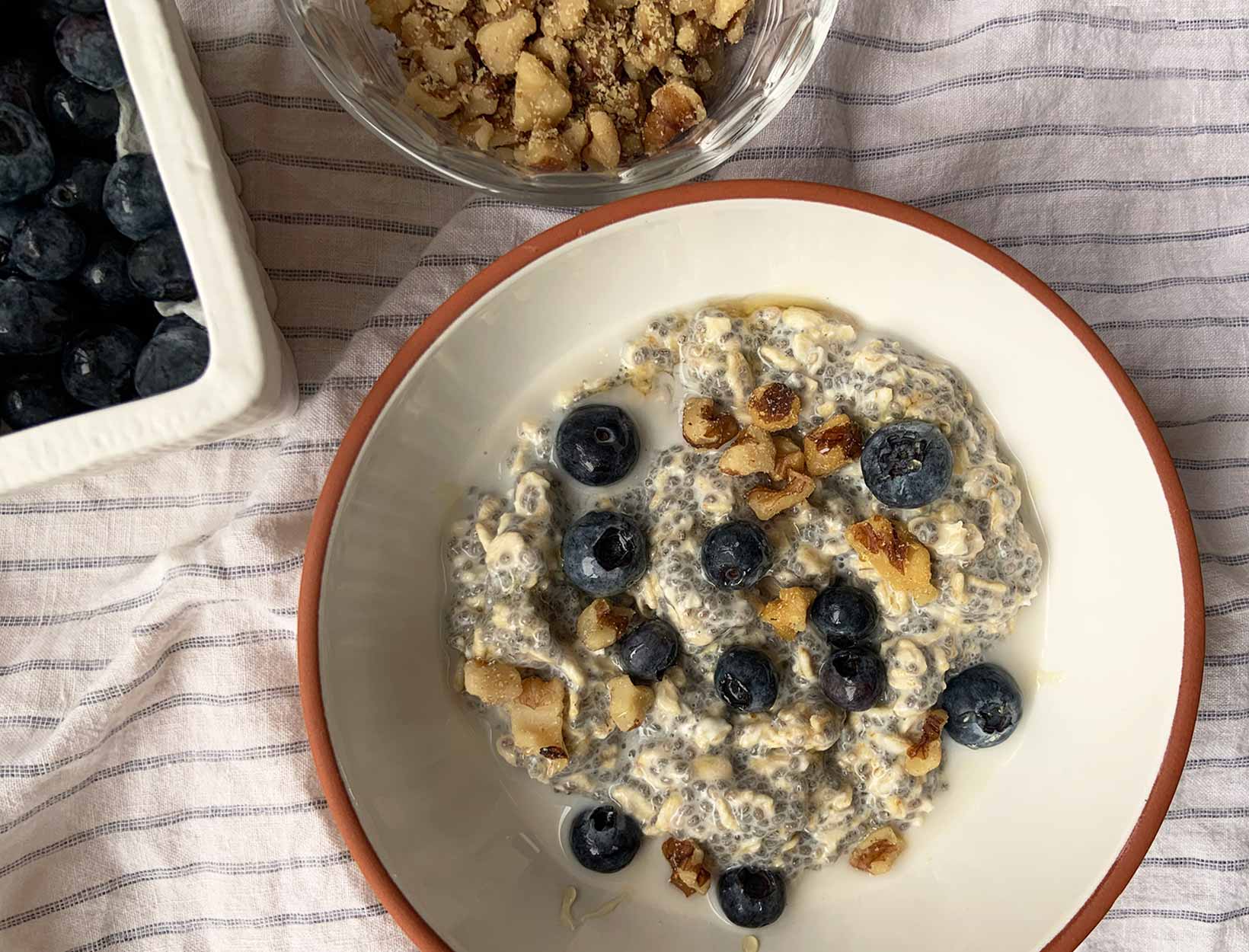 A 5-Day No-Recipe-Recipe Meal Plan
Under the best circumstances, many of us don't have the energy to come up with a plan for dinner at the end of the day. Well, circumstances certainly have changed.
We put together an uncomplicated five-day no-recipe-recipe plan to take a little bit of mealtime guesswork out of our life. It's flexible and healthy, and it relies on several iterations of a few hero recipes and ingredients.
Breakfast revolves around make-ahead Chia Overnight Oats with five different combinations of toppings to keep things fresh. For lunch, you make one big batch of our universal dressing and it goes with five different five-ingredient salads. Finally, dinner is all about celebrating the versatility of a jar of marinara, with five really different, really satisfying dishes. This plan isn't strict: Take all the liberties and enjoy not reinventing the wheel to put dinner on the table next week.
BREAKFAST
A Make-Ahead Breakfast Plan: Chia Overnight Oats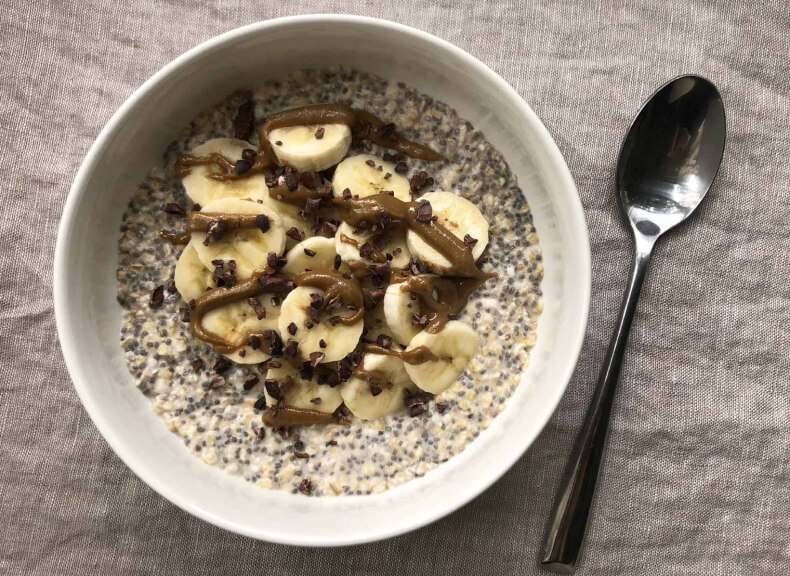 If making breakfast every morning doesn't sound appealing, try a batch of Chia Overnight Oats. Putting oats and chia together makes them more satiating and texturally pleasing than each would be alone. It takes about five minutes to prep before bed, then all you have to do in the morning is pick out your toppers. It's a neutral enough base that you can't really go wrong, but we listed our five favorite trios below. Note: This recipe should be enough for three servings, so if you want breakfast all week long, set up a batch on Sunday night and Wednesday night. The texture tends to deteriorate if you make it more than three days in advance.
The Base
1 cup gluten-free quick-cooking oats
¼ cup plus 2 tablespoons chia seeds
½ teaspoon salt
1 teaspoon vanilla extract
2 cups unsweetened almond milk
Combine all ingredients, stir well, and refrigerate overnight.
Toppers
Sunflower-seed butter + banana + cacao nibs
Mango + coconut flakes + flaxseed
Cherries + pistachios + cardamom
Blueberries + walnuts + honey
Cashews + dates + pepitas
LUNCH
Five Five-Ingredient Salads and One Dressing to Rule Them All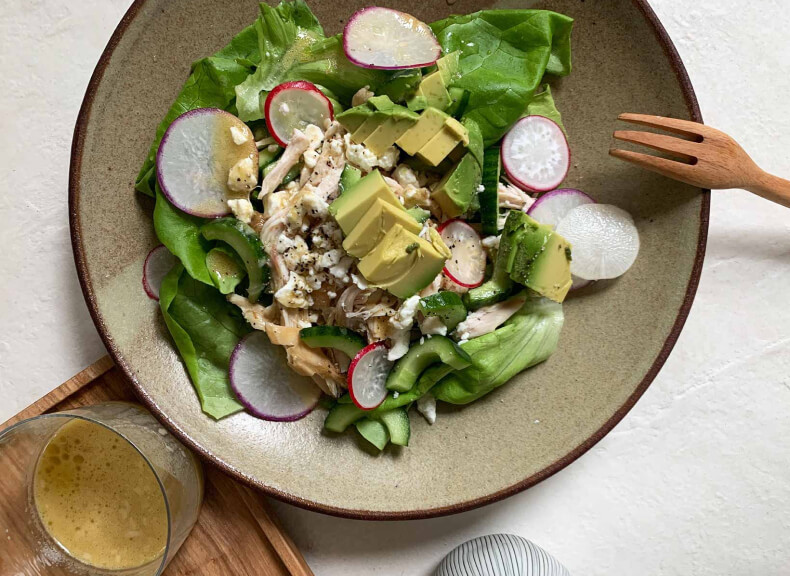 Making one killer dressing to use all week is a great move. But that doesn't mean you'll be eating the same exact salad every day (unless that's your thing—more power to you). The trick is to keep the dressing balanced and simple so that it will complement a variety of salads. This is our all-time favorite everyday dressing—plus five salad combos that we think keep lunch pretty interesting.
Universal Dressing
1 clove garlic, grated
2 tablespoons Dijon or whole-grain mustard
1 teaspoon maple syrup
½ cup red wine vinegar
1¼ cups extra virgin olive oil
Combine the first four ingredients in a small bowl, then slowly drizzle in the oil, whisking constantly to emulsify the mixture.
Combos
Kale + lentils + beets + pickled onion + pepitas
Arugula + nine-minute egg + fennel + boiled potatoes + capers
Radicchio + tuna + roasted red peppers + olives + artichoke
Butter lettuce + chicken + radishes + cucumber + feta
Romaine + snap peas + carrot + avocado + sunflower seeds
DINNER
Five Ways to Turn a Jar of Marinara into a Full-On Meal
These simple recipes all start with a jar marinara sauce (or if you have a homemade frozen stash, that'll work, too). Marinara is a rich, well-seasoned tomato sauce—and we love to doctor it up for a low-lift pasta night, but we wanted to play on some other cuisines that also highlight that cooked tomato flavor. We wouldn't file some of these recipes under "authentic." But under: delicious, time-saving, and relying on very few ingredients. Not bad for a weeknight dinner.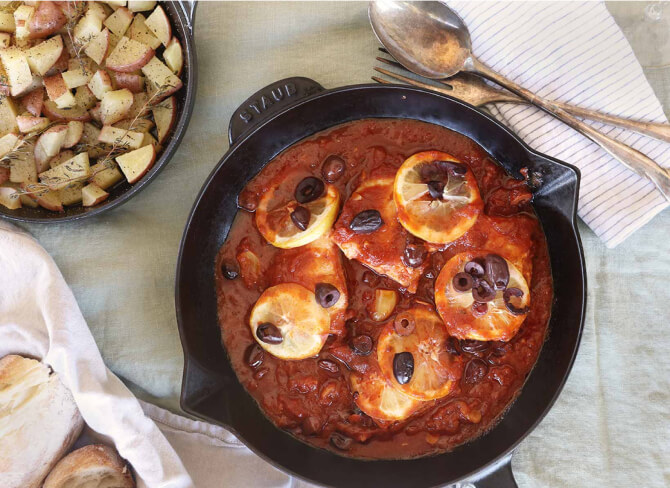 Mediterranean Baked Fish
Olive oil + garlic + paprika + marinara + cod + lemon + Kalamata olives
Goes well with: roasted potatoes or crusty bread.
1. Sauté a few thinly sliced cloves of garlic in olive oil an oven-safe pan. Add about a teaspoon of paprika. Then add about a cup or so of marinara and bring to a simmer.
2. Nestle in a few fillets of cod in the sauce, give them a generous pinch of salt, and lay some thin slices of lemon over the top of them. Scatter a few Kalamata olives over the pan, then transfer to a 375°F oven and bake for about twenty-five minutes, or until the cod is totally opaque and flakes easily.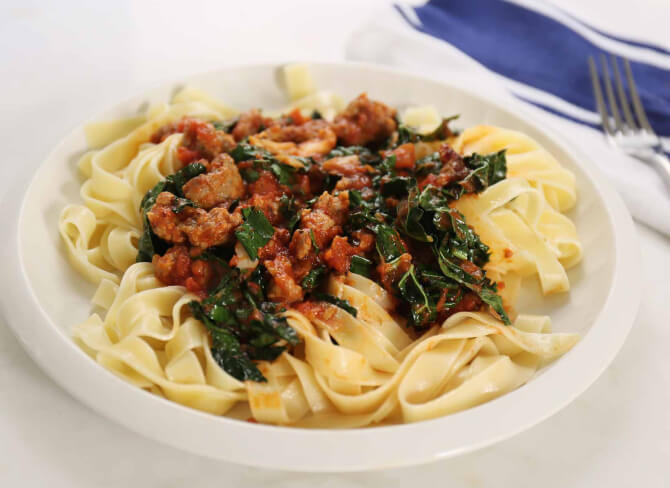 Spicy Sausage and Greens
Olive oil + garlic + chili flakes + fennel seeds + sausage + marinara sauce + kale
Goes well with: pasta or polenta.
1. Sauté a few crushed cloves of garlic in olive oil in a wide sauté pan over medium heat, watching to make sure they don't burn. Just as they begin to look golden and smell fragrant, add a generous pinch of chili flakes and fennel seeds.
2. A minute later, add some Italian chicken sausage removed from the casing, breaking it up into smaller pieces with the back of a spoon. After about seven minutes, the sausage should be nicely browned. Reduce the heat slightly and add about a cup of marinara. Let the flavors meld while it simmers, for about ten minutes. Then toss in a few large handfuls of torn kale.
3. If serving with pasta, add a splash of pasta water to the sauce before tossing with the noodles, or ladle directly over prepared polenta.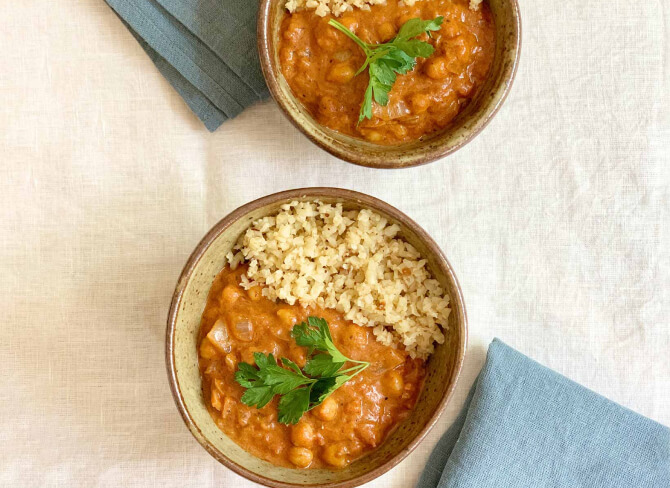 Chickpea Tikka Masala
Coconut oil + onion + ginger + garam masala + cayenne + marinara + chickpeas + coconut milk
Goes well with: basmati rice, cauliflower rice, or flatbread.
1. Sauté about half a diced onion in coconut oil over medium-low heat. After about ten minutes, it should be soft and translucent. Then add about a teaspoon of grated ginger along with a tablespoon of garam masala, a pinch of cayenne, and a generous pinch of salt and cook for about three minutes. Add about a cup a marinara along with a can of chickpeas and simmer for another ten minutes.
2. Just before serving, add about half a can of coconut milk. Let simmer for another five to ten minutes or so, just to make sure the flavors meld. Taste and season accordingly.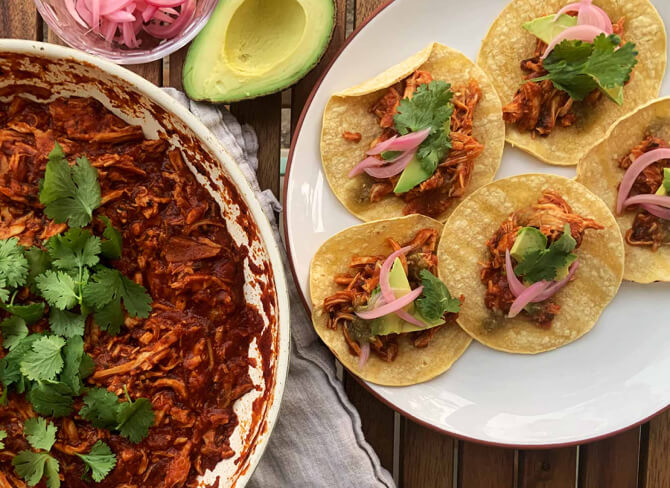 Chicken Tinga Tacos
Olive oil + garlic + chipotle chilies + cumin + marinara + cooked chicken + cilantro
Great in: tacos, burrito bowls, or enchiladas.
1. Sauté some thinly sliced garlic in olive oil over medium-low heat. Add two diced chipotle chilies in adobo (deseeded if you don't like spice) along with about a teaspoon of cumin and cook for a few minutes. Add a cup and a half of marinara and a splash of water.
2. Once that comes to a simmer, add about two cups of shredded cooked chicken. Simmer for about another ten minutes and then top with a handful of cilantro.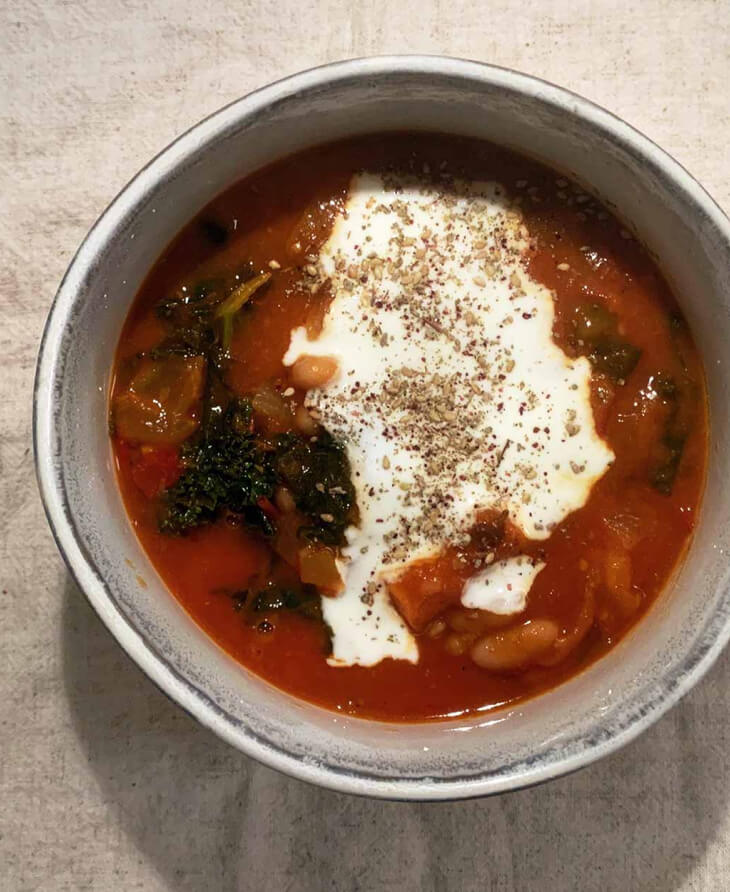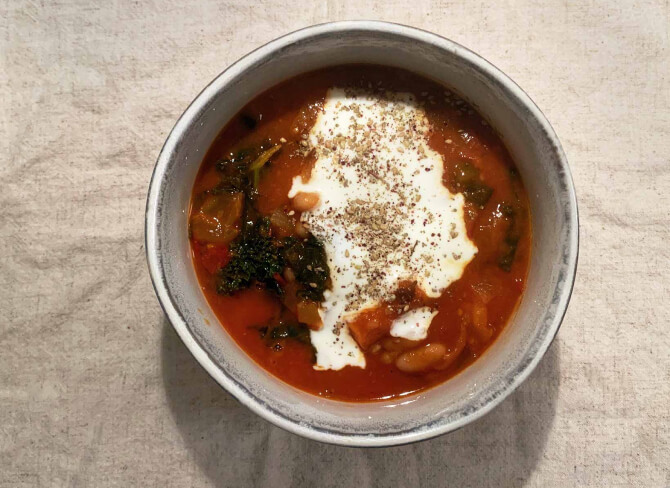 Harissa and Bean Stew
Olive oil + onion + carrot + harissa + marinara + white beans + chard + yogurt
1. Sauté half a diced onion in olive oil over medium heat for five minutes or so. Then add a couple of chopped carrots and a big pinch of salt and cook for another ten minutes, just until the carrots are starting to feel tender.
2. Add one or two tablespoons of harissa paste (taste before you add it, as the level of spice varies greatly depending on the brand). Add about a cup of marinara and a can of white beans. Fill up the bean can with water and add that to the pot, too. Bring to a simmer, then reduce to low heat.
3. Add a few handfuls of torn chard. Taste for seasoning and adjust accordingly. Ladle into bowls and top with a dollop of plain yogurt if desired.