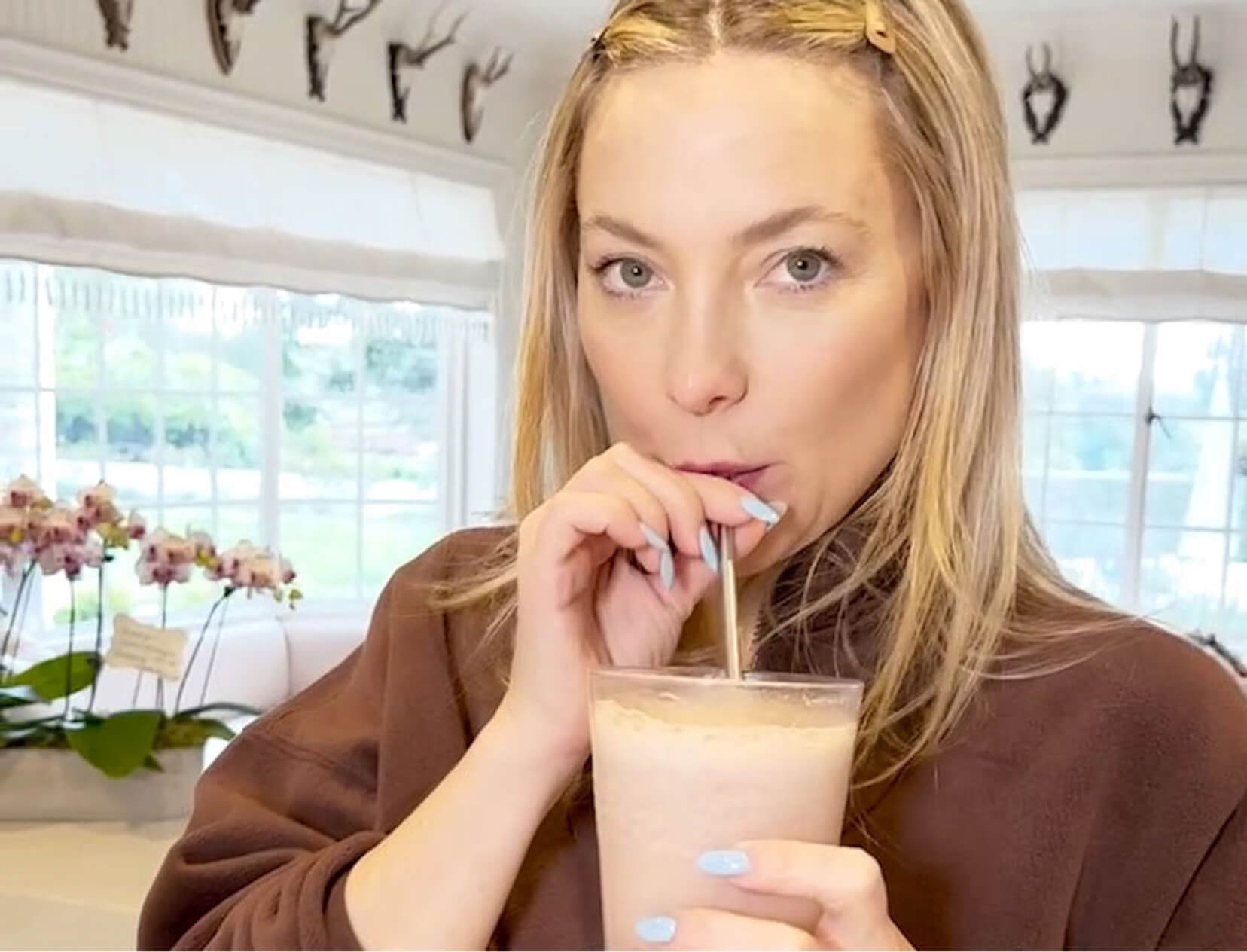 3 Smoothie Recipes
from Kate Hudson's Kitchen
In our inner Rolodex of effortlessly cool, impossibly glowy women, Kate Hudson floats at the front of our minds. When she's not mixing up cocoa espresso martinis, you might find her in the kitchen blending up protein-packed, plant-powered smoothies.
And, lucky for us, she recently started a line of nutritional powders called INBLOOM. INBLOOM sources its non-GMO plants, herbs, and mushrooms with environmental impact and nutritional punch in mind, and it doesn't use synthetic ingredients or artificial flavors. And those powders? They blend as beautifully into water or nut milk as they do in one of Hudson's carefully crafted recipes.
The Protein Powders
INBLOOM's plant-based protein powders start with a satisfying blend of protein—from pea, chickpea seed, chia seed, coconut flour, hempseed, duckweed, and pumpkin seed—and get a boost of wellness-supporting botanicals from reishi, elderberry, dandelion, cinnamon, and ginger. Choose between rich cacao and smooth vanilla—or pick up one of each.
The Powdered Multivitamin
Essential Elements is INBLOOM's take on the multivitamin: It contains eight essential minerals plus 100 percent of your daily vitamins. And it's formulated with ashwagandha, digestive enzymes, and a blend of greens to support overall wellness, digestion, and a healthy response to stress. It tastes like raspberry and fresh leafy greens. Shake, mix, or blend it into any cool beverage—we prefer coconut water, plant milk, and smoothies, but it does just fine in water, too—and enjoy with a meal.

Speaking of: We asked Hudson how she likes to take our three favorite INBLOOM supplements—two protein powders and one daily multivitamin—and she gave us three formulas for the perfect morning smoothie, no matter what you're craving today.
Kate Hudson's Smoothie Lab
Choco-Maca Banana

½ banana

1 teaspoon maca powder

1 tablespoon MCT oil

2 scoops Essential Elements

1 scoop Clean Green Protein

(chocolate)

1½ cups plant-based milk

1 handful ice

"We can't get enough of the INBLOOM chocolate protein in my house—we combine it with the nutty taste of maca powder and the nutritional benefits of MCT oil."

Ginger Berry Bliss

Flesh of ¼ lemon, peeled

1 inch fresh ginger, peeled

½ cup frozen blueberries

½ cup beetroot stalks

1 scoop Clean Green Protein (vanilla)

1½ cups coconut water

1 handful ice

"I make this smoothie with our Clean Green Protein powder, but can I tell you what really makes it amazing? That little hint of fresh ginger and lemon with the juicy berry and beet flavors."

Hydrating Green Goodness

½ frozen cucumber

1 frozen stick of celery

1 handful fresh mint leaves

2 scoops Essential Elements

1 scoop Clean Green Protein (vanilla)

1¾ cups coconut water

1 handful ice

"This smoothie is super refreshing—that's the cucumber and celery—and adding fresh mint makes it smell so good."
goop's Smoothie Essentials
While you're here: At goop, we're pretty passionate about the magic of a morning smoothie. As our food director, Caitlin O'Malley, always reminds us, if you can fit a bunch of fruits and vegetables into your breakfast and suck it down with a straw, there's a little less pressure to nail your nutrition the rest of the day. INBLOOM powders are an excellent place to start—you'll find us riffing on Hudson's recipes above or chucking them into our other smoothie recipes to beef them up a bit. Here's what else we have going on in the kitchen—from the fan-favorite blenders we had to buy to the skin-supporting superpowders our staff swears by.
The tried-and-true high-performance blender, now with touchscreen.

Vitamix

Vitamix Ascent
Series 3500 Blender

goop, $650

SHOP NOW

This metabolism-boosting superpowder tastes like decadent chocolate and blends smoothly into your favorite protein shake.

goop Wellness

Metabolism-Boosting Superpowder

goop, $58/$50 with subscription

SHOP NOW
Stash precut fruits and veg in this silicone bag—it's freezer-safe—to streamline the smoothie process.
Blend your daily skin support supplement into a bright, citrusy smoothie.

goop Beauty

GOOPGLOW Morning Skin Superpowder

goop, $60/$55 with subscription

SHOP NOW

An all-in-one blender and bottle for
smoothies to go.

Beast Health

Beast Blender +
Hydration System

goop, $185

SHOP NOW
Our probiotic superpowder is nearly tasteless, so it mixes right into whatever smoothie you're already making.

goop Wellness

Gut Microbiome Superpowder

goop, $58/$50 with subscription

SHOP NOW

Ready to take your smoothie game to the next level? Milk your own oats. (You can get oat groats at your local co-op or bulk store.)

ChefWave

Milkmade Non-Dairy Milk Maker

goop, $199

SHOP NOW