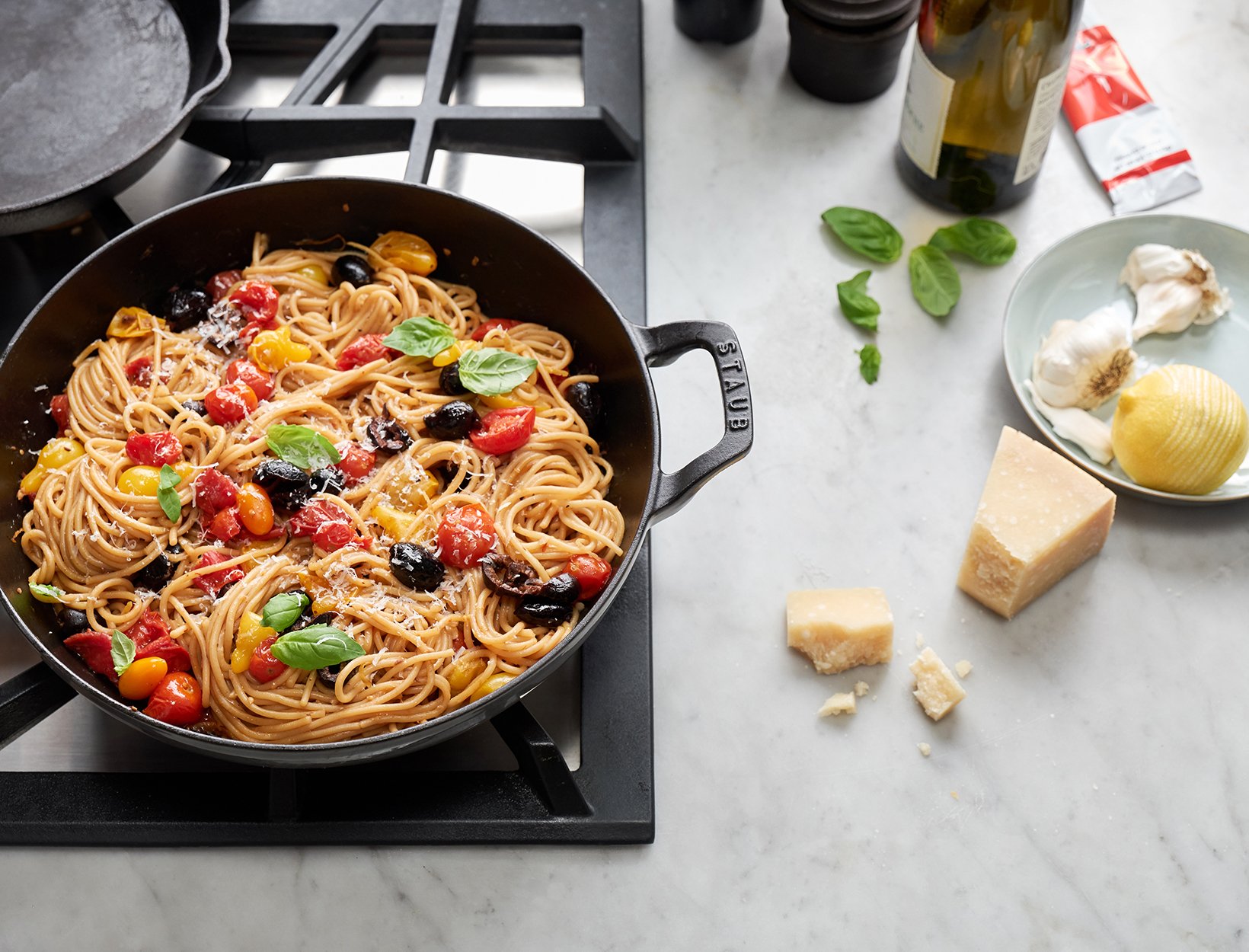 3 One-Pan Dinners That Feed a Whole Family
A one-pan dinner is a busy cook's—really, a busy person's—best friend. Not only does is it make cleaning up a breeze (one pan to cook means only one pan to clean), but this style of cooking—where everything is simmered together, leaving no ounce of flavor behind in a separate pan or roasting dish—allows you to build incredible flavor in a relatively short amount of time. And while the term "one-pot" may conjure up less-than-glamorous visions of 1950's housewives for some, we've put together three cozy, yet sophisticated fall recipes that, when served in our gorgeous stove-to-table Staub braiser, are simultaneously easy, satisfying, and one hundred percent dinner party-worthy.
One-and-Done

A lightened-up version of a classic recipe from "The I Hate to Cook Book," this dish is hearty, comforting, and super healthy all at the same time. Tender chicken, incredibly flavorful rice, and seasonal mushrooms combine to make an easy dinner the whole family will love.

This one-pot pasta is a revelation: combine raw pasta + water + whatever ingredients you like, and cook for 12 minutes. The result? The easiest, most flavorful spaghetti dish we've had in a long time. Be sure to use the right pot (this recipe uses our 3.5 quart braiser), as proper ratio between water, pasta, ingredients, and surface area is essential for success. We love the umami hit anchovies provide, but feel free to skip them to make this vegetarian-friendly.

This comforting, stick-to-your-ribs dish is just what the doctor ordered on a chilly fall evening. We ditched potatoes in favor of sweet and seasonal apples to make a more contemporary version of the classic German sausage and cabbage dish. Trust us: the play of smoky sausage, sweet apple, and spicy mustard is pretty perfect.