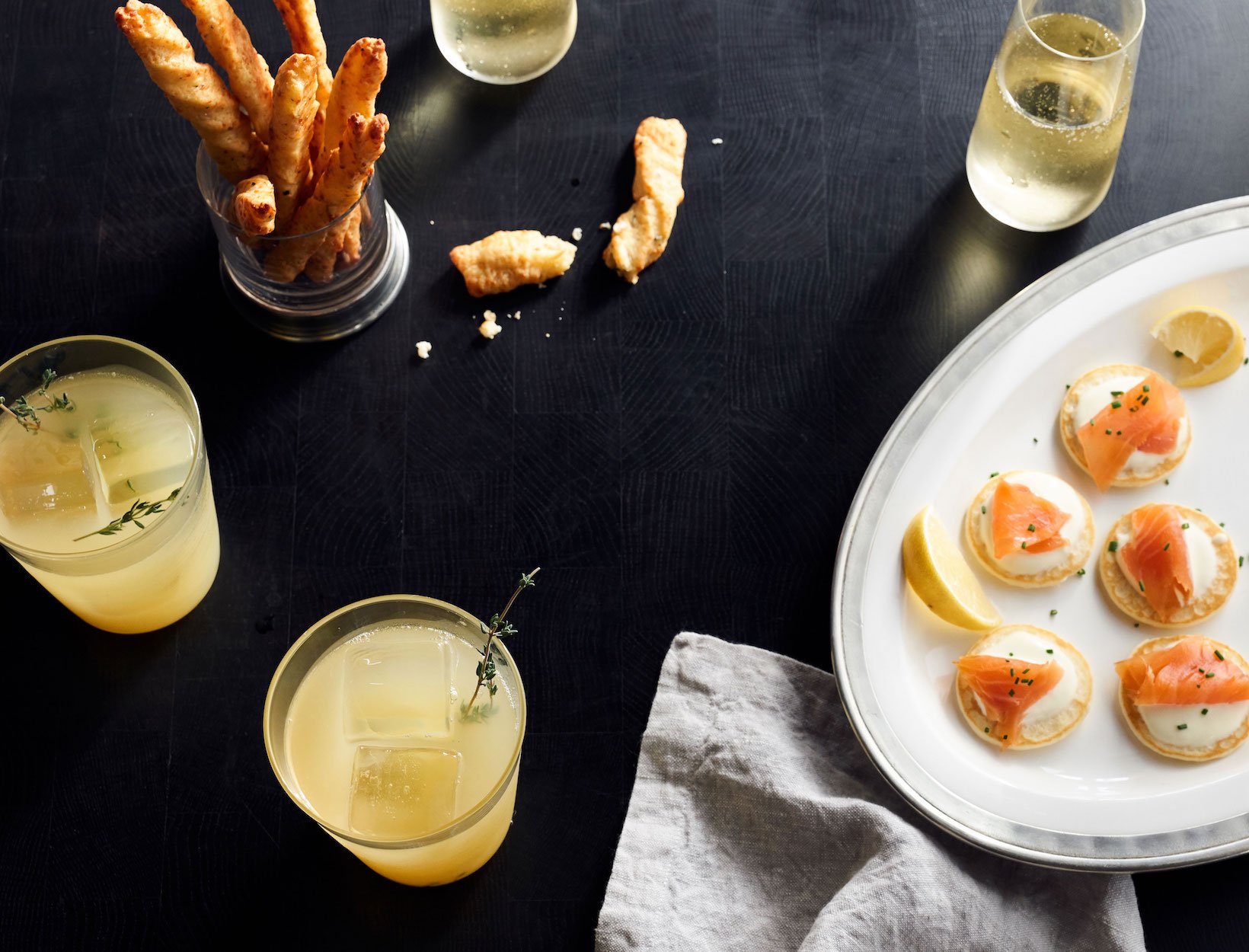 Three Ways to Throw a Better Cocktail Party
As far as we're concerned, one perfectly made cocktail (or glass of champagne) paired with a single hors d'oeuvre is the secret to a really great party. For whatever reason, narrowing guests' options makes the whole atmosphere 1,000 times more festive, plus with only two things to make, the host actually has time to let loose a little. Whatever your style, our food editor Thea Baumann has the perfect combination—using wine and spirits from Clos19—plus, a few favorite goop recipes for you.
The Purist
This foolproof combination is both easy—everything is store-bought and requires almost no prep–and endlessly enjoyable. Just be sure to splurge for good-quality champagne (we love Ruinart Blanc de Blancs).
It's not difficult to make blini from scratch, but with such good grocery store options these days, why bother? Buy the best smoked salmon you can find and don't forget the lemon!

Sparkling wine has its place, but when it comes to bubbles, there's nothing quite like the real thing. Made in the Champagne region from 100-percent Chardonnay grapes, this complex wine with strong citrus notes is our go-to this holiday season.
Old-School (with a Twist)
Looking for an excuse to show off your next-level bartending skills? Made-to-order sidecars will certainly impress guests and these addictive diablos are the perfect complement.
These little morsels can be made ahead and popped into the oven right before guests arrive. And make a double- or triple-batch, these bad boys go quickly.

This prohibition-era cocktail is a classic for good reason, and comes to us straight from one of the world's most iconic bars, the Hemingway Bar at The Ritz in Paris. Use a high quality cognac; our go-to is Hennessy.
The Crowd-Pleaser
If you're going for a California-casual feel, this easy-breezy menu is light, can be made in advance, and scales well for a crowd. Plus, the Meyer lemon-thyme cocktail is served in a pitcher, meaning guests can serve themselves so you don't have to.
Homemade cheese straws may sound like more trouble than they're worth, but these come together quickly and easily and are SO much better than any store-bought version. Plus, the dough can be made two days in advance.

Here, simple syrup is infused with sprigs of fresh thyme and a whole lot of juiced lemons. We like using Belvedere vodka—it's smooth and free of additives. Chilling the cocktail glasses for your guests is a nice touch.
FOR YOUR BAR CART