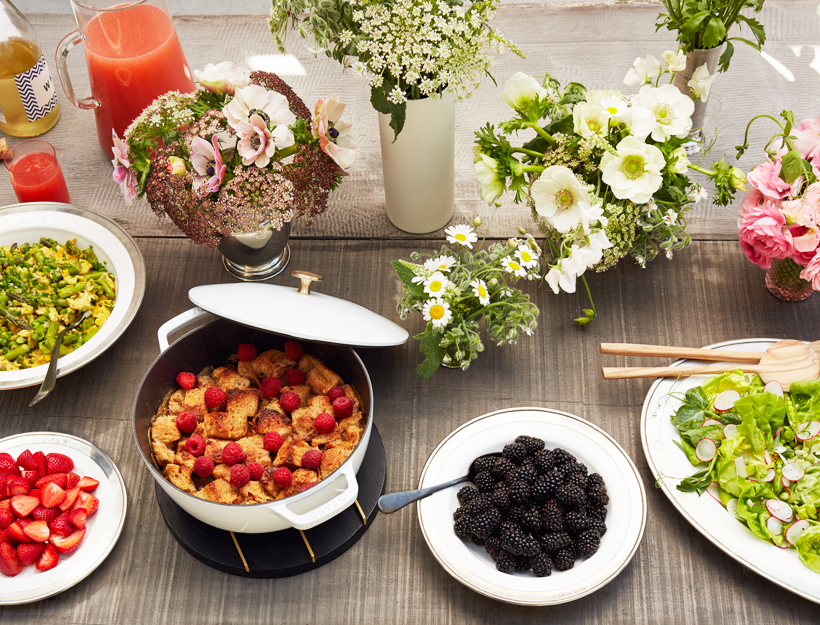 Photographer: Ryan Robert Miller, Food Stylist: Sera Wilcox
The Ultimate Mother's Day Brunch Spread
Nothing says I love you like a homemade meal so, this year, why not treat mom to a delicious brunch. This fresh spring menu is easy yet impressive and has a little something for everyone.
A spring twist on a classic bellini, we use strawberry purée instead of peach. The result is an easy, beautifully-hued seasonal cocktail that's perfect for brunch.

As easy as it is elegant, this scramble is pretty much guaranteed to become a permanent addition to your breakfast/brunch repertoire.
You can assemble this bread pudding the night before and bake it off in the morning. Cook it in a pretty dish and it can go straight from the oven to the table.

Bright with lemon zest and fresh herbs, this simple salad makes an elegant addition to any brunch, lunch, or dinner spread. If you're serving this as part of a buffet, consider leaving the dressing on the side so the butter lettuce doesn't get soggy as it sits.