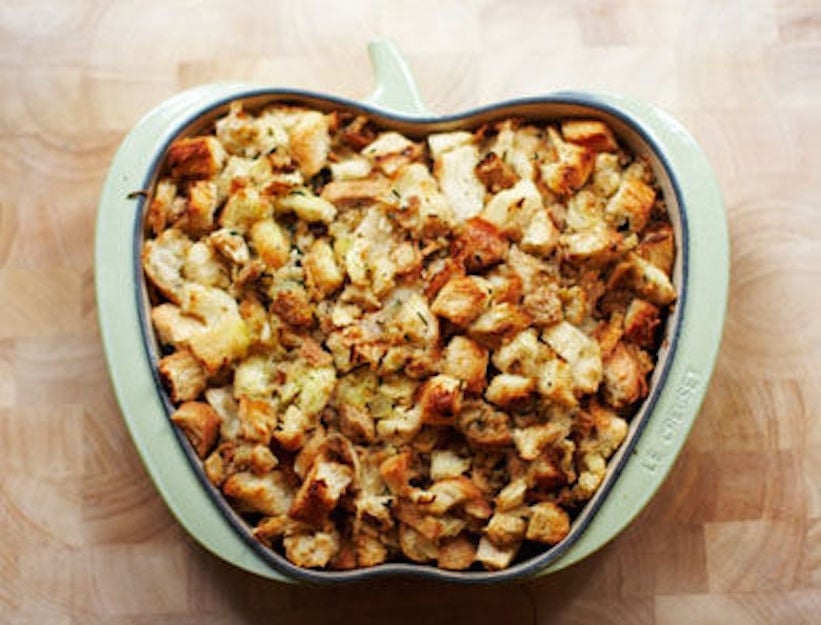 Thanksgiving Recipes & Dinner Menu Ideas
Thanksgiving is, without a doubt, my favorite holiday. I love when everyone comes together and celebrates the idea of gratitude, something we all mean to do every day, but seem to lose sight of most of the time. I also love the cooking—the days of planning and chopping and basting. This year, I decided to work out three variations on the traditional meal: A big group, a small gathering, and a cozy dinner for two.
Turkey will always be the main event of Thanksgiving (at least in my house) and a whole turkey is the way to go if you're feeding at least 12. But if your party is smaller, the stuffed turkey breast turns out to be a great halfway point. Brining it overnight insures that you don't need to baste it and it has a quick cooking time. Why should things be any less festive if dinner is just for two? I came up with these stuffed turkey burgers which were a giant hit in my house. They are the perfect solution for anyone who isn't feeding a big group (or for a big group that wants to try something different!).
Mostly, make sure that no matter what type of meal you are having, you take a moment to think about how much you do have (health, love, friendship, passion, perspective, appreciation, intellect, reason, kindness) and reflect on how you can share more of it with others.
Love,
gp
Menus
Thanksgiving for a Crowd…
Greens with Goat Cheese, Walnuts and Dried Cranberries

Whole Roasted Turkey

Thanksgiving Gravy

Cranberry Chutney

Classic Bread Stuffing

Caramelized Brussels Sprouts

Roasted Sweet Potatoes with Maple Syrup, Orange and Spices

Pumpkin Ice Cream Pie with Maple Whipped Cream
---
Thanksgiving for a Small Crowd…
Roasted Turkey Breast with Molasses

Same side dishes as "Thanksgiving for a Crowd" (just cut the recipes in half)

Pumpkin Ice Cream Pie with Maple Whipped Cream
---
Thanksgiving for Two…
Stuffed Turkey Burgers

Cranberry Ketchup

Pumpkin Ice Cream