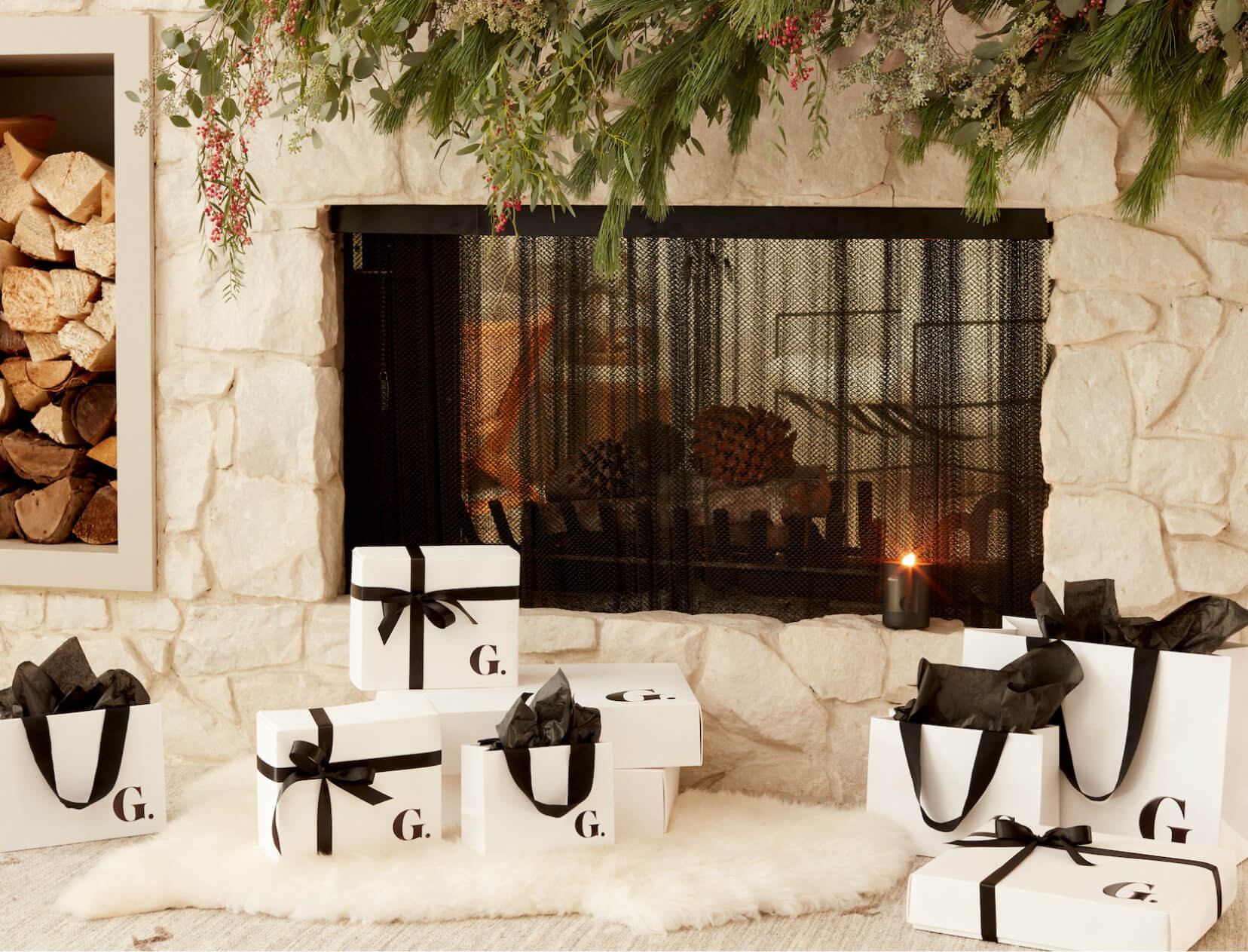 Holiday Shopping List: What's New in
goop Home This November
From the chicest turquoise-eye-dotted backgammon set to the candles we're (all) buying for ourselves, these are goop editors' favorites this month, picked from just-launched items in the goop home shop—not to mention our much-obsessed-over gift guides. Each one of these items makes an incredible present and, critically, is not only still in stock but easily deliverable in time for the holidays.
Most Delightfully Indulgent
A 100 percent silk pillowcase in this life-is-fabulous print could make just about anyone happier. They'll think of you as they drift off to sleep, when they wake up, and when they're loving their smooth, unlined skin and shiny, unruffled-by-sleep blowout (silk helps with the skin and the hair). But most of all, they'll smile every time they think of their bed. The glamorousness of British brand Coco & Wolf cannot be overstated, nor can the delightful silky-satin softness of this fabric; you must, of course, get an extra one for yourself.
The Chicness!
This clear Lucite backgammon set looks so good on a coffee table when it's not in use and feels so Thomas Crown Affair–sleek when it is. It's modern and, coolest of all, finished with tiny turquoise evil eyes trailing down the center, which are meant to protect against bad spirits—and, in the case of a competitive game, bad luck.

CasaCarta

The Eye Backgammon Set

goop, $330

SHOP NOW

Inspired by vintage table lighters of decades past, this pearly acrylic piece from Edie Parker is about the coolest thing we can think of to set on a coffee, dining, or bedside table. Nestled inside a matching ashtray, it's the perfect gesture, wherever you like to light up.

Edie Parker

Tabletop Lighter

goop, $450

SHOP NOW
Amalfi Coast Love Letters

Photo courtesy of Brechenmacher & Baumann

This peony-colored wineglass shouts "party" from the rooftops. We love the frosty pink, not to mention the classic Venetian inverted triangle shape (which is incredibly sturdy). Each glass, designed especially for the impossibly glamorous Le Sirenuse hotel in Positano, is hand-blown by master artisans on the island of Murano (which has had a reputation for fine glassblowing since the thirteenth century).

Emporio Sirenuse

Aria Stem Water Glass

goop, $180

SHOP NOW
The first china collab from the iconic hotel Le Sirenuse and artist Luke Edward Hall (if you're not already familiar with this eclectic young designer, enjoy the Google search) sold out instantly. This second edition features two new drawings of Positano by Hall, including the one on this bone-china mug. It transports us straight to the sun-dappled Mediterranean every time we use it.

Emporio Sirenuse

Luke Edward Hall Positano Mug

goop, $70

SHOP NOW

This gold-trimmed bone-china plate dishes up (sorry, we had to) a drawing of the village of Positano by whimsical London-based interior designer and artist Luke Edward Hall. Part of a collaboration between Hall and the legendary Amalfi Coast hotel Le Sireuse, it's an easy (and chic) way to bring a slice of the sun-drenched Mediterranean to your table. Bonus points if it's used to serve risotto al limone.

Emporio Sirenuse

Luke Edward Hall Positano Plate

goop, $115

SHOP NOW
Get the Whole Set
It's gorgeous, it's nontoxic, and your (or your lucky giftee's) whole kitchen is about to look like a million bucks. Every piece is made with GreenPan's clean, nonstick, dishwasher-safe Thermolon Minerals Pro technology and done in creamy ecru with gold finishings.
We All Want This
The sleekest way to keep your accessories organized and your device charged up? This cable-free, clutter-defying wireless charging pad finished in premium Belgian linen. With a spot for your phone on one side and all those hard-to-corral everyday essentials (keys, lip balm, sunglasses, what have you) on the other, it slots in tastefully on bedside tables, end tables, wherever. Check out Courant's full compatibility list to see if it will work with your device.
Recycled and Super Luxe
The king of conscious comfort, Blacksaw uses deadstock waste to create some of the coziest alpaca-blend throws in existence. Softer than cashmere, warmer than wool—the Siempre blanket is one such plush piece. It's made from 100 percent recycled materials that pull their weight in the great outdoors, but we all know it's bound to clock some quality time Netflixing on the couch. As for the minimal stripe detailing? So good.
We're Obsessed with Flamingo Estate—and Most Obsessed With Its Enchanting Candles
Do we want to be out in the gardens, harvesting organic vegetables and sipping champagne? We do very much want to live at LA's Flamingo Estate, where the vintage cars are filled with roses and the dinner parties are the stuff of legend. To take us back there, if only for a moment, these long-burning, 100 percent vegetable-wax candles smell absolutely fantastic, and the deep-green glass containers look gorgeous wherever you put them. Forced to pick between Climbing Tuscan Rosemary, Roma Heirloom Tomato, and Adriatic Muscatel Sage, we choose all three.
The Minimalist Showstopper (That's Also Kind of Cute)
With a tall, dynamic shape that blends organic curves with sharp edges, Stevie is a study in contrast. It's handmade and polished to perfection. And in that textured cream hue, it's the perfect minimalist accent piece, somehow understated and showstopping at once—with or without the flowers.
Sourdough Experts, Prepare to Be Blown Away
Designed over the course of two research-filled years, this made-in-France ceramic cloche mimics the shape of a domed oven to ensure your bake gets the perfect amount of humidity. The result? Moist, melts-in-your-mouth bread with an achingly flawless crust. And once your loaves are sorted for the week, this versatile piece doubles as a roasting dish.

Emile Henry

Bread Cloche

goop, $140

SHOP NOW

Made with olives pressed only hours after harvest, this oil is perfect for dipping said sourdough in; it's also incredible for drizzling and sautéing. With notes of almond, marjoram, and hay, it's got a rich and spicy finish that rounds out the bright flavor. The blend combines Nocellara del Belice olives, an ancient Sicilian variety (dating back to 3000 BCE), with Cerasuola olives, a typical variety of the region that has a vibrant, leafy taste.

Baroncini Import & Co.

Sicilian Extra Virgin Olive Oil

goop, $60

SHOP NOW

This is both a forever piece and a highly versatile kitchen staple made of recycled cast iron, porcelain enamel, and a (removable) stainless steel knob. In deep polished emerald, it's both dishwasher-safe, naturally nonstick, and sleek enough to go straight from oven (or stove top) to table. It's great for bread, but also perfect for roasting, stewing, risotto-making…

Kana

Milo 5.5 QT Dutch Oven

goop, $135

SHOP NOW