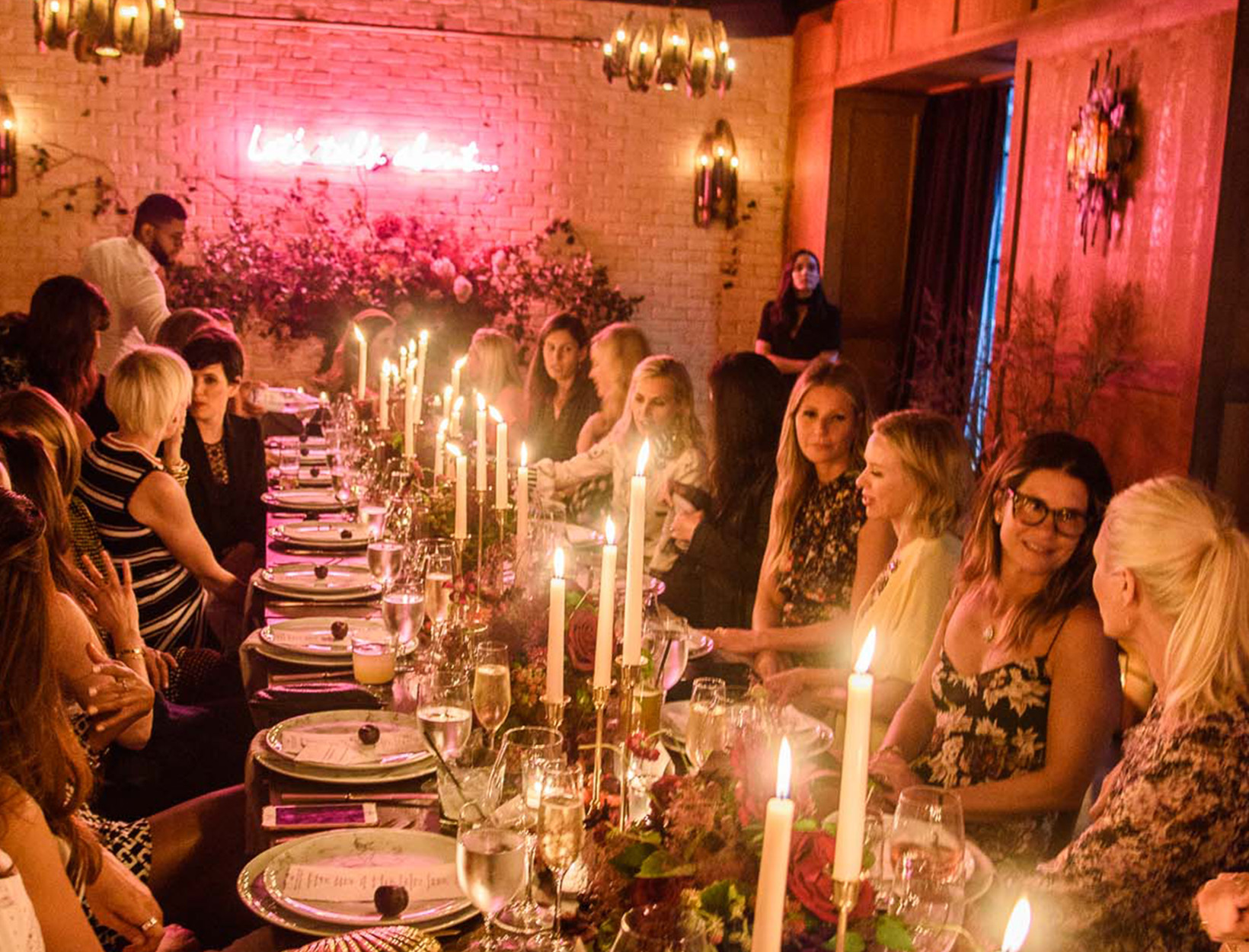 Let's Talk About…A Girls-Only Dinner
We're not shy about sinking our teeth into loaded topics, which is why we tapped Esther Perel (listen to her podcast, Where Should We Begin? and thank us later) to lead a candid conversation on desire, power, and sexuality at a girls-only dinner—co-hosted by Perel, GP, and Lisa Rubin—to celebrate the new Netflix Original, Gypsy. Designers Hessney & Co. transformed Dirty French's private rooms into a candlelit, boudoir-inspired den, while the chefs put together a fittingly decadent menu of oysters barigoule, chicken and crepes, and dark chocolate-covered berries. So what did we talk about? We promised the juicy stuff would stay behind closed doors, but for a deeper dive into female desire, read this, pre-order this, and binge watch Gypsy (there's more to come on goop.com, too).
GP with Gypsy herself,
Naomi Watts.

Oysters,
obviously.

Melanie Liburd
and Gypsy writer
Lisa Rubin.

Tory Burch and Leandra Medine
(aka The Man Repeller).

The goop bag of tricks—
yoni egg included.

The kind of
Netflix and Chill
we can really
get behind.

Hearst's
Joanna Coles
and Esther Perel.

Smoky-eye goals, courtesy of goop
head of content Elise Loehnen.

Mood lighting done right.
SPECIAL THANKS TO:
Dirty French, Hessney & Co., Silk & Willow, Compartes, Ink Revival, Let There Be Neon, and Hannah Thomson.
Photographer: Hannah Thomson