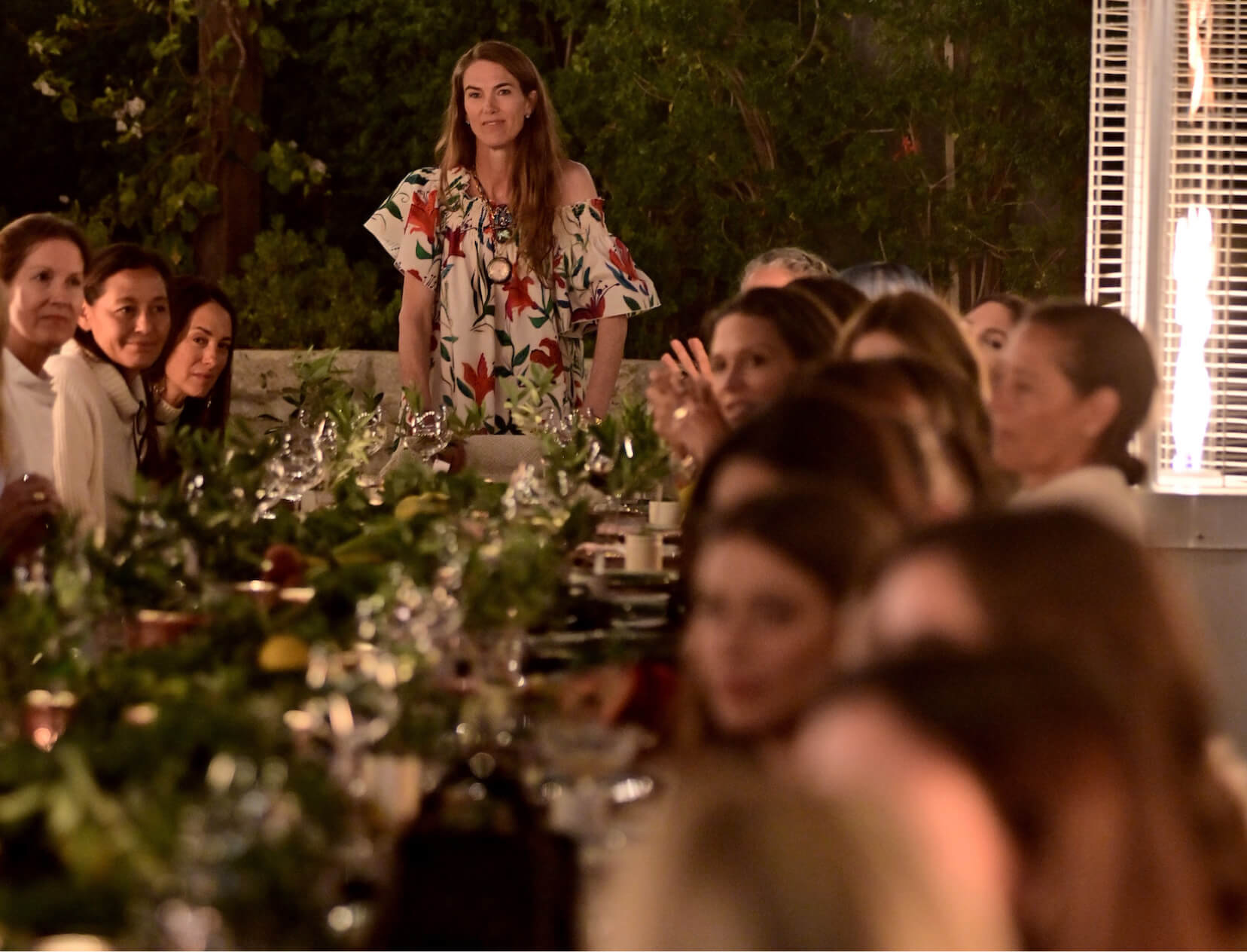 How Do You Throw a Summer Style Party?
It's like a costume party, except everyone has to look chic. We threw a goop x La DoubleJ dinner under the stars in a secret garden in Pacific Palisades, and the outfits—not to mention the tablescapes by Mimi Brown Studio, the food from La Cura, and the cocktails from Agua Mágica and el VINO—were next-level.
Hosted by fashion icons Elizabeth Saltzman and JJ Martin, guests including model and actress Molly Sims, environmental advocate Kelly Meyer, and Le Catch's Marlien Rentmeester came exclusively in either G. Label or La DoubleJ. They swirled around the garden sipping thyme palomas and espresso martinis (both made with mezcal from Agua Mágica), then moved on to a gorgeous meal (poached halibut, roasted carrot farinata, and much more) cooked by La Cura executive chef Olivia Muniak (she founded the wildly popular La Cura Supper Club, which hosts six-course family-style dinners in private homes all over LA) and set on La DoubleJ dinner plates.
Between some hilarious conversation and beautiful music, we picked up some brilliant entertaining (and outfit) tips.
1
Get some fashion on the table.
Match the tableware to your guests' outfits for the height of chicness.

2
Play prints against neutrals.
They're like love and marriage—can't have one without the other, no?
3
Vegetables are the new flowers.
Nothing says "bounty" like tumbling arrangements of gorgeous in-season vegetables from the Malibu-based OneSun Farms (they make some of the world's most delicious portable healthy snacks, too). Set vegetables directly on the table, or pile platters high with them and encourage guests to nab some at the end of the night to take home.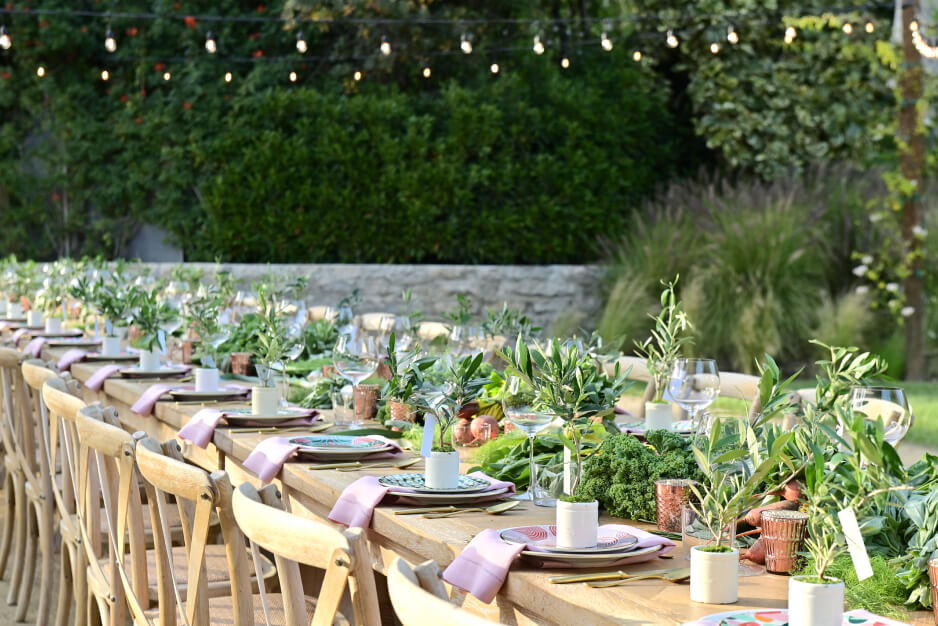 4
Tables should be candlelit.
Event planner Mimi Brown lives by this maxim; now we do, too.
5
Plants make the best party favors.
Whether it's a little olive tree—as we did here—or some delicious herbs, it's a gift that keeps on giving long after the party.
6
Whoever's serving gets a cute apron.

7
Give good goodie bags.
Guests went home with skin-boosting clean beauty essentials and an actual goodie jar (the one of our dreams).
Hands down the sweetest place to keep treats.
THE DETAILS
The Cocktails
The guests drank espresso martinis and thyme palomas made with Agua Mágica mezcal, which is made with a combination of espadín and tobalá agaves from the San Juan del Río region: It's crisp, smooth, and layered.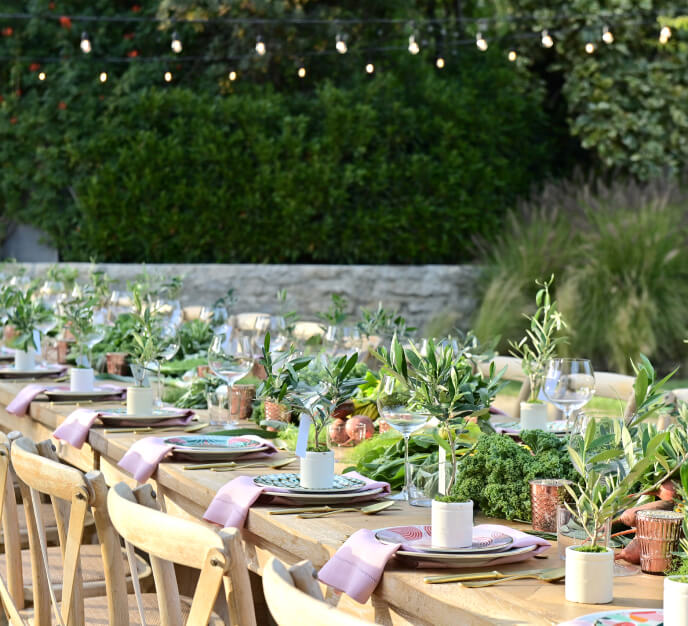 The Wine
If wine can be chic, the sauvignon blanc from female-founded-and-run el VINO is the chicest. (From four fashion-industry insiders and the head winemaker from Bruma, in Baja California's wine region of Valle de Guadalupe, it's a gorgeous, fun brand.) It's fresh and floral and beyond delicious.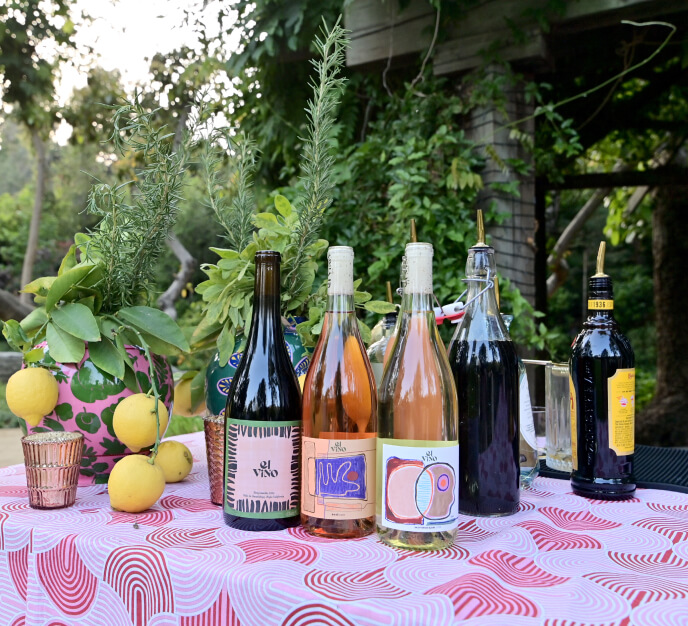 The Event Planning
Mimi Brown Studio, which does the most incredible event planning, entertaining, and even home décor, was the true magician behind the event.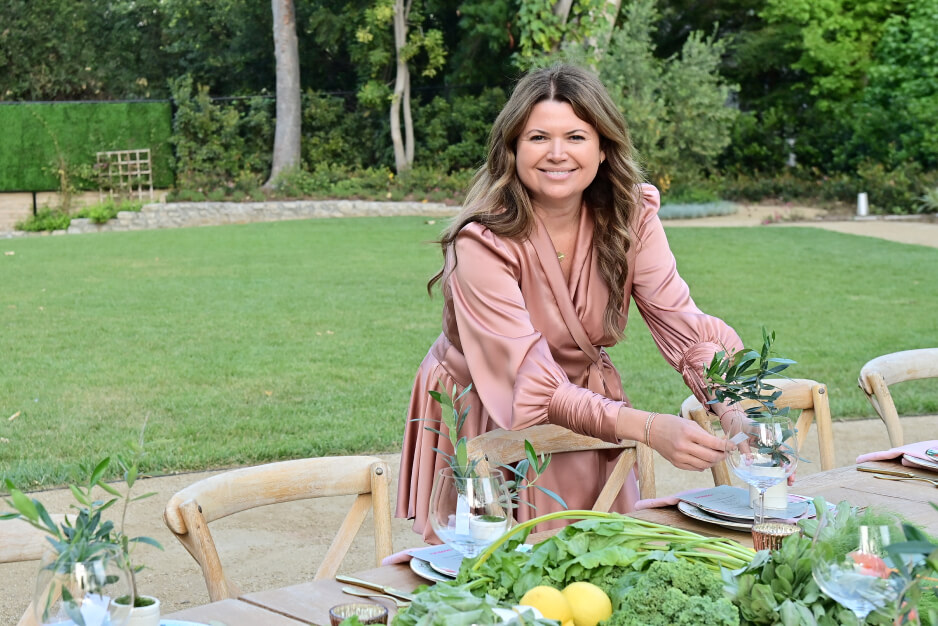 THE SOURCEBOOK
Gorgeous outfits: G. Label and La DoubleJ (@ladoublej)
Tablescapes: Mimi Brown Studio (@mimibrownstudio) and La DoubleJ
Catering: Olivia Muniak (@oliviamuniak)
Wine: el VINO (@shopelvino)
Mezcal: Agua Mágica (@aguamagicamezcal)
Event design and production: Mimi Brown Studio
Music: Starrock Productions (@starrockproductions) and Eli Meyer (@eli__meyer)
Photography: Stefanie Keenan (@stefaniekeenan)
Rentals: Theoni Collection (@theonicollection)
Blankets and throws: Serena & Lily (@serenaandlily)
Produce: OneSun Farms (@onesunfarms)
Printing: Station A7 (@station_a7)