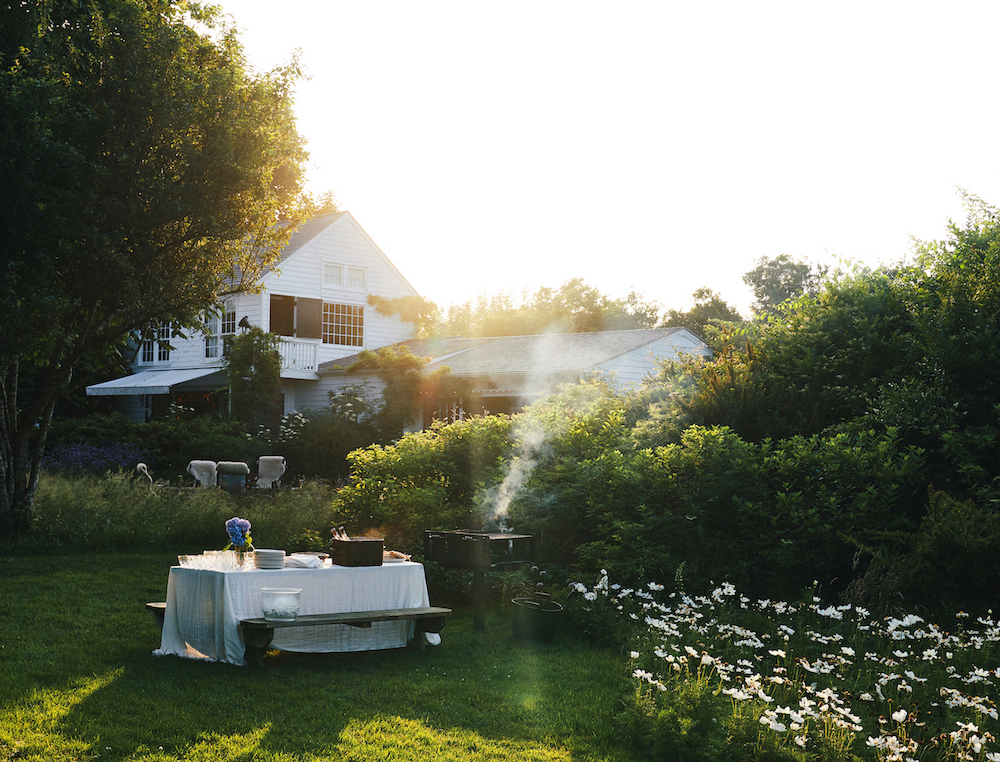 Photo courtesy of Adrian Gaut
Throw a Chic, Safe Summer Party—
with Help from an Epidemiologist and an Event Planner
It's finally beautiful outside—and everyone's understandably hot to get together. If you're thinking of throwing a party or attending one, we've compiled some great advice from an epidemiologist and an event planner. So whether you're having people over for dinner, lounging together by the pool, or throwing a (small) rager, read this first, for safety, glamour, and fun.
1
Do it outside
You and your fellow partygoers are significantly safer outside than in. And you can make a gathering
safer still by setting up with social distancing in mind, says William Miller, MD, PhD, MPH, an epidemiologist at Ohio State University: "Set the chairs out ahead of time. Make space and see what fits." Whether you're working with your own outdoor space or a park, Serena Merriman, the founder of Merriman Events in New York, says it's possible to make it feel just as intimate as an indoor gathering. "I love moving indoor carpets outside to create a living area under the sky," she says. "You can even bring small couches and chairs outdoors for the occasion, but really, large throw pillows on carpets or blankets are all you need to create comfortable seating areas. Just be sure to space everything six feet apart."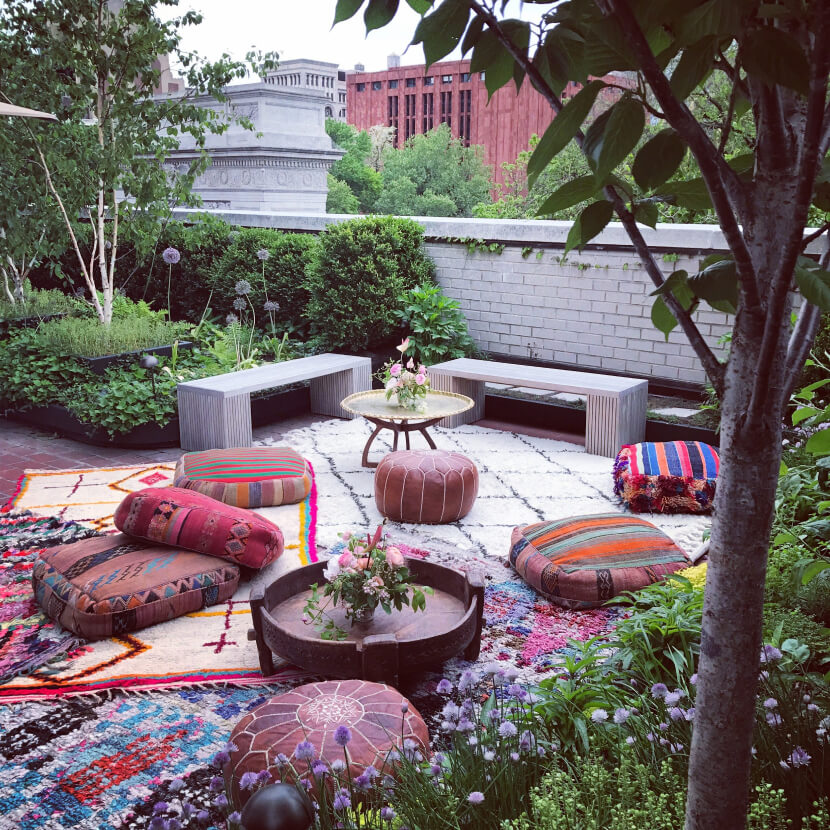 2
Photo courtesy of Merriman Events
Lay down clear ground rules
"This is important," says Miller. "Establish the rules: physical distancing, masks, staying outside. Get clarity beforehand, even if you're a guest. You don't want to walk into a place and be surprised that no one is practicing safe behavior."
Miller uses a rhyme to help people think about the way they gather: "Time, space, people, place," he says. "Time is the duration of time spent close to others, and shorter is better. Space means maintaining that six-feet distance. People is about making sure to spend time only with people who have been practicing safe social distancing. And place is making the effort to spend your time outside, or if you're inside, making sure it is a well-ventilated building."
3
Keep the group small—
and the drinks light
"Many localities have limits on the number of people allowed to gather, so follow local guidelines," says Miller. "Overall, I'd keep groups to ten people or less—but I'd prefer fewer. The more people you have, the more you increase your exposure, and the more likely it is that someone in the group might be infected. If people are drinking, the likelihood that someone starts moving in and ignoring distancing expectations increases. We don't naturally talk to one another from a distance, so we tend to want to creep in closer."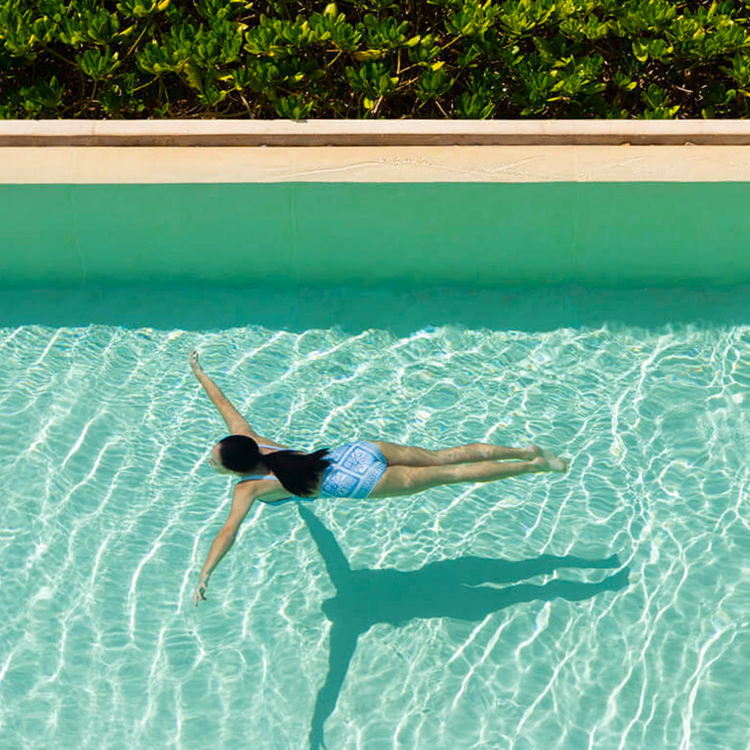 4
Pools are okay!
You're good in a pool if you stay six feet apart, says Miller. "If it is a family's pool, the only real risk is maintaining spacing," he says. "A pool increases the chances that kids may come close to one another as they play—but that's likely to happen outside a pool, too. If it's a public pool, go at off-peak hours when there should be more space."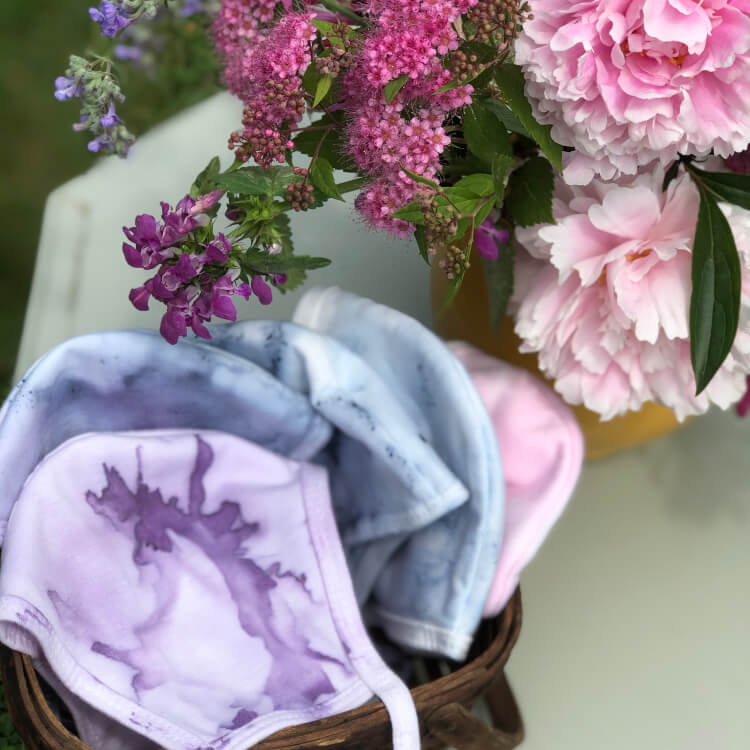 5
Photo courtesy of Merriman Events
Put out extra masks (cute ones)
"Anytime you can offer guests something homemade and personal, it goes a long way—why not make everyone their own face mask?" says Merriman. "You can mark it with their name or nickname or a funny phrase like, 'I'm smiling underneath.' Or tie-dye it. My son and I have been tie-dyeing cotton face masks to match the tie-dye T-shirts we make every summer."
6
Set out hand sanitizer in bowls
"This is essential," says Merriman. "For a special touch, make your own—there are great recipes out there. I love the idea of filling small individual bottles with sanitizer and marking each one with the guest's names or initials. Or buy cute ones for everyone. Either way, set them out in baskets or beautiful oversize bowls."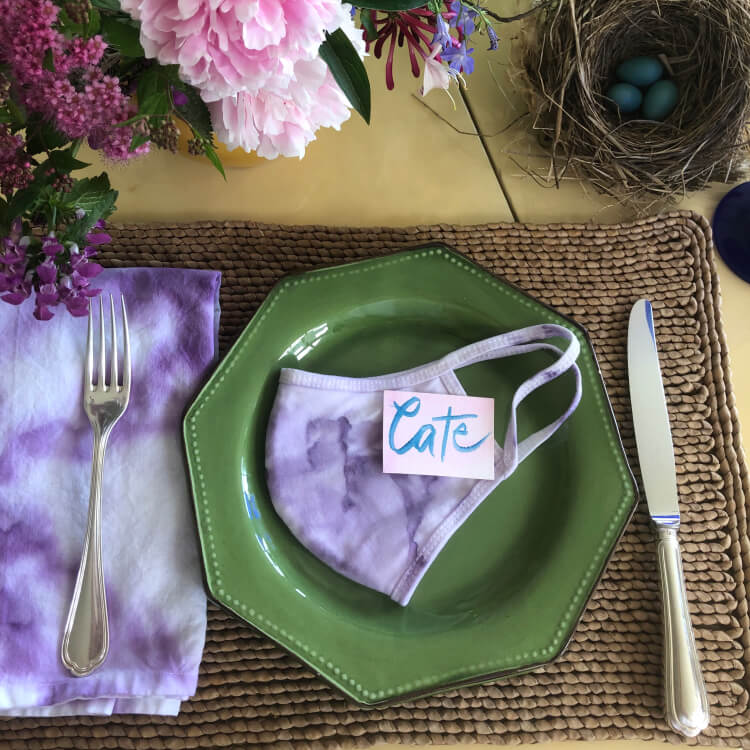 7
Photo courtesy of Merriman Events
Use place cards to create distance
"I always set out place cards when hosting more than five people—it shows you've thought about your guests. Now it really helps enforce the six-feet-apart rule," says Merriman. "I often have my kids paint place cards on craft paper, pieces of fruit, rocks, or leaves. Or you can mark the place settings or spacers with something more substantial: a chocolate bar or a treat, a vase of flowers, a jar of honey, a cracker, a surprise ball, some sort of game. Seat couples or anyone living in the same household directly across from each other, then place the next couple or group six feet away from them at a long table. This way, not everyone is far apart from one another."
8
Lanterns make any
setting sexier
"Intersperse lanterns around on the grass and on small tables to add soft lighting," says Merriman. "If you don't have lanterns, put tea lights in jam jars or glasses, then fill with rocks or sand to weigh them down in the wind. String lights are also great—everyone feels cozier with a little overhead glow. And if you have an outdoor table, taper candles in glass hurricanes are really chic."
9
You need separate serving utensils for each person
"If you're having a family-style gathering, figure out a way to use separate serving utensils for each person," says Miller. "Sharing food from one dish is not really a problem, as long as the utensils are separate." One way to make it easier is to think in terms of socially distanced "bubble" groups, like families or friends who have been quarantining together: "Have one person from each family serve their own family," says Miller. "And you probably want to have adults doing the serving."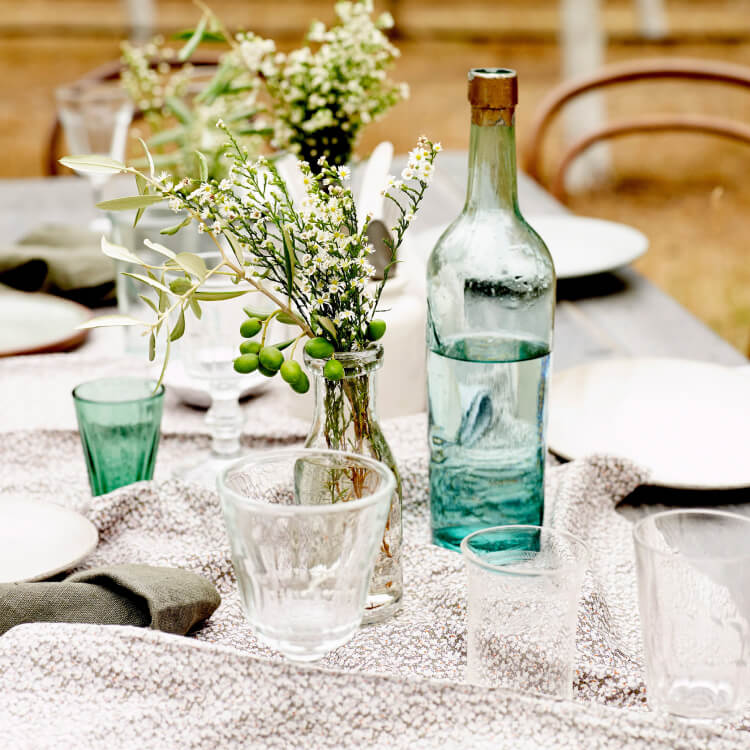 10
Pay particular attention
to cups and glasses
"I recommend my guests bring their own cups," says Merriman. "If that isn't going to work, write guests' names on glasses or cups using washable markers, or add little tags with names wrapped around wine glasses so no one gets confused."
11
Similarly, take care with drinks
"Bringing your own bottle of wine or something you like to drink is always a nice gesture, but it's also a good way to limit exposure," says Merriman. "Consider asking guests to bring their own batched cocktails in a thermos." Alternately, stack cloths next to pitchers of drinks or bottles of wine: Each guest wraps a new cloth around the bottle or container before pouring or serving. (Set hand sanitizer out nearby, too.)
12
Install a fan in
the bathroom
Bathrooms are of particular concern because they tend to be small, enclosed spaces. "It's fine for people to share the bathroom," says Miller, "but leave the fan on—or plug in an oscillating one—to expel the air. You might put a note to remind people to wash for thirty seconds. And wipe down the door knobs, sink, toilet handle, and anything else that would be a high-touch area. If you're gathering in a public space, like a park, the primary thing with a public restroom is that they're often are not well-ventilated, which increases the risk a bit. The key is to get in and get out quickly and be sure to wash your hands thoroughly after." Leaving extra hand sanitizer outside the bathroom (public or private) allows people to cleanse after touching the door handles.
13
Be generous with hand soap and
hand towels
"Set out a stack of individual hand towels that can be tossed in a basket afterward—I love these organic cotton cloths," says Merriman. "Or you can easily create your own disposable ones from sites like Zazzle. For my wedding clients, I design disposable hand towels and cocktail napkins with their wedding monogram or date; you can do the same for guests. For handwashing, a pumpable option like Blueland's foaming hand soap is much cleaner and easier than a soap bar. And the refillable packaging is better for the environment than other plastic options. The set also makes a great hostess gift." The Sangre de Fruta hand soap is an especially luxe—and visual—alternative (for bathrooms or as a hostess gift).
14
Games make people feel closer
"It's special to sit down to a fun surprise at dinner, and games are always ice-breakers—a nice way to bring everyone together," says Merriman. "I have friends who give everyone their own instrument at their place setting. Then, in the middle of the meal, everyone makes music together. Bingo is another fun thing to do, and you can customize the bingo boards to make them occasion-appropriate."
What about the Kids?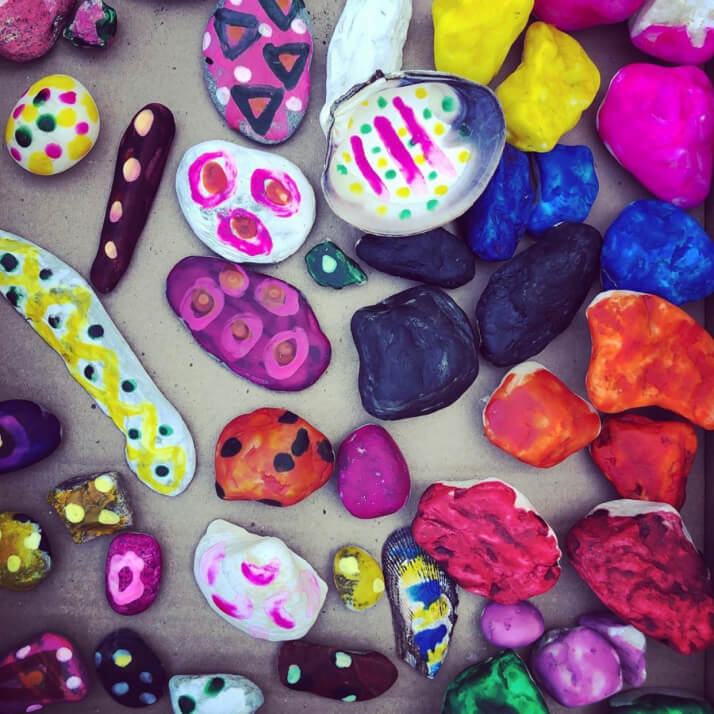 Photo courtesy of Merriman Events
1. Ask about your friends'
social-distancing history before
you get together
"If you want to have a couple of families with kids getting together and both families have been practicing physical distancing and have little exposure, you can get together safely," says Miller. "But if one family has been going to lots of different places and ignoring recommendations, then you lose that security. A colleague of mine, Kim Powers, calls this maintaining the bubble. You can increase the size of the bubble with one or two families, but you want them to limit their exposure to the same families—keep the bubble intact."
2. Activities like soccer or
bike-riding create space
"You know for sure that kids are not going to physically distance from one another," says Miller. "You just have to accept that, which is why knowing the recent history of the families involved is important. Outdoor games can help keep kids farther apart: soccer, kickball, tennis, riding bikes, hide-and-go-seek—think of games that naturally keep people more separated."
3. Set up a crafting table
"If you have the space, a crafting table with chairs six feet apart and individual projects is a great way to keep kids occupied and not too close to one another," says Merriman. "Plus they get to take something home at the end of the day. Making papier-mâché, painting rocks and shells, building wooden treasure boxes, tie-dying—these are all fun outdoor activities they can do individually."