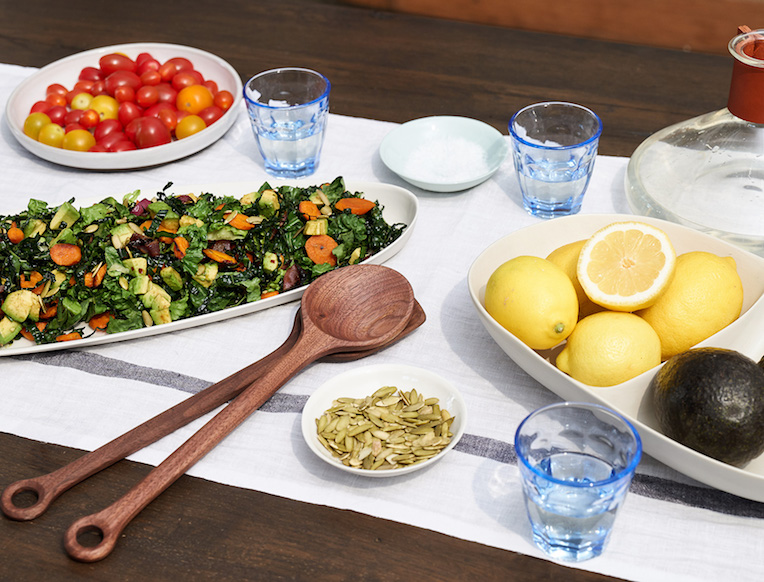 How to Throw a Perfect Summer Dinner Party (That You'll Actually Enjoy)
When hosting a dinner party, it's never good to take on too much or obsess over the details. "If you're stressed, your guests will pick up on that," says Liza Lubell, owner of Brooklyn-based floral design studio Peartree Flowers. Luckily, hosting a great dinner party, particularly one in the summer, doesn't have to be about perfection but should be about simplicity, having fun–and being present. Here, three experts take us through the essentials of putting on a stress-free evening that you'll actually be able to enjoy.
1

Menu Gameplan

The key to a stress-free night? Choose a menu that can be prepped and cooked earlier in the day. "I'm a big fan of room-temp food in the summer," says Peter Callahan, owner of Peter Callahan Event Catering in New York. "I like getting things done ahead." Think: grilled proteins, from chicken and shellfish, paired with a few summery grilled vegetable and grain salads. Pro tip: Marinate the main proteins overnight by submerging them in a good olive oil. Throw them on the grill the next day and finish with sea salt. "It tastes amazing," says Callahan. Cap off the night with the ultimate crowd-pleaser: ice cream and berries.

Tip: We love Callahan's brilliant idea to keep your guests cool: Spray some terry washcloths with mint water, roll them up, stick them in the refrigerator–then put them on a platter and pass around after dinner. "It's so nice to have a cool-down in the hot summer."

Peter Callahan's Party Food by Peter Callahan. Photo copyright © 2017 by Con Poulos. Published by Clarkson Potter/Publishers.
2

Floral Notes

"For outdoor summer entertaining, seasonal and unfussy flowers are the way to go," says Lubell. Keep it simple by choosing one or two local varieties, ideally the morning-of, so they stand up to the heat and humidity. Lubell likes to put blooms in simple vases or in vintage bottles, mason jars, or anything else you have around the house. (Mismatched, different colors and sizes—it all totally works here.) As an aside, if you really want to deep-dive into floral design, Lubell offers Pura Vida Peartree, a creative retreat where you can learn flower arranging, botanical illustration, and more.
3

Refill, Please

When it comes to the drinks, sommelier Melissa Gisler Modanlou of Rock Juice, a San Francisco-based sommelier service, has one rule: keep it light and clean. Forgo serving any sugary cocktails and stick to wines that are all-natural and lower in alcohol. "You don't want people to worry about how many glasses they're drinking—and you want to make sure what's in their glasses won't give them a hangover the next day." She recommends paring the selection back to three: a light, low-alcohol starter wine, such as a naturally fizzy Pét-Nat ("unexpected, a fun way to start the dinner and perfect with anything starter-wise"), a coastal white ("full of salinity and minerality—so perfect with vegetables, seafood, and warm weather"), and a chillable red ("just 30 minutes in the fridge will bring out the fruit").
"If you're stressed, your guests will pick up on that."

– Liza Lubell, owner of Peartree Flowers
4

For the Table

Let your stress-free approach carry over to the table setting: Simple pink glasses make the perfect water–or extra wine–glass–and complement napkins and placemats in summery linen and straw (which both hold up to any messes and make for swift clean-up).
5

Host Essentials

A beautiful, minimal linen apron in a dusty rose will complement any outfit–and keep whatever you're planning on wearing that evening protected during those last minutes of prep. The essential oils from this lavender lotion and hand soap is extra hydrating when you're on dish duty.
6

Extra Seating

Put some pillows and throw blankets on the ground with a bucket of wine, a plate of cheese, and a baguette," says Callahan. "It creates a nook for people to sit down and sets a nice vibe, before or after dinner."