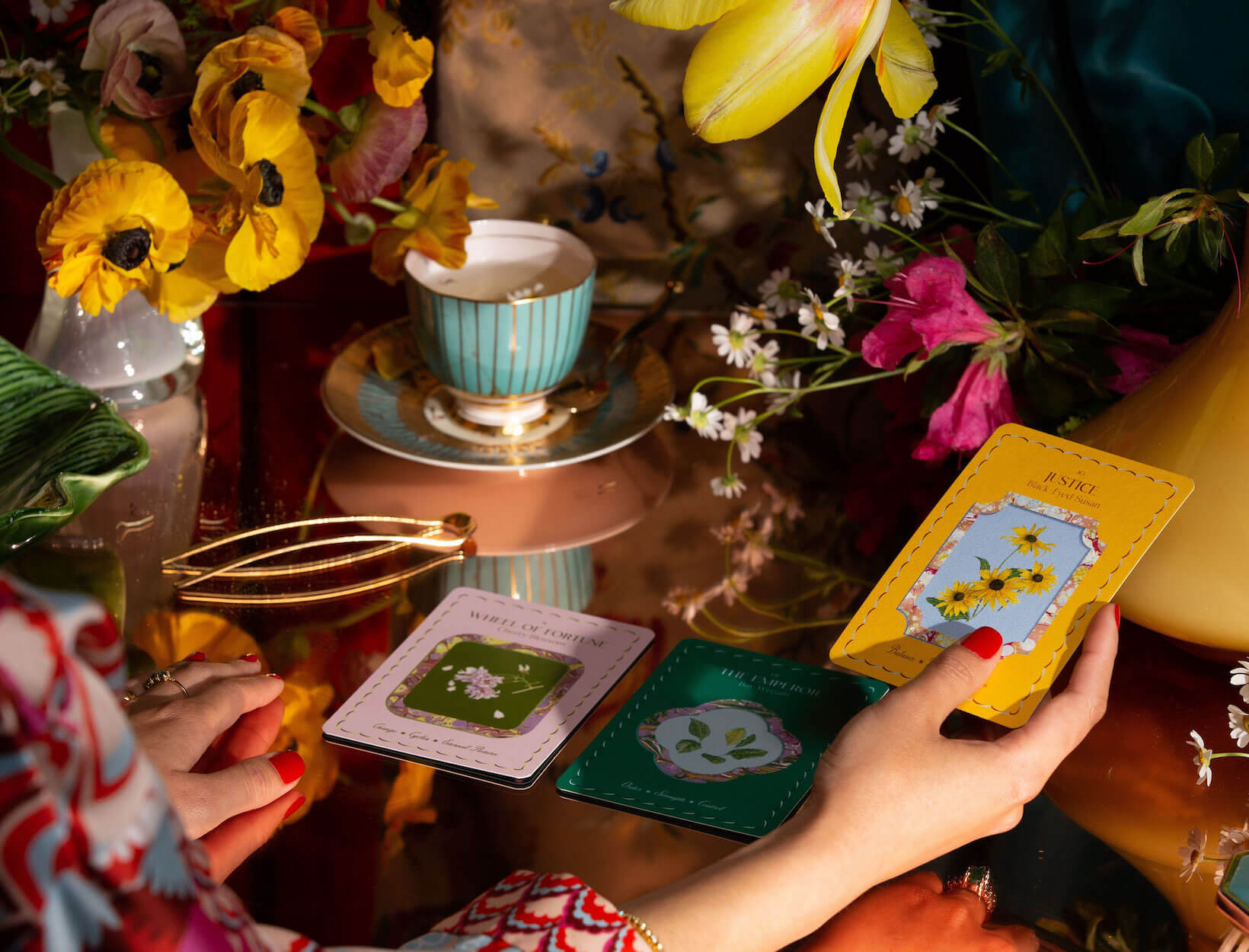 Photo courtesy of Doan Ly/A.P. Bio
Foolproof Summer Party: A Chic
Touch of Tarot Mystery
Pulling out a deck of tarot cards is a surefire way to make any summer party—cocktails, dinner under the stars, a picnic—instantly more memorable and fun, even cheeky. We're obsessed with the gorgeous new set from The Garden Journey, and reading the cards is way easier than we expected. The exquisitely designed deck draws in even the tarot-indifferent (or tarot-averse) with fanciful illustrations of azaleas, pink roses, lilies of the valley, Japanese anemones, and more. "There's this misconception that you have to be clairvoyant to do tarot cards, but there's no wrong way—whatever the cards make you think about or feel is right," says cocreator Natalie Soud. Bring on the negronis, the natural wine, and the Seedlip spritzers, along with some plush floor pillows, loungey bedrolls, and an artful cheeseboard.
"Shuffle the deck, pull a card, and interpret what it means to you in the context of what else you have going on in your life," says Soud. "That's it." For a party, it's just as simple: "Pass the deck around, and each person draws one or two cards," she continues. "Hearing someone else's interpretation may spark something in you. The deck comes with a guidebook, but it's just a reference for the people who want it."
Each of the 22 cards is a different bloom that represents a different archetype. "Maybe you don't want to pull a card and see a picture of a scary guy with a sword," Soud says. "The images associated with tarot cards aren't always positive—we wanted to change that." The cards themselves are made from fine, thick paper stock—Soud had a past life at a letterpress studio—that looks and feels luxuriously velvety; they're kind of irresistible.
Even the Death card in Garden Journey's deck is gorgeous: an unfurling chrysanthemum that's decidedly unsinister, which was the point for cocreator Joanne Yun, who hand-painted all 22 flower portraits. "We married the language of flowers to the cards to provide another way into tarot," says the botanical illustrator, whose aesthetic inspirations included Gucci's garden collection and French candy packaging.