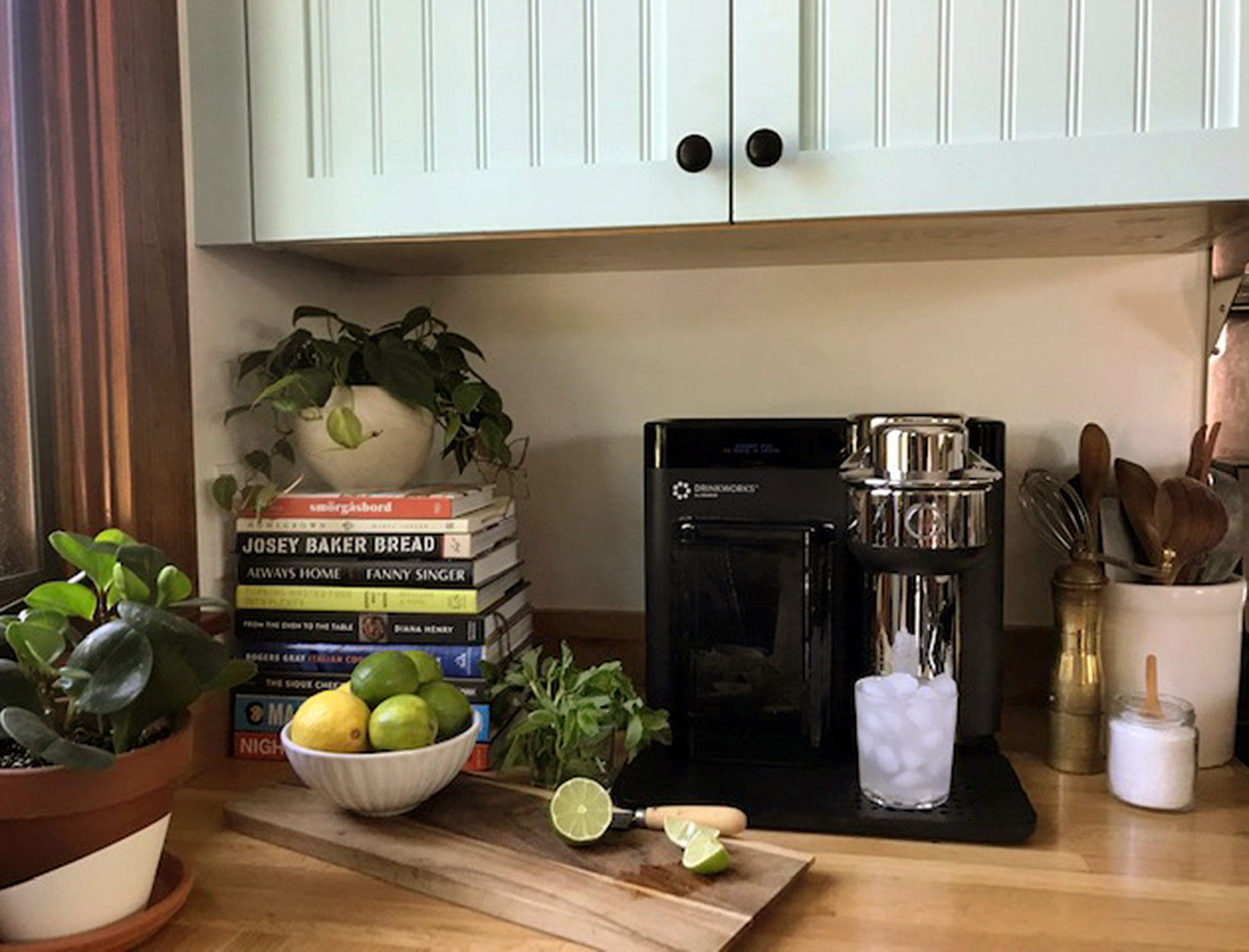 How to Have Happy Hour at Home
In partnership with our friends at Drinkworks®
In lieu of our annual goopcation, we're taking summer Fridays for the next month or so. These three-day blocks can be a time to rest, unplug, and do meaningful non-goop work. They're also a great opportunity to perfect the art of the at-home happy hour. Two staffers, known for their skills in the good-times department, share what they're doing to make 5 o'clock cocktails feel (way) more festive.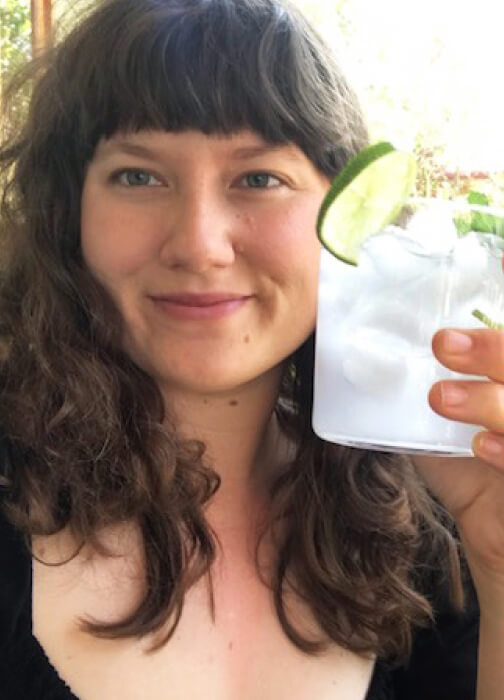 Caitlin O'Malley
food director
This many months into sheltering at home, I can no longer rest on the laurels of my homebody nature. I'm starting to feel a bit restless. So I'm putting more effort into making moments throughout the day feel more intentional or special—whether it's really dialing in my pour-over routine or leaning into the meditative nature of bread making. Adopting a 5 o'clock (okay, sometimes it's 3:30 p.m.) happy hour at home has become my go-to on those summer Fridays. It helps me feel that I can officially let go of the workweek. I get to sit out on the porch with my husband, cocktail in hand. It may sound humble, but it's pretty dreamy to me. In addition to a great cocktail, I like to put together something to nosh on and stream some groovy summer tunes. It's way better than going to a bar.
No-Fuss Cocktail Operation
We recently got a Drinkworks Home Bar by Keurig, and it has made our happy hours. The cocktails are all ready to go in Pods—mixers, booze, and all—and after loading one in, you just press a button and you've got yourself a cocktail. There are over thirty different cocktails to choose from—this comes in handy when the hubs and I are feeling different drinks—and there's no cleanup. This is key, as a sink full of dishes in my biggest personal buzzkill. I've been on the Mojito train, and I love how citrusy and refreshing it is, but there's not a dud in the bunch.
A Chic Little Snack
I don't want to go all out with canapés for a happy hour at home, but I do want to do a little something special. The Vesper Board recipes we got from Brushland Eating House are exactly what I want to snack on while I'm sipping a cocktail. I love that I don't have to make every single recipe to embrace the spirit of it. It's flexible. I use a mix of bits and bobs from my fridge—pickles, spreads, crackers, tinned fish, and veggies—and make a snacking plate. There's something chic about the ease of it.
Transportive Playlists
Summer soundtracks have always been a thing for me. I realized that all my favorite summer tunes transport me to a different time or place. My two favorites are a bit of an odd pair, but hear me out: Yacht Rock and Rocksteady. Whether it's the beach in the late '70s or Jamaica in the mid-'60s, they each make me feel like I'm not where I am anymore. And they make me want to dance.
Megan O'Neill
senior beauty editor
The days have a tendency of blurring together, so making Friday feel different—languorous, a bit more momentous—gives me an incredible boost. My ideal summer Friday involves a life-affirmingly sweaty early morning run, a trip to the farmers' market to load up on snacks and fresh bread, and the pièce de résistance: lazing in my yard when I get back home with a late-evening alfresco cocktail.
Instant Margaritas
I've never gotten excited about happy hour at bars (the AC is always on arctic blast, plus I want to be barefoot as much as possible), but I'm loving the little cocktail hours I've been having at home. I'm a fiend for a great Margarita, meaning perfect parts limy, refreshing, and sweet, but not too sweet. And the one from the Drinkworks Home Bar by Keurig really hits the spot. The machine sits sleekly on my kitchen countertop (there it is in the picture) and doesn't know how not to churn out a perfect Marg every time: The cocktails come miraculously ready-made in Pods that you slide into the machine to get a beyond-easy drink of your choice. On hazy summer Fridays, my husband and I spread out in our yard, relishing our icy drinks—his favorite cocktail from the Pod selection is the Old-Fashioned—and reflecting on the week as we gaze up at the sky.
Olive Oil Magic
To balance out the cocktail, a luscious hunk of sourdough bread (yes, I'm the umpteenth person to start a bread-baking habit during the stay-at-home order). Crunchy veggies: juicy radishes, carrot sticks, cucumber slices. And fantastic olive oil—the olive oil from Brightland is beyond. Rich, smooth, and decadent yet somehow crisp, it's spectacular drizzled over bread, salads, and popcorn and blended into hummus. But god, dunking a pillowy piece of bread into a big, salt-studded puddle of this stuff wins over
everything—heaven.
The Cocktail Dress
After "getting dressed" in tattered jean cutoffs and a cropped strappy tank (it's 1 billion percent humidity in Brooklyn right now) and tethering myself to my laptop all week, I'm craving slipping into a real dress by Friday. This one is swishy, airy, exquisitely rustic, and exhilarating to wear as I sip my margarita perfection.