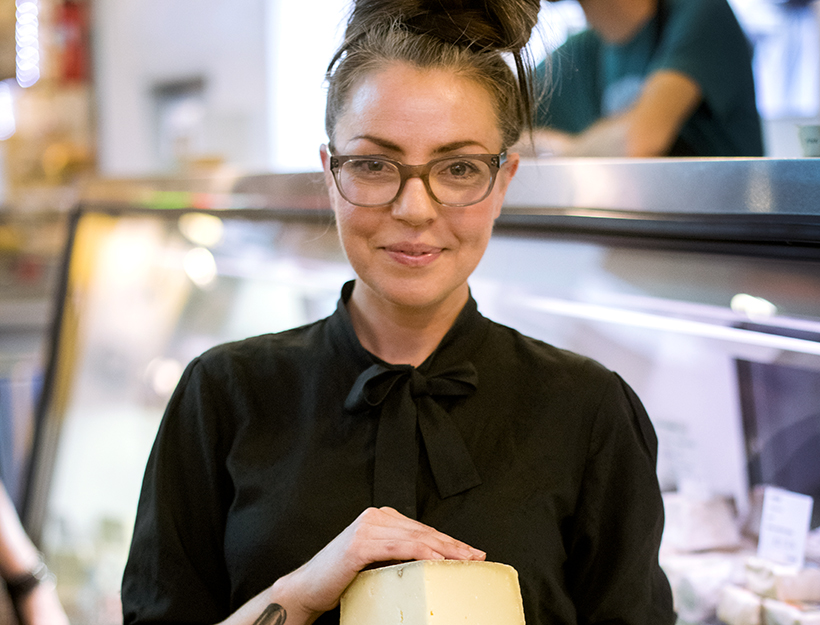 How to Assemble the Perfect Cheese Platter
When it comes to assembling a cheese plate, we usually stick to the classic "one hard, one soft, one blue" rule. But after spending the day with Lydia Clarke, a woman so passionate about cheese that it makes her cry on occasion (true story), we learned that the possibilities are truly endless. Lydia, who co-owns DTLA Cheese in Grand Central Market with her sister Marnie and Chef Reed Herrick, put together six gorgeous, insanely delicious cheese plates using whatever inspired her in their impressively stocked case. There's something for every occasion here, whether you're serving cheese as a light supper for guests, a quick snack with drinks, or in lieu of dessert. If you can't find the exact cheeses listed here, ask your cheesemonger for an alternative: a good one will let you taste a bunch of options until you find something you love. And because a good cheese plate is made even better with wine, we asked our wine guy, Oscar Mason, to recommend the best pairings. Also worth noting: most of the serving boards and cheese knives we used are stocked in the goop kitchen shop. 
1. Everybody In
There is something on this plate for everyone to fall in love with. As a bonus palate-cleanser, we've added house-dehydrated fruit.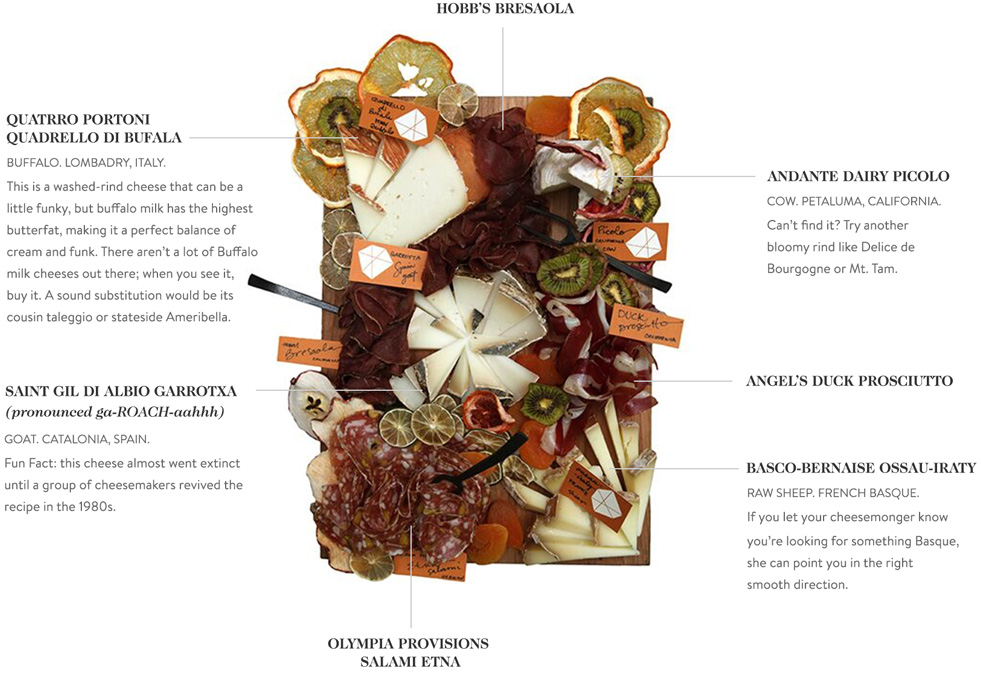 1. Olympia Provisions Salami Etna

2. Angel's Duck Prosciutto

3. Hobb's Bresaola

4. Saint Gil Di Albio Garrotxa (pronounced ga-ROACH-aahhh)

Goat. Catalonia, Spain.

Fun Fact: this cheese almost went extinct until a group of cheesemakers revived the recipe in the 1980s.

5. Quatrro Portoni Quadrello di Bufala

Buffalo. Lombadry, Italy.

This is a washed-rind cheese that can be a little funky, but buffalo milk has the highest butterfat, making it a perfect balance of cream and funk. There aren't a lot of Buffalo milk cheeses out there; when you see it, buy it. A sound substitution would be its cousin taleggio or stateside Ameribella.

6. Andante Dairy Picolo

Cow. Petaluma, California.

Can't find it? Try another bloomy rind like Delice de Bourgogne or Mt. Tam.

7. Basco-Bernaise Ossau-Iraty

Raw Sheep. French Basque.

If you let your cheesemonger know you're looking for something Basque, she can point you in the right smooth direction.
2. A Perfect Bite
Pick a single cheese and find a few perfect accouterments—the simplicity makes for a surprisingly strong presentation.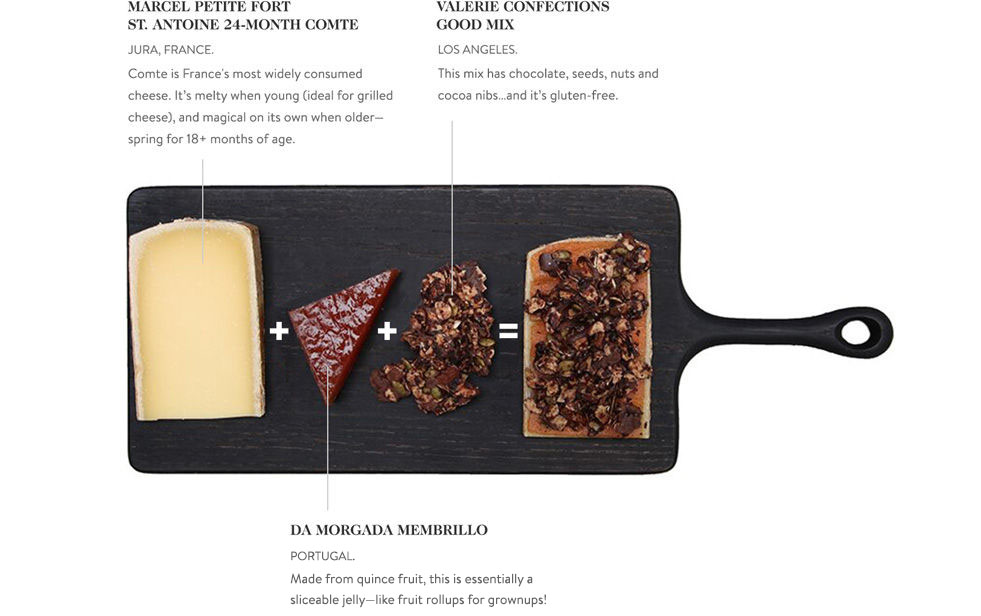 1. Marcel Petite Fort St. Antoine 24-Month Comte

Jura, France.

Comte is France's most widely consumed cheese. It's melty when young (ideal for grilled cheese), and magical on its own when older— spring for 18+ months of age.

2. Da Morgada Membrillo

Portugal.

Made from quince fruit, this is essentially a sliceable jelly—like fruit rollups for grownups!

3. Valerie Confections Good Mix

Los Angeles.

This mix has chocolate, seeds, nuts and cocoa nibs…and it's gluten-free.
3. Tried and True
Cow, Goat, Sheep, Blue—they're popular for a reason. Each piece of cheese should have equal rind and each cheese should have its own knife. No cross contamination!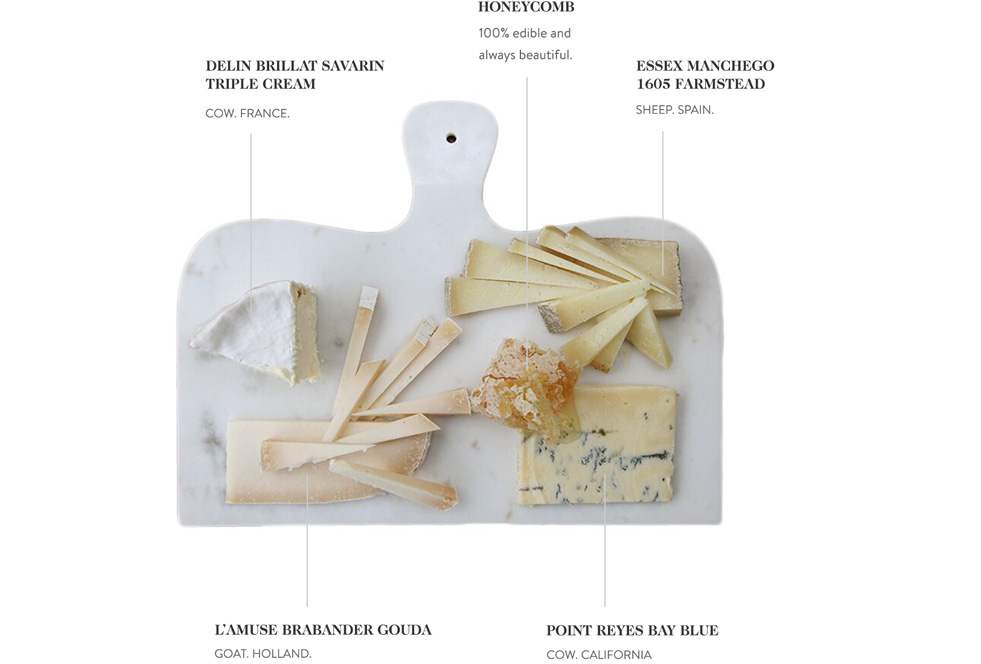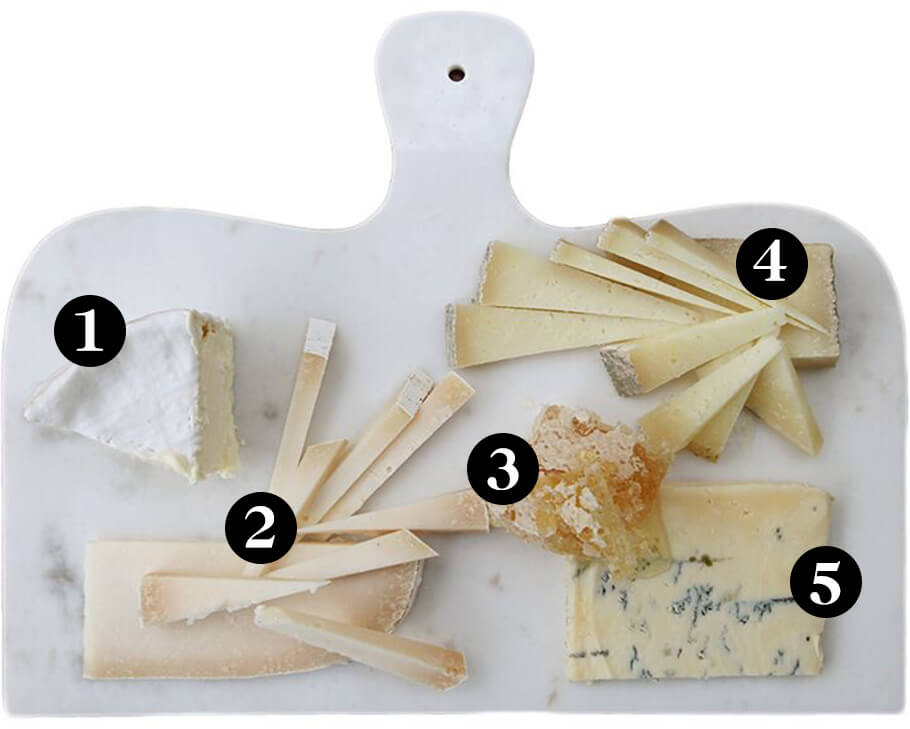 1. Delin Brillat Savarin Triple Cream

Cow. France.

2. L'Amuse Brabander Gouda

Goat. Holland.

3. Honeycomb

100% edible and always beautiful.

4. Point Reyes Bay Blue

Cow. California

5. Essex Manchego 1605 Farmstead

Sheep. Spain.
4. Accouterments
Having a sidecar palate cleanser plate allows guests to focus on the cheese alone and move on to the exciting flavors that compliment the cheeses when they're ready. Use what's already in your pantry and fridge—bust out the pickles, mustards, caperberries, olives, or marmalades to add to the spread.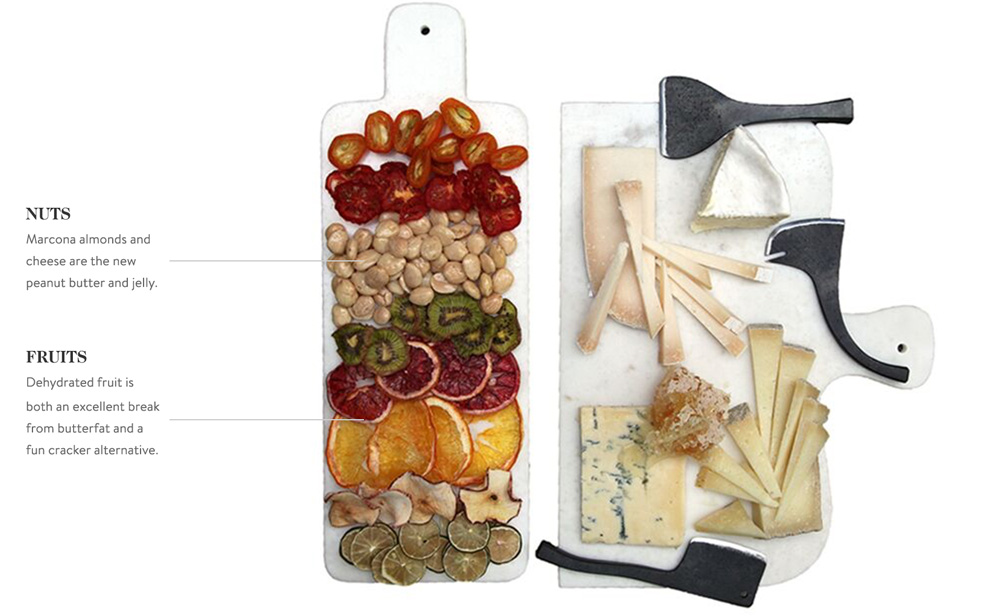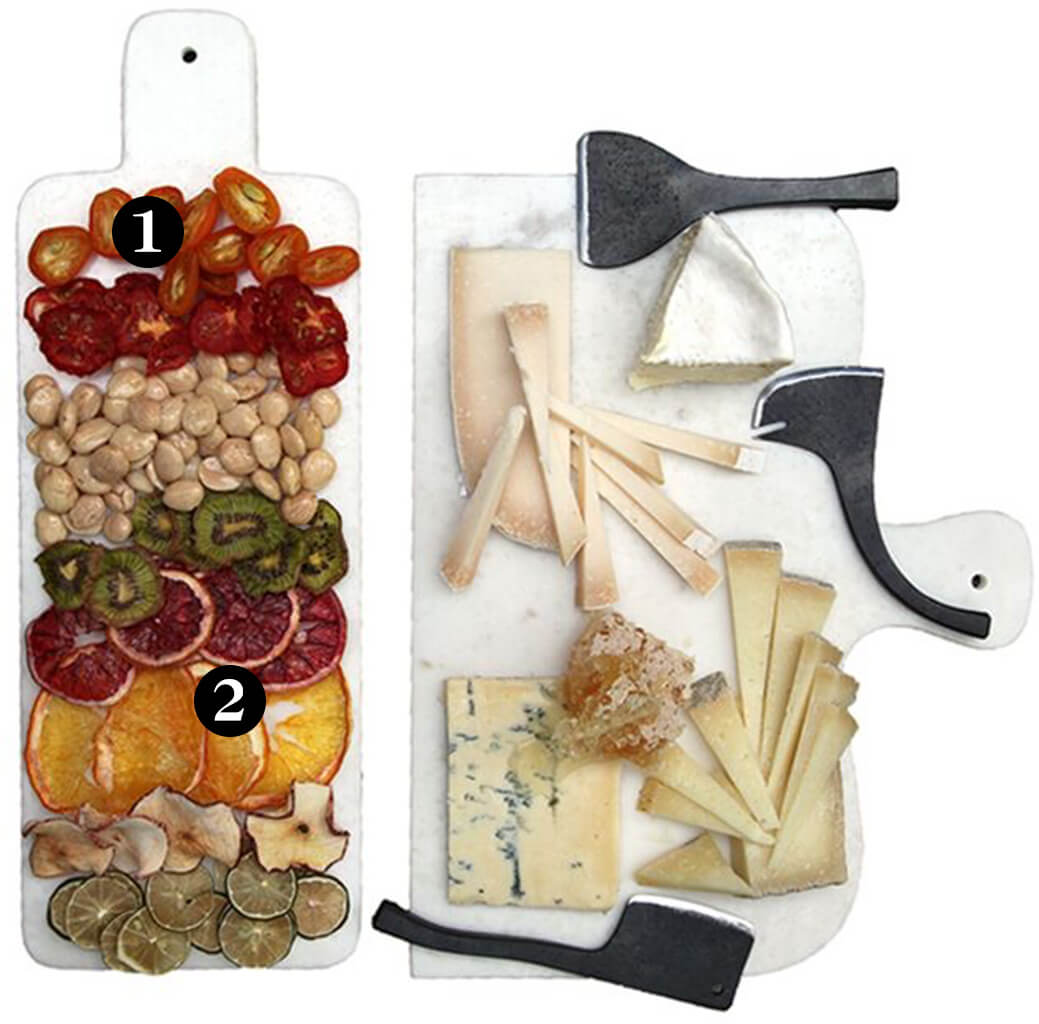 1. NUTS

Marcona almonds and cheese are the new peanut butter and jelly.

2. FRUITS

Dehydrated fruit is both an excellent break from butterfat and a fun cracker alternative.
5. One And Done
Serve one big chunk of cheese that is in its prime. Put out a whole jar of cool jam with a beautiful spoon and you've got an appetizer or a bomb dessert.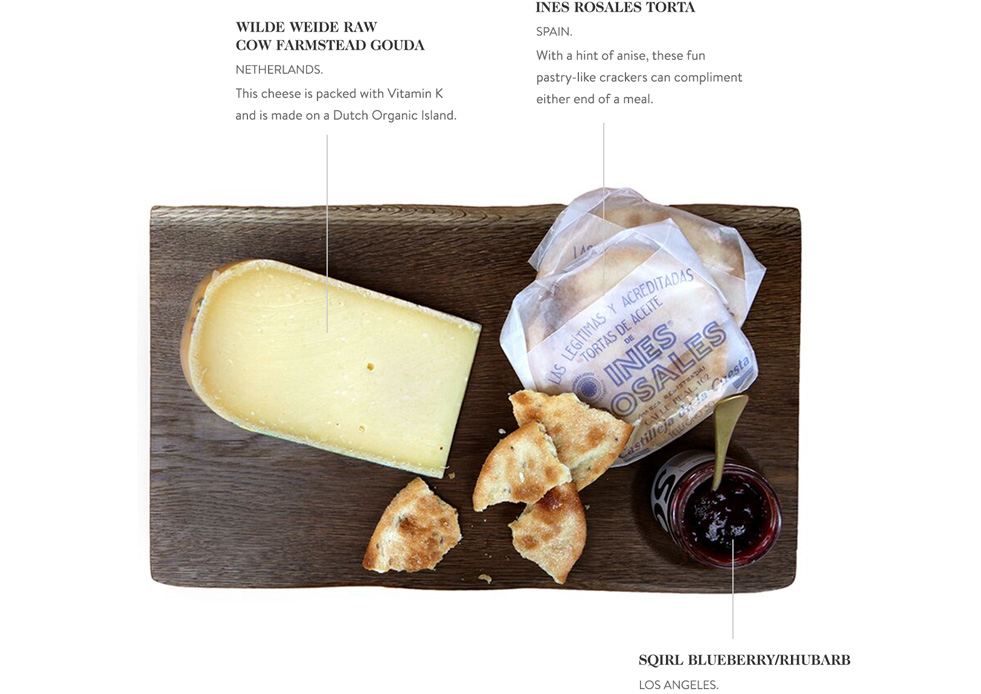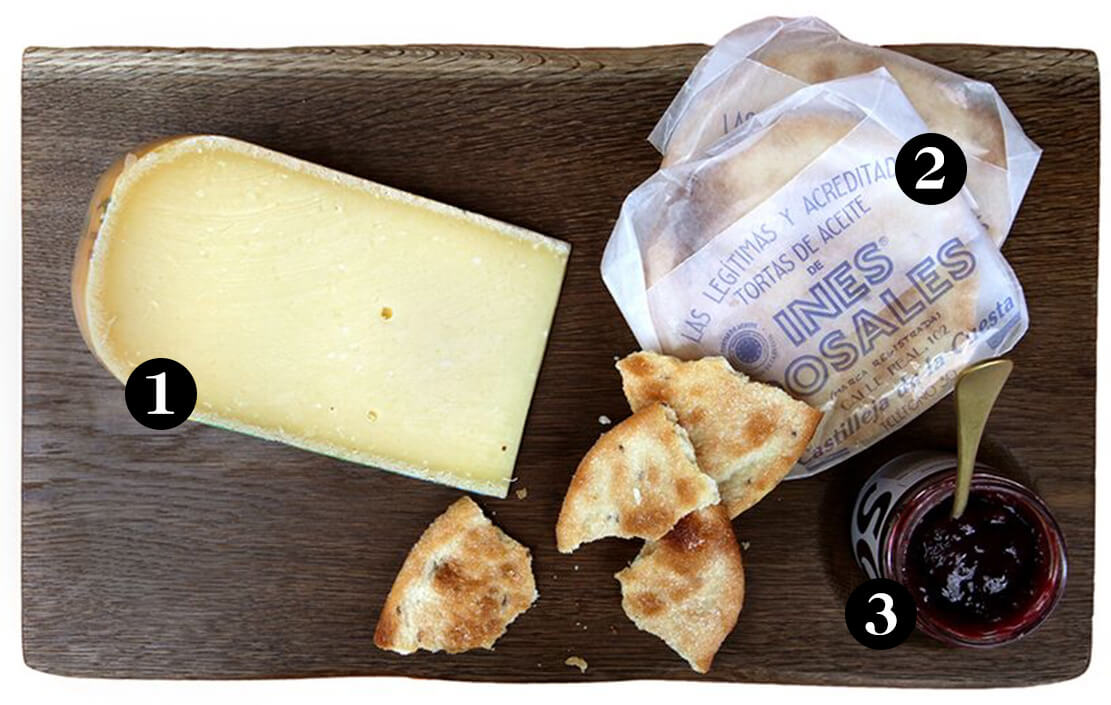 1. Wilde Weide Raw Cow Farmstead Gouda

Netherlands.

This cheese is packed with Vitamin K and is made on a Dutch Organic Island.

2. Ines Rosales Torta

Spain.

With a hint of anise, these fun pastry-like crackers can compliment either end of a meal.

3.SQIRL Blueberry/Rhubarb

Los Angeles.
6. The Study Group
This is for the hardcore cheeseheads who want to dig in and discuss the flavors and textures of various single-milk cheeses.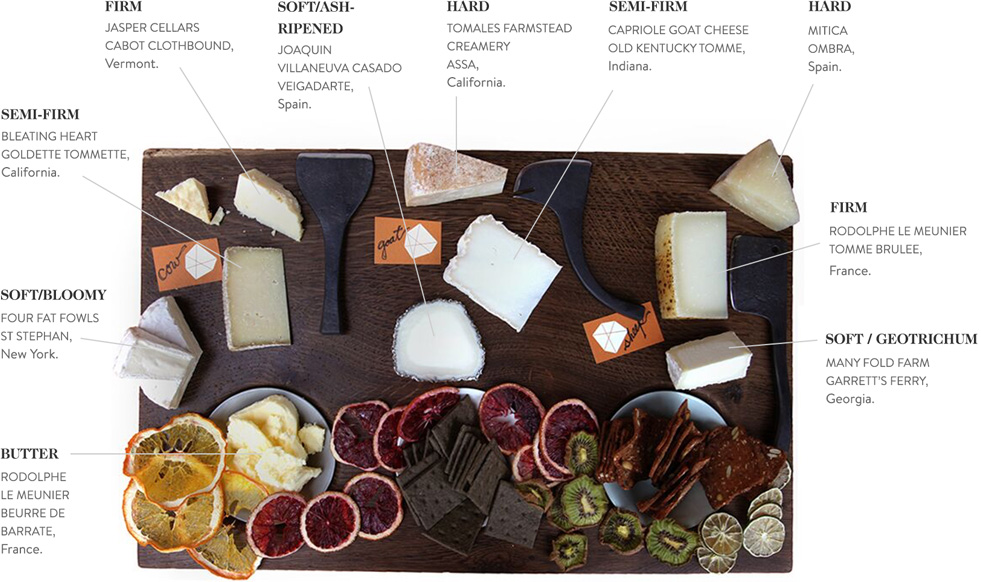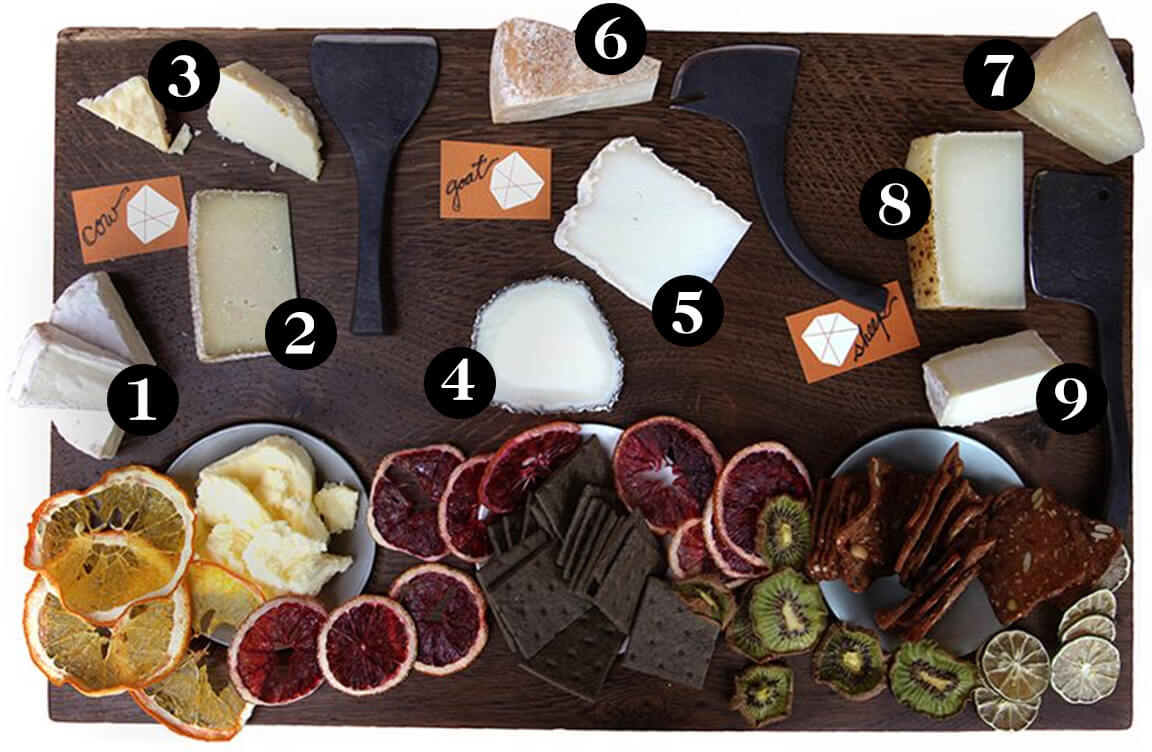 1. Soft/Bloomy

Four Fat Fowls St Stephan,

New York.

2. Semi-Firm

Bleating Heart Goldette Tommette,

California.

3. Firm

Jasper Cellars Cabot Clothbound,

Vermont.

4. Soft/Ash- Ripened

Joaquin Villaneuva Casado Veigadarte,

Spain.

5. Hard

Tomales Farmstead Creamery Assa,

California.

6. Semi-Firm

Capriole Goat Cheese Old Kentucky Tomme,

Indiana.

7. HARD

Mitica Ombra,

Spain.

8. FIRM

Rodolphe le Meunier Tomme Brulee,

France.

9. Soft / Geotrichum

Many Fold Farm Garrett's Ferry,

Georgia.

10. Butter 

Rodolphe le Meunier Beurre de Barrate,

France.
Oscar Mason's Wine Pairings
It's easy to overthink the wine pairing for a cheese plate, but the truth is there are very few combinations that don't work. I tend to avoid bigger reds, which can taste delicious with some hard, aged cheeses, but whose tannins can clash with creamier styles. Lighter wines, with enough acid to cut through the fat, will generally allow the more subtle nuances of the cheese to shine through.