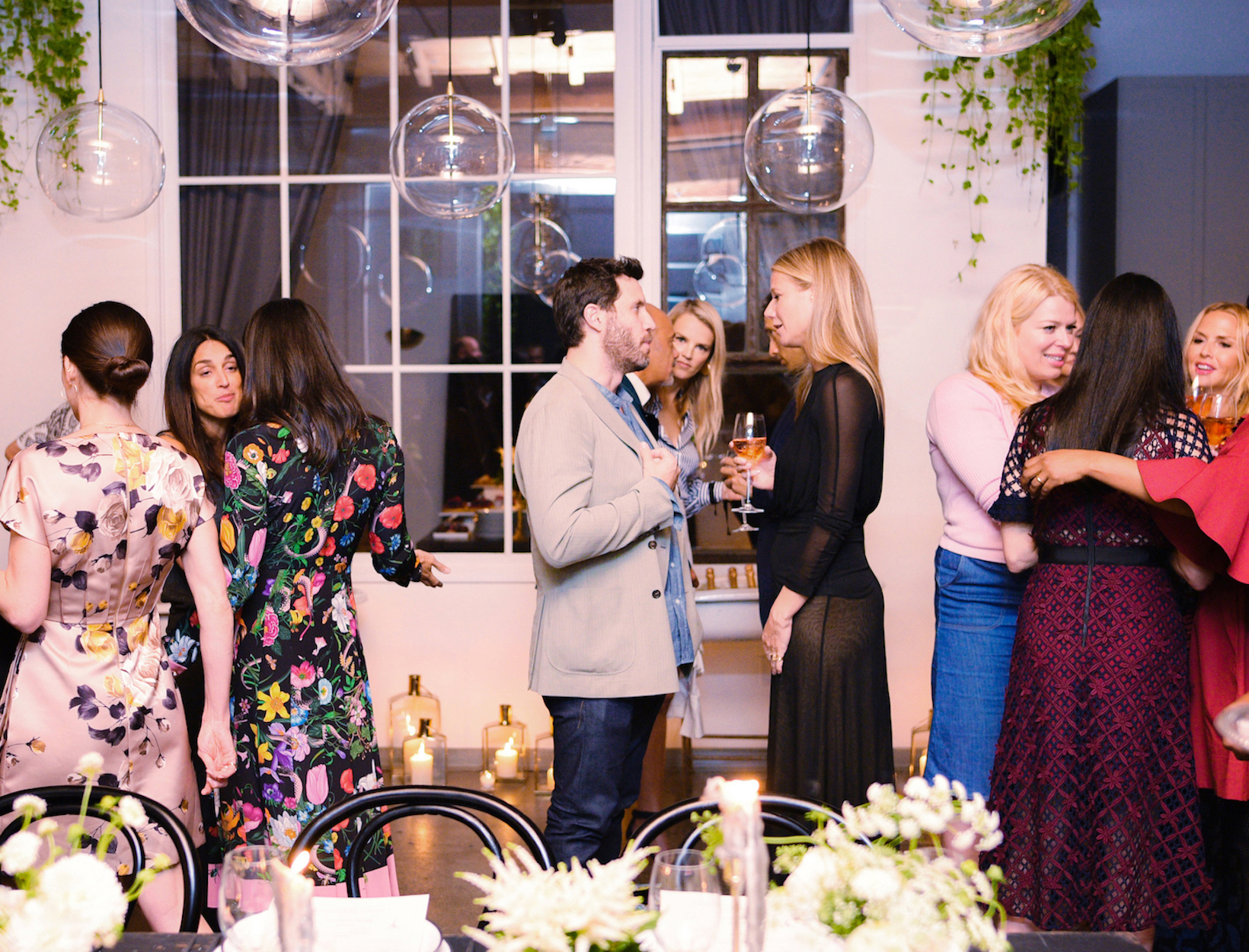 How goop Does a Housewarming Party
We marked the opening of goop LAB, our first brick-and-mortar, fully shoppable, Roman and Williams-designed Brentwood bungalow of our dreams, the best way we knew how: with a rosé-and-French-fry fueled cocktail party at the store and an exclusive Christian Louboutin capsule collection (red-soled baby shoes included). Later in the evening, we transformed the goop test kitchen into goop Brasserie—complete with ivy-shrouded walls, ample candlelight, and a Bottega Louie dessert spread—where Chefs Ludo Lefebvre, Jon Shook, and Vinny Dotolo served guests chanterelle tartine, potato gratin, and roasted chicken. For a taste of the menu, the chefs kindly shared home-cook-friendly recipes, below.
Saint James stripes + Trois Mec frites
= France in LA.

Like any home,
the kitchen is
the heart of
goop LAB.

goop x Christian Louboutin

The Joel Gott
rosé tower.

Shucks on demand.
A fleet of Cadillacs waiting to
transport guests to dinner.

Chef
Lefebvre
at work.

For one night only, goop Brasserie
is open for business.

Monsieur
Louboutin and
Madame bosslady.

Macarons,
éclairs, and so
much more.
SPECIAL THANKS GOES OUT TO:
Hessney & Co, Emma Feil Photography, BFA, Town & Country Rentals, Found Vintage Rentals, Archive Rentals, Casa De Perrin, Beats By Dre, Night of Neon, Ink Revival, Ruinart, and Caravan
Party Favors

Sure, these little morsels are the opposite of detox food (they consist of bread, cheese and not one, but two types of butter), but the heavenly flavor is totally worth the splurge. Like all simple recipes, this one is made by the quality of ingredients, so be sure to use the best bread, butter, and cheese you can find.

A classic and incontrovertibly delicious combo, this simple-yet-luxurious canapé is one of our favorites. (It's also incredibly easy to make if you have a deep fryer and some Osetra Caviar lying around.) If you don't have caviar handy, fry the potato chips in a large dutch oven and top with smoked salmon instead—it's still one of the most elegant appetizers we can think of.