Hot Breakfasts to Please a Crowd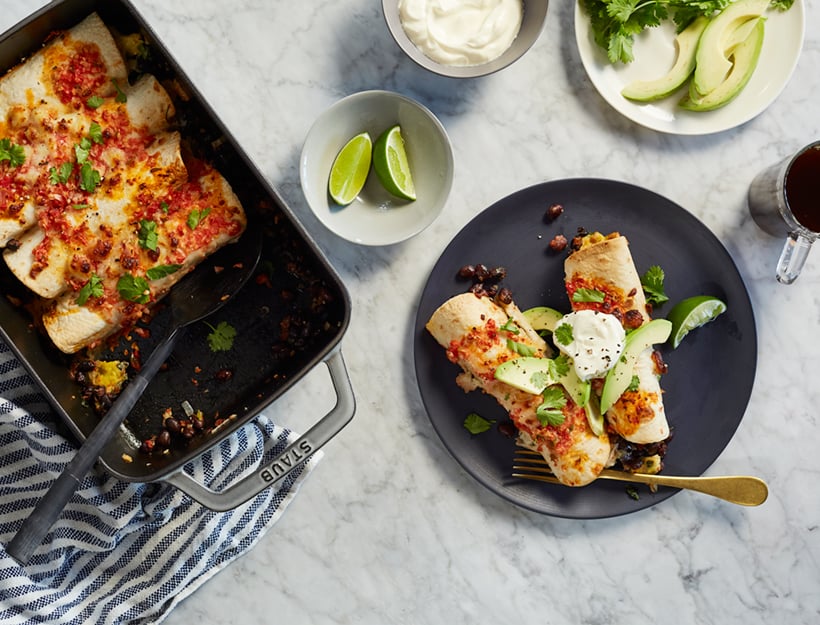 Photographs: Ryan Robert Miller. Food stylist: Caroline Hwang.
Breakfast is one of our favorite meals, in large part because it's the only one that offers the option of both sweet and savory. And while we love lemon ricotta pancakes and cinnamon French toast bread pudding, there's just something so comforting and appealing about a hot savory breakfast. So we took to the test kitchen to develop three warm egg-based breakfasts that are fairly quick to whip up and can easily be doubled or tripled to feed a big crew.
We love breakfast burritos (too), but all of that last-minute assembly and rolling isn't exactly realistic when you're cooking for a crowd. That's why we came up with this burrito-enchilada hybrid: all the components of a good breakfast burrito in an easy, make-ahead casserole. If you have time to make salsa or enchilada sauce, go for it; if not, use your favorite store-bought version.

Hash is the ultimate cleaning-out-the-fridge meal because somehow, no matter what you throw in, it always tastes great. We like this one with sausage, peppers, onion, and Swiss chard, but as long as you've got potato and eggs, you've got the makings of a great hash.

Perfect for an impromptu breakfast, this puffed and golden savory pancake cooks up quickly and requires only a few simple ingredients you likely already have on hand. It's delicious unadorned, but fun served with smoked salmon, sliced avocado, and a simple side of greens dressed with olive oil and lemon juice—garnishes that quickly elevate this giant popover to fancy-brunch status.