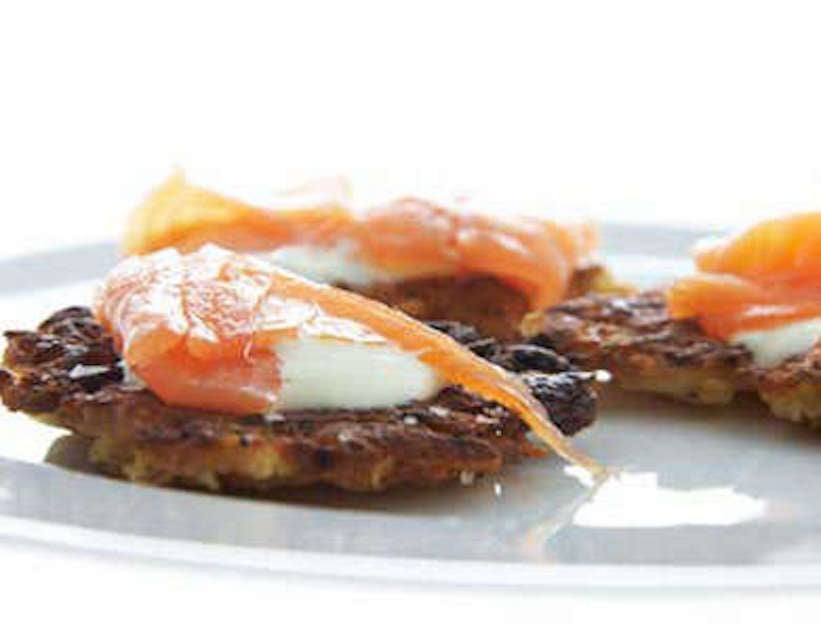 Holiday Recipes
I generally always make the same meal for Christmas as I do for Thanksgiving with a few exceptions, the Mulled Wine being the most exciting addition. I cringe when I add cupfuls of sugar to sweeten things, so instead I add agave syrup to this lovely spiced drink and it works beautifully. Since you can pull up the Thanksgiving MAKE from the archive if you're doing Whole Roast Turkey, I thought I would do a delicious Hanukkah menu and a Christmas breakfast.
For Hanukkah I love a Whole Roasted Fish with Salsa Verde and with the addition of the Latkes, you get that wonderful crisp potato thing on the side; it's very satisfying. The Maple-Dijon Roasted Winter Vegetables complete the picture.
The Christmas morning breakfast/brunch is easy to prepare and has great seasonal and holiday flavors. The Spiced Pumpkin & Walnut Bread has become one of my favorites, I could eat the whole loaf. Make it and serve it warm in the morning. The frittata is really wonderful and you can use any ingredients you like, just follow the basic technique. Here I use sweet potatoes, shallots and goat cheese, but feel free to dream up your own combo.
The biscuits are a healthier version of the good ole' southern version but are just as tasty. You can scramble an egg, add one of the homemade sausages, stick 'em in the fresh warm biscuit and, to quote a line from the epic eighties film Sixteen Candles, "Wha-lah, breakfast is ready!"
Love, gp
Menus
Hanukkah Dinner
Mulled Wine (keep it on the stove all season!)

Potato and Apple Latkes with Smoked Salmon

Whole Roasted Fish

Salsa Verde

Maple-Dijon Roasted Winter Vegetables
Christmas Breakfast
Sweet Potato and Goat Cheese Frittata

Homemade Turkey Sausage

Spiced Pumpkin and Walnut Bread

Quick Biscuits
---