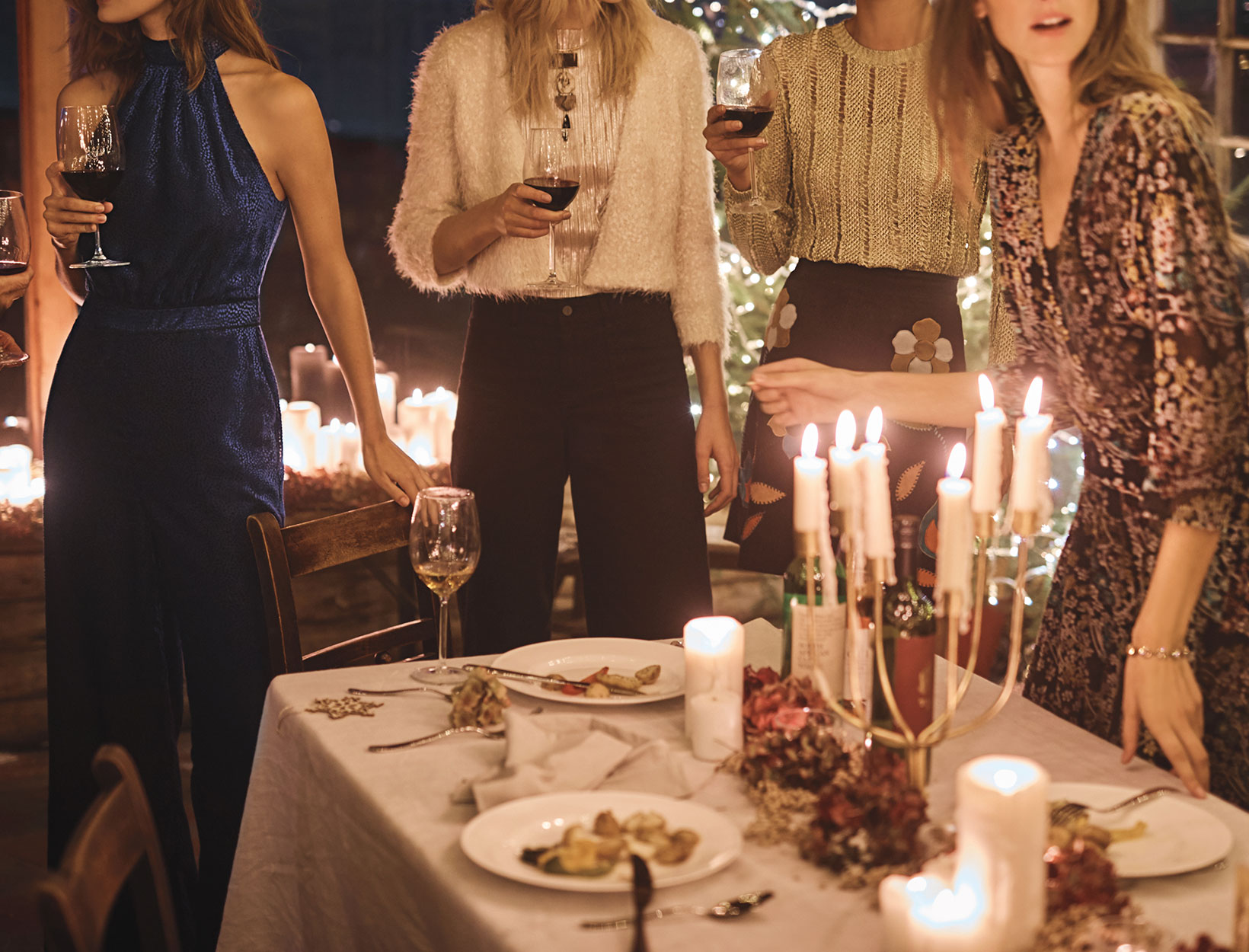 The Playbook for Seamless Holiday Entertaining
In partnership with our friends at GreenPan
Hosting a fabulous holiday party doesn't have to take up all your brain space. With the right plan and a little creative flare, you can put in less effort and still pull off an incredibly fun and memorable night. Our entertaining playbook is designed to help you cruise through the planning so you can focus on enjoying your party, not just running it. (And for more on creating meaningful get-togethers, listen to The goop Podcast episode with Priya Parker, the author of The Art of Gathering.)
THE FOOD
This is where you have to be a little strategic. In order to get quality time hanging with your guests, plan your menu to lean on make-ahead dishes.
Starting with a bountiful cheese and crudités board is essential for a couple of reasons. It's a no-cook first course, and your guests can begin noshing as soon as they arrive (no peckish guests hovering near the kitchen waiting for dinner). It can also be prepared well in advance, buying you some crucial time.
A salad always rounds out a menu nicely, and when entertaining, a hearty salad that can sit dressed without wilting is the ideal. Look for recipes with hearty greens like kale, radicchio, or frisée. This Grilled Radicchio and Pear Salad has a great bitter-sweet balance and can be made (quickly) just as guests are arriving, then eaten at room temperature. We recommend using the GreenPan Simmerlite Non-stick Grillpan. It's much easier than firing up the outdoor grill in the cold, and it still gives you those beautiful, deeply charred grill marks.
For your main course, opt for one-pot dishes. Hearty braises and stews are perfect this time of year and require little if anything in the way of accoutrements. This cozy chicken with mushrooms and rice has minimal prep and cooks undisturbed on the stove for about an hour before serving, giving you time to mingle. Do yourself a favor and cook it in a covered skillet with a glass lid so you can check on it while it cooks without lifting the lid. (If you do lift the lid, you lose the steam needed to properly cook the rice.)
In the spirit of streamlining, we're keeping dessert really simple. This is our move: After dinner, set out a rustic board covered with slices of seasonal citrus (a combination of blood oranges, Cara Cara oranges, tangelos, and satsumas is visually striking), a few bars of good-quality dark chocolate broken up into chunks, some Marcona almonds, and Ranch Meladuco dates sprinkled with flaky salt. People can pick from the board at their own pace, and you won't need to dirty any more dishes.
THE BAR
Having a good mix of wine and beer is nice. Setting up a good DIY cocktail bar is where it's really at. A well-stocked, user-friendly bar keeps you from mixing cocktails all night. And everyone can have their drinks exactly how they like them. In addition to liquor (one clear spirit, one brown spirit, and a tequila should do, but the more the merrier), put out a variety of mixers. We like tonic water, club soda, and good ginger beer, along with a shaker and some fun garnishes, like Luxardo cherries, Spanish olives, pearl onions, and lots of citrus wedges. If you include eggnog, put out whole nutmeg and a grater. Bonus points for printing cute little recipe cards to sit bar-side.
If you want to make a signature cocktail, consider doing a large batch of a simple recipe and leaving it in a pitcher or punch bowl near a set of glasses and an ice bucket. This citrusy and herbaceous Whisky Thyme would be a great, festive candidate for that.
THE MOOD
Candlelight is the most flattering light. Whether you use intimate low votives or something more surprising like a U-shaped candle, we suggest unscented for whatever you're burning. Sandalwood and vetiver are wonderful but we don't need to breathe them in while we eat.
Music is a must. If you're the type of person who loves making playlists, this is your time to shine. If not, this is a perfect task to outsource—assign it to your hip friend who's been asking how they can help. Make the playlist a couple hours longer than you think your party will be, so you'll have stuff to listen to during setup and while you're winding down. The convenience of a Bluetooth speaker can't be matched, and if your speaker happens to glow warm ambient light, then all the better.
As for décor, tablescapes are definitely impressive, but they're also a lot of work. An easier approach is to lean into seasonal florals and produce and not fuss over them too much. Fill beautiful wooden bowls with pomegranates, tangerines, lemons, and persimmons and surround them with woodsy winter branches and evergreens.