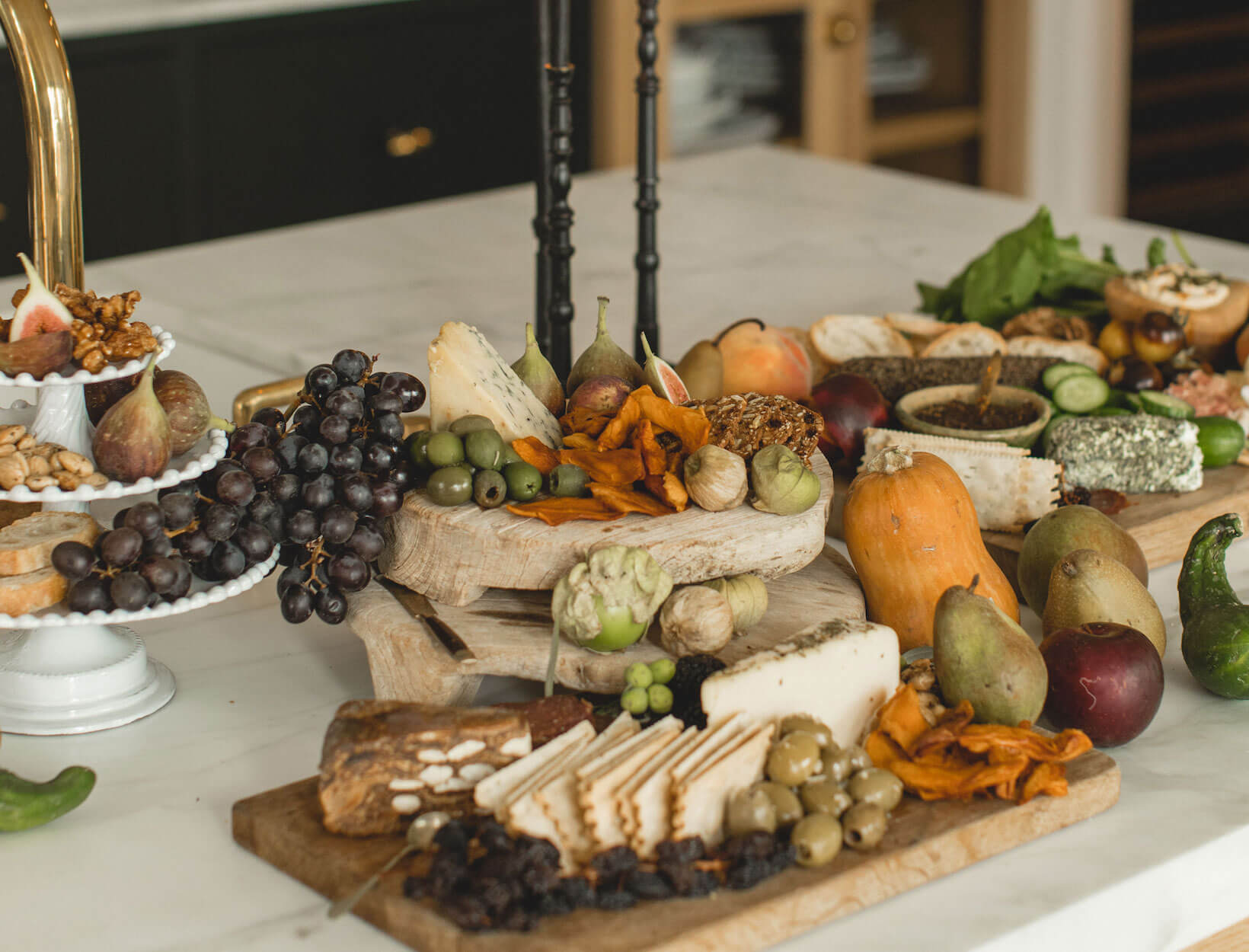 Photo courtesy of Valerie Vogt for Art Of Being Female. Styling by Ali Primrose. Host: Reesa Emadi.
Holiday Entertaining,
3 Ways
Pick your approach: no cooking, a halfway-homemade brunch, or the full-on sit-down dinner. We've got a plan for each. What to eat. What to drink. And the serving pieces that add to your style.
LOW-LIFT, HIGH-IMPACT VINO PARTY
This is the no-cook approach. It's about curating a delicious array of artisanal goodies and zhuzhing some store-bought staples. Shortcuts maximize your ability to relax and enjoy your guests, which is why this option will appeal to seasoned hosts and first-timers alike.
WHAT TO SERVE
A cheese board is the winner here. Variety is always nice so there's something for everyone—a mix of milk types, textures, and regions represented on the board. Bulk it out with cured meats; ramekins of briny things, like caper berries or cornichons; and something sweet, like fig jam or a little pot of honey. Nuts are nice, too. And of course, bread or crackers.
Crudités will balance the richness of the board; just select some of your favorite snacking veggies and serve them alongside a doctored-up store-bought dip. Hummus can get swooshed into a shallow bowl and finished with good olive oil, za'atar, and flaky salt, and almost any creamy dip, like spinach-artichoke or tzatziki, can benefit from a little added lemon zest and black pepper.
Since this menu is so laid-back, keep that vibe going for dessert. Put out a few candy dishes, chic-grandma style. Dark-chocolate-covered espresso beans, English toffee, or candied ginger. A few cookies or brownies from your favorite neighborhood bakery also works. Fresh fruit is always welcome—figs, grapes, or clementines won't require any prep and have that elegant still-life look.
Wine is a natural fit for this menu, and while it's good to have a few bottles on hand, this is an easy thing to have your guests bring—your pals are happy to contribute. If you want to go the extra mile, have pot of mulled wine simmering on the stove. It's warming for guests coming in from the cold and will make your entire space smell incredible.
SO EASY IT'S HARDLY COOKING
HALFWAY-HOMEMADE BRUNCH
Effortwise, this is a bit of a step up from the vino party. The idea is to outsource the main event and make the accoutrements yourself. For a brunch, outsource your favorite bagels and whip up a couple of frittatas and a salad—you're golden. What's nice about this menu is that everything keeps for a while, allowing your guests to graze leisurely and saving you from cranking out pancakes and fried eggs like a short-order cook.
What to Serve
Bagels and all the fixings are the easy part (if you don't have a great bagel place nearby, you can serve really good sourdough to make tartines or open-faced sandwiches with all the same toppings of a bagel bar). In addition to bagels, you'll want cream cheese, thinly sliced veggies (red onion, tomato, and cucumber are nice), and some capers and smoked fish (the smoked salmon from Fishwife is a current obsession).
Frittatas are the best way to do eggs for a crowd because they're easy and taste just as good hot and at room temperature. They're also endlessly riffable and can be adjusted based on your guests' dietary needs or what produce you happen to have in the fridge.
For a salad, try something a little sweet and savory and add some fruit into the mix—a cheeky nod to the classic fruit salad and more satisfying.
As far as drinks go, a well-stocked coffee station is in order. For the boozier set, Bloody Marys are a brunch favorite, but we'd also like to throw our Bloodhound cocktail into the ring. It's lovely and tart and can be prepped in advance.
Best Brunch Ever
THE FULL-ON
SIT-DOWN DINNER
If you want to go all out (cocktail, appetizer, full dinner, and dessert) here's your blueprint. It's the most involved option but still highly doable with some prep. And yes, it's rewarding to create a special experience for your crew.
What to Serve
A Kir Royale feels incredibly festive but thankfully doesn't require any cocktail shakers. Simply pour a little cassis (we love C. Cassis; it isn't cloyingly sweet like many others) in the bottom of a champagne flute and then top with champagne. Garnish with a lemon twist if you're fancy. Sip while nibbling on some cheese puffs—you can bake these earlier in the day and pop them in a 350-degree oven for three to five minutes to warm them up just as guests arrive.
Fish can be intimidating to prepare for a crowd, but if you choose a larger piece and cook it low and slow, it's simple. Serve it along with a hearty salad—it's nice to have a mix of raw and cooked veggies. You can prepare the dressing and assemble the salad ahead, tossing it all together right before dinner. Round out the menu with another starchy side—maybe herbed rice or parsnip purée. A crusty loaf of bread, either grilled or warmed in the oven, will do the trick, too.
Individual desserts feel so luxurious, and it's an opportunity to show off some cute little dishes. The caramel pots de crème also happen to be a brilliant make-ahead. The only thing that needs to happen before serving is to top them with a dollop of whipped cream.
SIMPLE AND IMPRESSIVE RECIPES