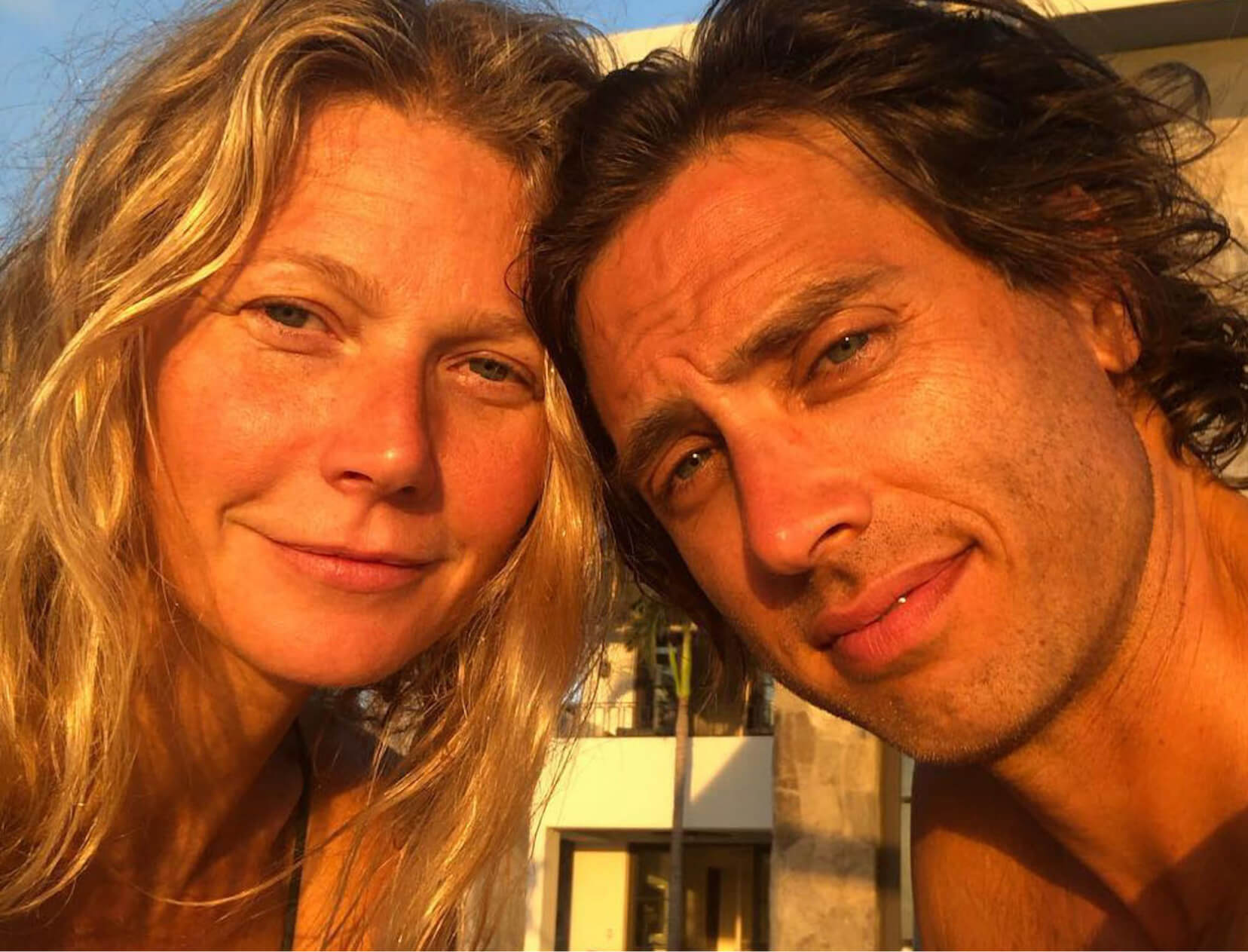 I Love Summer When It's Simple
Just hearing the word "summer" soothes my working-late, checklist-invested soul. What's most magical about this season is the way we're all likely to feel a little more chill—and a lot more in touch with what our bodies need and crave. For me, it's the feeling of sun against my skin (protected with mineral sunscreen, of course), a just-picked snap pea or endive leaf dipped into a warm bagna cauda (I make mine dairy free now—just olive oil, anchovies, garlic, and black pepper), and (my favorite) a dive into cool water on a hot day.
This sunscreen blends right into my skin, blocks both UVA and UVB rays with zinc oxide, and fits easily into my bag, plus the yellow tube is just adorable.

Grown Alchemist

Natural Hydrating
Sunscreen SPF 30

goop, $39

SHOP NOW

There's olive oil, and then there's this—it's small-batch, hand-harvested only at night in late September, and sealed with nitrogen to keep oxygen out and the goodness intact. It's fresh and green and delicious, amazing for dipping and drizzling, and I also take the occasional straight-up shot of it.

Domenica Fiore

Novello di Notte Extra
Virgin Organic Olive Oil

goop, $74

SHOP NOW

In partnership with our friends at
Domenica Fiore

Whether it's whiskey or really-good-for-you olive oil, this is the glass.

Richard Brandon

Diamond Shot Glasses Set of 2

goop, $144

SHOP NOW
Summer Sweat
The Easy Skin Routine
I usually do my skin routine before I jump in the tub or after I get out of the sauna. Either way, Microderm is my forever-ultimate way to get my skin as glowy as possible, and I now supercharge that amazing exfoliation with my Glow Lotion moisturizer. I use the latter both morning and night. And my obsession with face oil just keeps going—it feels so good on your skin, especially after a day near the water.
This is just the best little skin routine for glow—at a beautiful price.

goop Beauty

GOOPGLOW Glowing Skin Duo

goop, $48

SHOP NOW

What's so good about this: You get long-term results (smoothed wrinkles, firmer skin) along with the amazing moisturizing. It's great alone on bare skin, and sometimes I'll layer it over Glow Lotion for extra hydration.

goop Beauty

GOOPGENES All-in-One
Super Nutrient Face Oil

goop, $98/$89 with subscription

SHOP NOW
My Beach Setup
These beach essentials are new on goop, and I'm obsessed. They make an afternoon at the ocean easier, much more comfortable, and a little glamorous, too.
My Summer Uniform
Hello. Sundresses and shorts and bathing suits!
What I'm (Barely) Cooking
Finding delicious, nutrient-dense food is easier at this time of year—so I cook as little and as lightly as possible, celebrating the freshness of it all. I'm still mostly paleo in my approach, so I love a great olive oil drizzled over grilled proteins like fish and chicken or vegetables like zucchini, peppers, and radicchio. I have a trusty salsa verde recipe that I lean on heavily, and the Domenica Fiore Reserva elevates it: It's organic, grown on an Umbrian estate that sits on an ancient, mineral-rich seabed, and it's (justly) won award after award. It's complex, smooth, peppery—exactly what I'm looking for.
Domenica Fiore

Reserva Extra
Virgin Organic
Olive Oil

goop, $48

SHOP NOW

In partnership
with our friends at
Domenica Fiore

GP's Salsa Verde

GET RECIPE

A hard recipe to give precisely. My amounts are always a little different, and my herbs change frequently depending on what's growing in my garden and what I'm serving it with. This is my standard salsa verde—heavy on the chives, easy on the parsley, generous, as always, with the anchovies.

The Elegant and Easy
Spanish Tortilla

GET RECIPE

This Spanish tortilla is amazing hot or cold (I can't have beans at the moment, so I'm going without the salad). Swirl a little olive oil over the top and it's extra good.

Incredible Sweet Potato Hummus

GET RECIPE

I serve this sweet-potato-and-tahini dip with a generous glug of olive oil, crunchy raw veggies, or Grain-Free Seed Bread. It's bean-free and cumin-lemon-garlic delicious.

GP's No-Recipe
Dairy-Free Bagna Cauda

Mix a cup of the Reserva with two grated cloves of garlic and ten anchovies and warm it on the stove; everything will melt together. Grind some pepper over the top. Serve with just about anything, though I especially love it with radishes and greens.

I love these. They look good in practically any setting (and make a fantastic hostess gift).

Atelier Saucier

Rainbow Twill Napkins
4-Piece Set

goop, $66

SHOP NOW
Summer Reading
This is such an incredibly motivating, decade-by-decade guide to looking and feeling your best from fashion designer Norma Kamali (she's seventy-six and looks better than she ever has—Google her and you'll want this book, and you'll want to practically drink olive oil as she has for the last thirty years). Just reading it, I feel healthier and want to jump up and move my body.

Abrams

I Am Invincible

goop, $35

SHOP NOW
How I'm Keeping My Hair in Shape
Sun and water—especially chlorinated water—can really trash your hair, so I focus on keeping it soft and healthy.
Nothing feels as good as this whipped shampoo—the chunks of pink salt massage your scalp, and it foams into this beautiful cream, smells so good, and leaves your hair so soft.

goop Beauty

G.Tox Himalayan Salt Scalp Scrub Shampoo

goop, $42

SHOP NOW

To moisturize, smooth frizz, and leave your hair smelling sexily of jasmine, this serum is just so good. Smooth it through your hair to help protect it before a day outside or twist a little into your ends before you go out.

Ranavat

Fortifying Hair Serum: Mighty Majesty

goop, $70

SHOP NOW
Summer Sexiness
What can I say? It's our bestseller for a reason.

goop Wellness

Double-Sided Wand Vibrator

goop, $95

SHOP NOW
Bonus: Lazier Morning Coffee

I have a whole new little coffee setup at home. I love a French press in the morning, iced, with a
splash of organic cream; some other household members like it hot (even when it's hot out).

I love these—they go with any table style and resist both heat and cold. They're great for my iced coffee in the mornings and for bone broth later on.

Trendglas JENA

Large German Glass Mug

goop, $22

SHOP NOW

The best, I'm telling you.

goop

Fair Trade Specialty Coffee

goop, $28

SHOP NOW

This grinder is made especially for pour-over, French press, cold-brews, and more. The difference is amazing.

Fellow

Ode Brew Grinder

goop, $299

SHOP NOW

If I'm driving somewhere or simply want to walk around the garden or along the beach, this portable splash-discouraging cup has a ceramic interior, so the taste is just the coffee, pure and delicious (stainless steel can leave a funny taste, not to mention sensation).

Fellow

Carter Move Mug

goop, $30

SHOP NOW

If you want a hot cup of coffee, this guy is insulated, and the inside is non-stick, so just rinse it out instead of the usual intense degunking.

Fellow

Clara French Press

goop, $99

SHOP NOW
---
We hope you enjoy the products recommended here. Our goal is to suggest only things we love and think you might, as well. We also like transparency, so, full disclosure: We may collect a share of sales or other compensation if you purchase through the external links on this page.