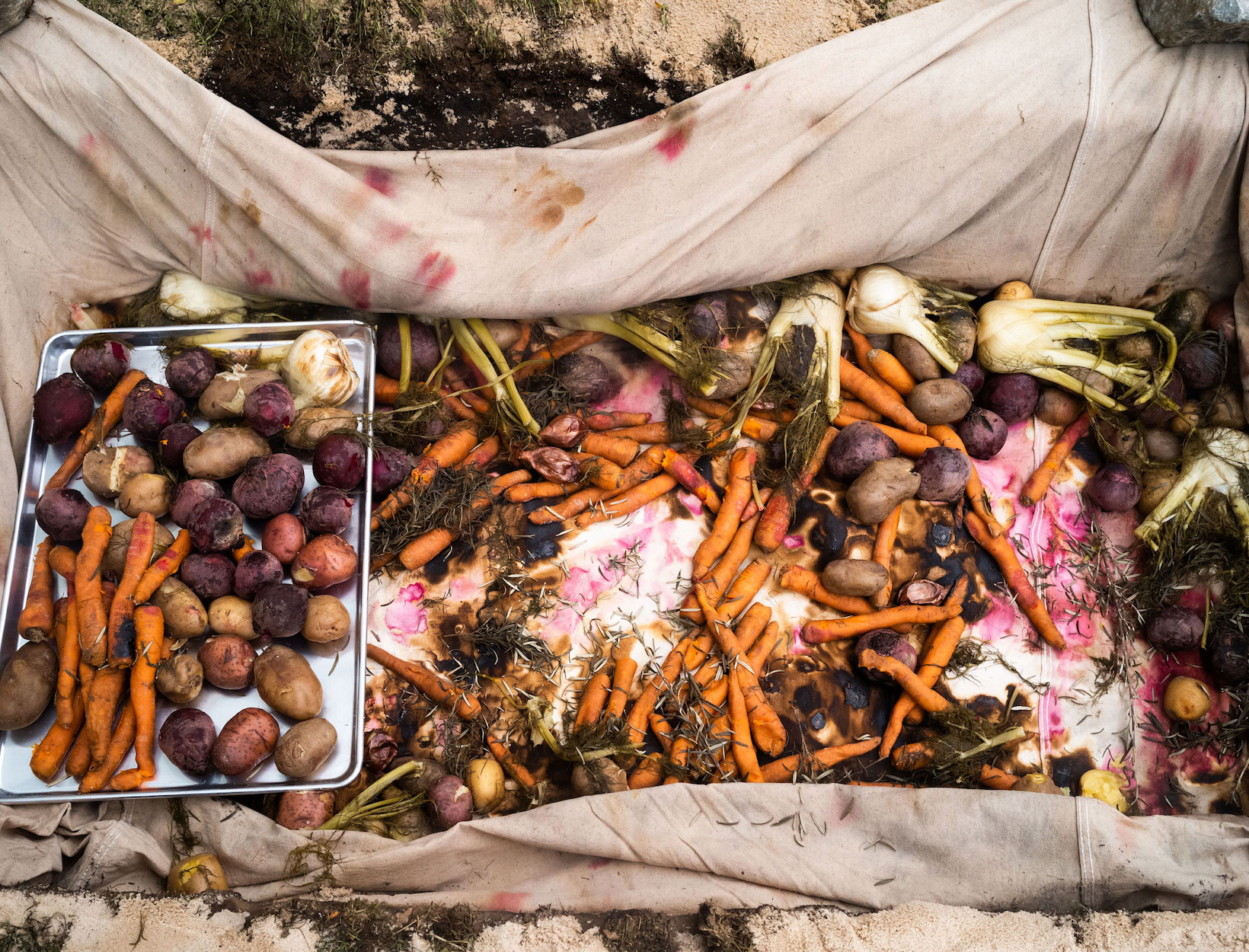 Photograph: John Dolan
Francis Mallmann's Wood-Fired Vegetables
Take Four Hours—and They're Worth It
GP's dream came true when Argentine chef Francis Mallmann, known for his live-fire cooking style (check out season one of Chef's Table to see him in action) flew 5,000 miles from Santiago, Chile, to cook at her rehearsal dinner in New York. The rustic menu spotlighted what the silver-haired chef does best: a twelve-hour grilled pineapple so tender you can eat it to the core, chicken with salsa criolla, and salt-crusted wild salmon.
Given the fall bounty at the farmers' market, we asked Mallmann to share his recipe for curanto. If you're not familiar, curanto is essentially pit cooking onions, potatoes, carrots, and fennel—for four hours. (Mallmann is hardly a conventional chef, so it follows that his recipe is hardly conventional. "Could someone kindly edit my English," he charmingly asked. But when a recipe is this great and somehow seems like a poem, it's as enjoyable a read as it is a meal.)
Francis Mallmann's Curanto
Curanto pit cooking is an ancient recipe from Patagonia. There are traces of these pits found by anthropologists that are 12,000 years old.
Be careful with this technique—keep children away.
Preparing the elements:
Dig a hole two feet deep, three feet long, and two feet wide.

Buy thirty round or oval stones (the size of a rugby ball).

Buy two wheelbarrows of dry sand.

Have plenty of wood.

Buy a piece of simple rough cotton textile, about nine feet by nine feet.

Get some green branches with green leaves that are edible (we use eucalyptus sometimes).
Procedure:
Eight hours before eating, start a fire in the pit that covers all of it.

Feed it for two hours, and add the stones, placing them so there are a couple of inches between them.

Add wood again so you have a sandwich of fire and stones.

Very slowly, the wood in the top will catch fire again; feed it one last time so the rocks get very hot.

Let the flames die to embers.

Lay the branches on the fire, taking care not to have branches sticking out of the pit (if they stick out, when closing it later, the heat will escape like a chimney).

Fold the cloth in two, covering the branches with half of it and leaving the other half outside the pit.

Add the vegetables, six pounds of each: carrots, onions, fennel, beets, potatoes, butternut squash, sweet potatoes. Spread the veggies inside the pit so you cover all the surface of it. It could be two layers.

Fold the second half of the cloth on top, being careful to cover all the veggies completely. Shovel in the sand carefully covering all the pit. When finished, there should be no traces of smoke.

If half an hour later you see smoke, shovel some more sand in to block it.

Let the veggies cook in the pit for four hours.

Very carefully and gently start taking out the sand with a shovel, moving it horizontally and not digging deep, until you have taken out most of it.

Uncover the veggies by rolling the cloth back carefully until all is unveiled.

You don't want sand on them!

Serve them with sea salt, pepper, and the best-ever olive oil. Maybe chopped herbs and garlic? Maybe some chili flakes?
By doing this recipe you are making a tribute to the Pachamama, the mother of all Andean natives. The pit and the stones can be used several times.
Note: Wear glasses to protect your eyes, as some rocks get angry and can explode when heated.